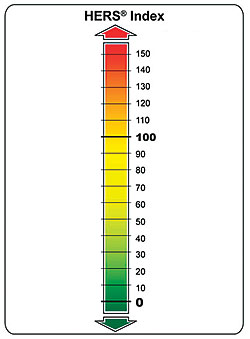 Back in January, several towns and cities in Massachusetts proposed amending the state's building code to include a "stretch" energy code, whose stricter energy efficiency requirements could be adopted by any municipality that favored it.
Massachusetts law doesn't allow municipalities to diverge from the state code, so approval of the stretch code by the Board of Building Regulations and Standards would add a greener option to the state's minimum energy efficiency requirements, which will be based on the recently published 2009 International Energy Conservation Code.
The stretch code, most of which is performance-based, would require higher levels of energy efficiency in new construction and remodeling of both residential and commercial buildings. Comments on the proposal are being accepted by the BBRS until April 28. (An earlier deadline, April 10, was extended.)
(Click here for list of proposal revisions, a summary, and links to other, related documents.)
Trying to balance energy efficiency and expediency
The battle over the fate of the proposal has been fairly intense. Those who oppose the stretch code amendment, notably the Home Builders Association of Massachusetts, say it will disrupt the uniformity of the state code and make enforcement more difficult and confusing for building inspectors.
Of larger concern to HBAM, though, are the costs that the stretch code requirements would add to new homes. A brief on the home page of the HBAM website urges members to send a prewritten expression of concern to the BBRS.
"The BBRS estimates that the Stretch Energy Code will add approximately $10,000 to the cost of a 'typical' three-bedroom home. Professional homebuilders believe that the true cost for a 2,400 square foot home is likely twice that! In this time of economic crisis, that is an unconscionable and unnecessary financial burden to impose on consumers," the letter reads in part.
The association's letter also highlights HBAM concerns with the minimum HERS index scores for residential construction that the stretch code would impose, citing a few particulars:
"The MA base energy code is rated HERS = 99. The Energy Star program is rated HERS = 85: a 16% increase above the MA base code. The proposed Stretch Energy Code is rated HERS = 70: an increase of 41% above the MA base code. And, of course, after 12/31/2011 the requirement automatically becomes HERS = 60: an increase of 65% from where we are now."
A summary of the proposed stretch code adds that for major renovations, a HERS index of 70 or less would be required; in instances where heating systems are retained, the index requirement would be 85. All ratings require third-party certification. Where a HERS rating isn't feasible, and for renovations of 600 sq. ft. or less and less than 30% of the building's conditioned floor area, a prescriptive code option (click for PDF) of the Energy Star Homes program is applied.
A long-term perspective
Paul Eldrenkamp, a remodeler based in Newton, Massachusetts, is one of the proposal's most active supporters but also realistic about the HBAM's ability to counter the opposition.
"It's really too bad people are taking such a short-sighted view, because the stretch code is pretty tepid in terms of what we'll need to address," he said, noting that the opposition is "better organized and better financed, and I get it: They don't want to delay the turnaround. But it was a short-sighted view that got us into this mess."
Eldrenkamp noted, however, that he has observed a shift in attitude among consumers when it comes to choosing between flashy amenities and the energy performance of a building. "We seem to have crossed a threshold," he said, "where now we're pulling out those big whirlpool tubs that everyone seemed to want only a couple years ago."
On its website, the ICLEI-Local Governments for Sustainability, an association of local governments dedicated to climate protection and sustainable development, highlights what it says are the likely benefits of meeting the stretch code requirements, including energy use that would be about 40% lower than that for a comparably sized home built to base code standards.
The ICLEI says modeling estimates show that the stretch code requirements would add about $8,100 to the construction cost of a three-bedroom home built in compliance with Massachusetts' 2006 base code requirements. (The premium would be somewhat lower for homes built to the 2009 base code.) That translates to an extra $530 or so a year when rolled into a 30-year mortgage. But annual energy costs would go down about $1,360, for a net savings to the homeowner of $830 a year, the ICLEI says, adding that much of the extra construction cost would be covered by subsidies from utilities.
If the BBRS does vote to approve the stretch code, though, its prospects for adoption by municipalities are by no means clear, Eldrenkamp noted.
"If it does go through, there'll be battles at the local level," he said. "That's going to be much more telling."
Weekly Newsletter
Get building science and energy efficiency advice, plus special offers, in your inbox.