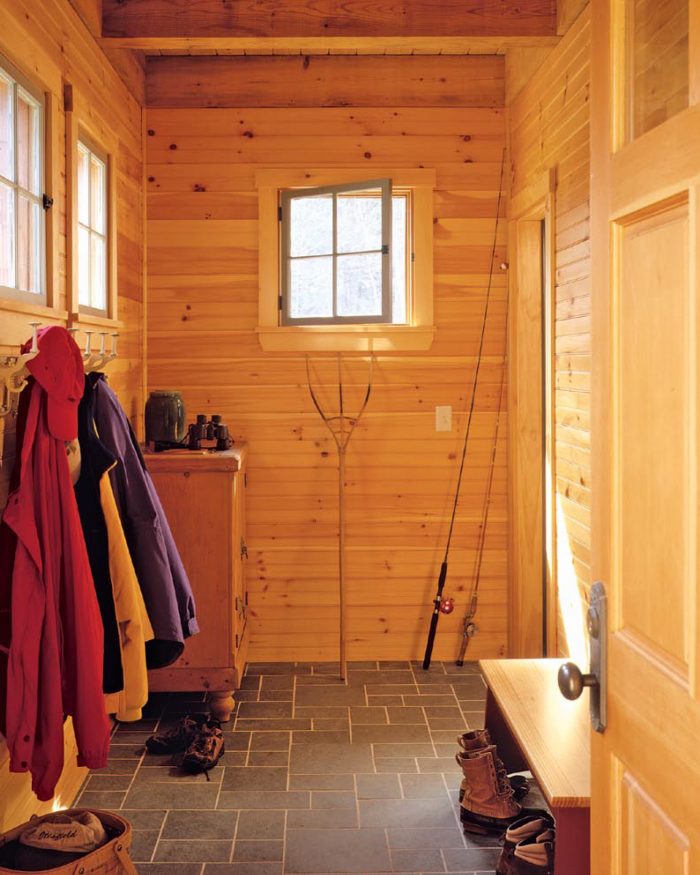 Many New England homes have a mudroom. In other parts of the country, similar rooms are called the entryway or a foyer—but a mudroom differs in several respects from its counterpart in a hot climate. While a foyer in Texas might be two stories tall, with a dramatic view of a curved stairway, a mudroom is more humble. The purpose of a mudroom is to provide somewhere for people to sit and remove their snowy boots, as well as hooks where people can hang their winter coats.
When I designed my Vermont house in the 1970s, I planned the main entry door to be on the north side of the house. Visitors who open the door from the porch first enter the mudroom. Years ago, I must have read a book touting the energy advantages of an "airlock entry"—spoiler alert: no such advantages exist—so I included another weatherstripped door between the mudroom and the living room.
To keep energy use to a minimum, I decided that the mudroom would be outside of my home's thermal envelope. The mudroom included a tile floor, a closet with coat hooks, and a bench I made from a maple tree.
Unchanged for the last 40 years, our mudroom's main claim to fame was that it was never used. In short, it was a design failure.
Correcting design errors
Every house has at least a few design errors. Many of us live in houses that used to work well, but due to changes in our circumstances, no longer meet our needs. A closet is too small, a bathroom is too big, or an oversized window causes too much glare. Such features can be irksome. But it's often hard to know whether fixing a design problem is worth the hassle.
Here…
Weekly Newsletter
Get building science and energy efficiency advice, plus special offers, in your inbox.
This article is only available to GBA Prime Members
Sign up for a free trial and get instant access to this article as well as GBA's complete library of premium articles and construction details.
Start Free Trial
Already a member? Log in