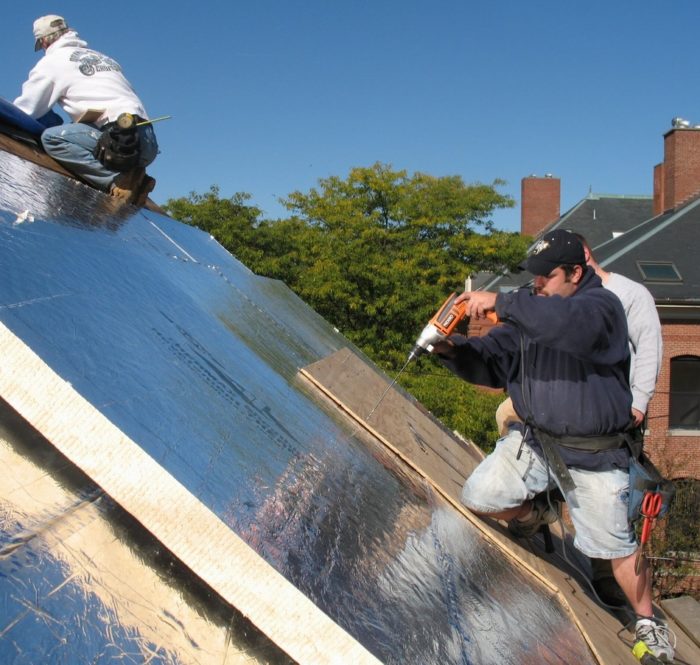 A GBA reader named Leoang is renovating a house in Iowa and thought he had successfully mapped out the details for insulating the roof—until he came across this article warning of the possibility that flame retardants in closed-cell polyurethane foam could off-gas for years.
"I know that there are plenty of VOCs and chemicals on basically everything in a house," he says in this recent Q&A post. "However, I don't know if I am willing to expose my little daughter to a known cancer-causing chemical (TCPP)."
His original plan called for a black, standing-seam metal roof over 2×4 furring, a self-adhered roof membrane, 1/2-in. plywood roof deck, and 2×6 rafters. The rafter bays would be insulated with 4 in. of closed-cell foam.
Now, he's scrambling for alternatives. And they all seem to have shortcomings. The candidates include:
A 4 1/2-in. layer of extruded polystyrene (XPS) over the roof deck with 5 1/2 in. of mineral wool between the rafters.
Foil-faced polyiso above the roof deck and mineral wool below.
Rigid mineral wool above the roof deck and mineral wool below.
The potential problems that Leoang sees are the possibility that the temperatures under the metal roofing would be too much for the XPS: that polyiso does not perform well in cold temperatures; and that a combination of mineral wool batts and panels would make for a very heavy roof.
What's his best option? That's the topic for this Q&A Spotlight.
Go for Door Number 2
Akos suggests that Leoang choose his second option—polyiso above the roof deck and mineral wool between the rafters.
"The cold-climate issues with polyiso are overblown in climate zone 5," he says. "Yes, you lose a bit when it's very cold but that is only a small portion of the year. You can…
Weekly Newsletter
Get building science and energy efficiency advice, plus special offers, in your inbox.
This article is only available to GBA Prime Members
Sign up for a free trial and get instant access to this article as well as GBA's complete library of premium articles and construction details.
Start Free Trial
Already a member? Log in