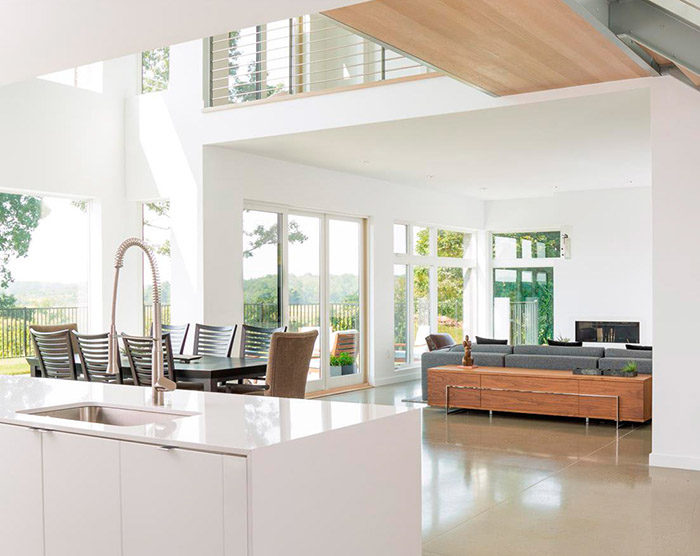 Most U.S. homes built before World War II consisted of a series of relatively small rooms divided by partitions. These homes usually included a separate living room, dining room, and kitchen, each of which could be sealed from neighboring rooms with a door.
There were historical reasons why this made sense. Small rooms are easier to heat than large rooms. For example, a hundred years ago, Vermont bedrooms were unheated. The first person in the family who woke up each morning went down to the kitchen to light a fire in the kitchen stove. As various members of the family came downstairs, they gathered in the kitchen for tea or coffee—because that was the warmest room in the house. You really didn't want the kitchen to communicate openly with nearby rooms. You wanted the kitchen to have doors you could close, so that the room warmed quickly.
Decades ago, many wealthier families hired a domestic servant to do the cooking, and preferred to keep kitchen noises and smells behind a closed door. They didn't want to see their food until it was presented to them in their dining room.
The invention of the great room
Standard residential designs changed substantially during the 20th century. Several architects, including Frank Lloyd Wright, proposed a new type of residential layout that was eventually dubbed "open-plan design." Partitions were removed, so that the kitchen, dining room, and living room all flowed together, becoming a "great room."
This change was made possible by several technical developments, including the increased availability of steel beams (allowing designs with fewer posts or bearing walls) and the development of central heating (allowing every room to be kept at a more or less even temperature).
Open-plan designs often incorporated large windows, and fans of the style…
Weekly Newsletter
Get building science and energy efficiency advice, plus special offers, in your inbox.
This article is only available to GBA Prime Members
Sign up for a free trial and get instant access to this article as well as GBA's complete library of premium articles and construction details.
Start Free Trial
Already a member? Log in