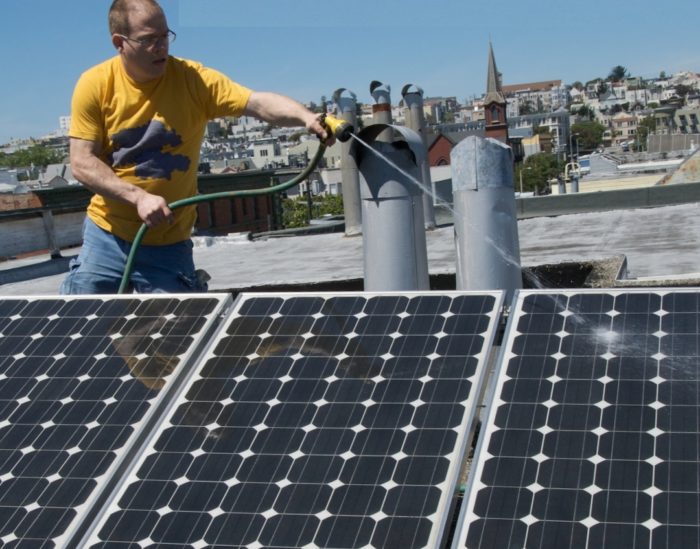 Low- and middle-income Americans would have better access to wind-generated and solar-generated electricity under a plan unveiled by the Obama administration this week.
According to an article in The New York Times, steps announced in Baltimore on July 7 are meant to triple the amount of wind and other forms of renewable energy installed in federally subsidized housing by 2020, make homeowner loans for solar equipment easier to get, and improve access to solar energy for those who rent.
At the same time, commitments totaling $520 million from charities, investors, and government agencies were announced for energy-efficiency projects for low-income communities, The Times reported.
The article didn't offer any details, but The Washington Post said that the initiative would put more money into community solar projects, and that new solar projects at federally subsidized projects would total 300 megawatts of capacity,
The announcement came on the heels of a pledge last week by Brazil and the U.S. that both countries would get 20% of their total electricity from renewables by 2030.
"It's very important not only that we achieve that goal, but how we get there as well," Obama senior adviser Brian Deese said on a media call, according to The Post. "We know there are significant challenges in the scope and geographic reach of solar."
Plans would narrow an access gap to solar
The Post noted that falling prices for solar panels have made it possible for many more Americans to own solar arrays, but there are still many households without access. Renters don't have the option of putting solar panels on the roof, and poor families often don't qualify for financing that has helped expand the number of solar systems in the country.
The article cites a study by the George Washington University Solar Institute that said, "The rapid decline of solar panel costs in recent years has ushered in a solar boom that has not spread uniformly across the spectrum of U.S. household incomes. Despite being more vulnerable to energy costs, lower-income Americans have lagged behind more affluent households in adopting solar and realizing its numerous benefits."
That study said that the 49 million households earning less than $40,000 a year represent 40% of all U.S. households but less than 5% of all households with solar installations. Energy costs in low-income households make up a much larger share of the household budget than they do in wealthy homes even though low-income families on average use less energy. So even modest reductions in energy bills through better access to renewables would have a big impact.
The 300 MW goal for federally subsidized housing is three times what the president promised in 2013, but that target has already been reached, five years ahead of schedule, The Post said.
Energy Department creates new partnership
The Department of Energy's new National Community Solar Partnership will coordinate the efforts of a number of federal agencies, some of the larger states, and private solar companies such as First Solar to increase community solar programs around the country, the article said.
This follows by a few weeks an announcement by SolarCity, the country's biggest solar installer, that it would develop and operate as many as 100 1-MW community solar installations in Minnesota and invite renters, low-income housing residents, and schools to buy the electricity for 13 cents a kilowatt hour.
GTM Research has pegged community solar as "the most significant solar growth market for the United States," The Post said.
Previously, the White House said it wanted to train 75,000 solar workers by 2020, and the latest announcement included new efforts to help low-income workers join the solar workforce.
Weekly Newsletter
Get building science and energy efficiency advice, plus special offers, in your inbox.