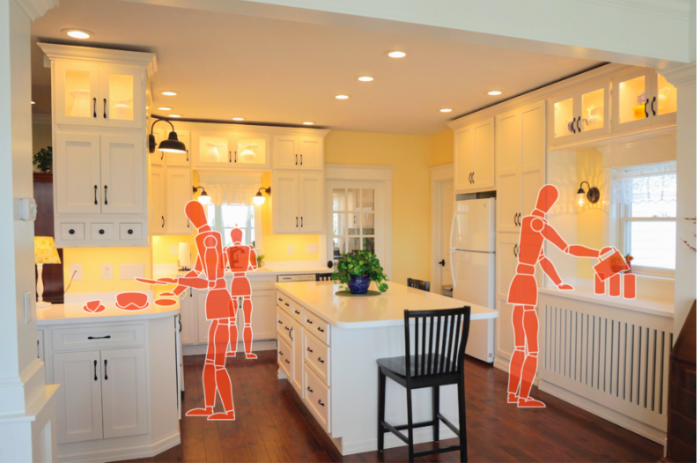 This episode of the BS* + Beer show features returning guests David Warfel, author of "Lighting for the Long Term" and "The Lighting Power of LEDs", and Jeff Calkins, as well as Ben Parra. The last lighting episode was so popular that we wanted to continue the conversation with practical applications in mind. We hear about affordable strategies for improving what we are doing with lighting. David kicks things off with a lively presentation depicting: "5 Reasons Lighting is Expensive," "5 Layers of Better Lighting," "5 Promises of Light," and "5 Tips for Lighting Triage." Suffice to say, it's packed with solid nuggets of information. Types of lighting discussed—and best applications—include disc lights, step lights, adjustable flex downlights, linear lights, and LED strip tape.
David advises us to think about where light will hit before adding it to our design plans. Jeff shares examples of modest approaches he takes to lighting installation, and shares images of a 1950s mid-century-modern home by way of example. Ben suggests we light our vertical surfaces first, and everything else will fall into place. He also talks about techniques for creating soft, warm light using LEDs. The subject of LEDs elicits a lot of activity in the chat box, and the conversation is rich with product and manufacturer recommendations from the experts. All told, this is a highly educational episode.
Enjoy the show!
Join us on Thursday, March 11, from 6 to 7:30 p.m. EST when we will discuss "Building Monitoring: What Should We Be Measuring, and How Should It Be Measured?" Kohta Ueno plans to share a presentation covering the basics of enclsoure monitoring, typical instruments and sensors, and types of measuring. He'll provide information on implementation, as well as some real-world scenarios and guidance on how to interpret the data. Doug Horgan and Ben Bogie will also be on board to field questions and share their expertise—both are avid practitioners of building diagnostics. In fact, Ben just contributed an article, "Why We Need Building Sensors," that makes for a good read in advance of the show. And on this episode of the BS* + Beer Show, Doug covered the topic of diagnostic tools—with a fun game to demonstrate lessons learned.
Guest bios
Kohta Ueno is a Senior Associate at Building Science Corporation, a Westford, Massachusetts based consulting company. He is also conveniently sized to fit into attics and crawlspaces, which is markedly useful in this field.
Doug Horgan is vice president of Best Practices at BOWA, the Washington DC area's premier custom and remodeling builder. In this training, quality monitoring, and troubleshooting role, Doug's goal is to reduce construction defects through knowledge sharing. Doug's 30 years of experience in the fields of carpentry, warranty-troubleshooting, and instruction, along with thousands of photos taken along the way, are the foundation for visually rich presentations on how to build well and avoid construction problems. Doug is a frequent contributor to the "Journal of Light Construction," "ProTradeCraft," "Fine Homebuilding," "Remodeling," and "Professional Remodeler," and he has presented at Remodeling, JLC Live, NESEA Building Energy, the National Home Performance conference, and local events. His credentials include BPI Building Analyst and LEED AP – Homes. 
Ben Bogie is a second-generation high-performance-building obsessive working as a project manager for BPC Green Builders of Wilton, CT.
Use this link to register for The BS* + Beer Show  
BS* + Beer Book Club
Because the hosts of the BS* + Beer Show all love to read, we thought we would celebrate the authors in our industry by adding a book club to the show every few months. We'll announce the book, give you a few months to get it and read it, and conclude with a BS* + Beer Show episode where we will invite the author to join us, present, and take questions.
We have selected our third book: Essential Building Science: Understanding Energy and Moisture in High Performance House Design by Jacob Deva Racusin. New Society Publishers has generously extended a 25% discount for this book and others in their Essential Building Science series (paperback or ebook). Use the discount code Essential25 now through March 31.
We hope you will pick up a copy and join the discussion on April 1, 2021.
________________________________________________________________________
Kiley Jacques is senior editor at Green Building Advisor. She can be reached at [email protected]. Image courtesy of David Warfel.
Weekly Newsletter
Get building science and energy efficiency advice, plus special offers, in your inbox.