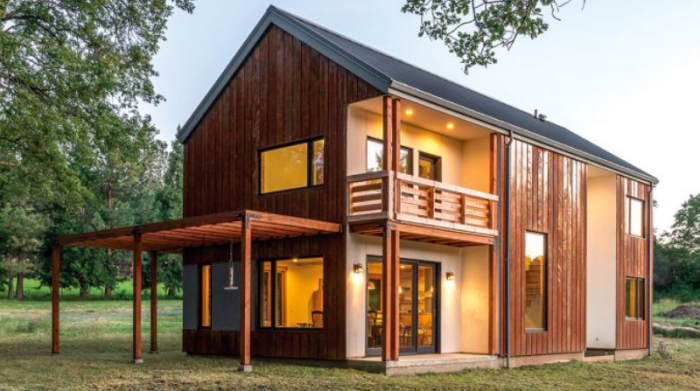 This episode of the BS* + Beer Show features Elizabeth DiSalvo, principal of Trillium Architects; energy consultant Kai Fast of Kaplan Thompson Architects; and Steve DeMetrick, owner of DeMetrick Housewrights talking about the ways in which a building's size and shape affect performance, cost, and aesthetics. As part of the Pretty Good House series, the discussion includes examples of right-sized houses with emphasis on the rectangular form's benefits, which include better WuFi modeling results. The group covers the challenge of heat gain, the value of deep overhangs, passive solar vs. Passive House performance, the tendency for HVAC mechanicals to be used as a be-all solution, the unmet demand for smaller homes, marrying simplicity of design to ease of constructability, and much more.
Enjoy the show!
Bios 
Steve DeMetrick is owner of DemMetrick Housewrights. He has been building houses since he graduated from Georgetown University in 1995. He worked for Habitat for Humanity in inner city Washington, DC as an AmeriCorps volunteer for two years, then moved back to Wakefield in 1998 and has been building and remodeling in his community ever since. He is a Certified Passive House Builder and built the first PHIUS Certified Passive House in the state. He is an active member of the Northeast Sustainable Energy Association and is an occasional contributor to the Journal of Light Construction and Fine Homebuilding magazines. He also served on the Board of Passive House Massachusetts.
Elizabeth DiSalvo, is the founder and principal architect at Trillium Architects. She is a Graduate of Columbia University with a masters of advanced architectural design and of Rensselaer (RPI) with a five year Bachelor of Architecture and Building Science.  Elizabeth has been a Registered Architect since 1993 and currently holds registration in the States of New York and Connecticut.
Kai Fast graduated from Wentworth Institute of Technology in Boston in 2014 with a master's in architecture. A Certified Passive House Consultant, Kai is the in-house Sustainability Specialist at Kaplan and Thompson Architect.
The BS* + Beer Show schedule
The next show is on September 7, 2023, from 6-7 p.m. ET.
Use this link to register for The BS* + Beer Show
Weekly Newsletter
Get building science and energy efficiency advice, plus special offers, in your inbox.