Editor's note: Carri Beer and Michael Hindle are renovating this 1954 house in Catonsville, Maryland. Hindle is a Certified Passive House Consultant and owner of Passive to Positive. Beer is a registered architect who has been practicing sustainable architecture for 18 years. She is an associate principal with Brennan+Company Architects. This is the couple's first in a series of blogs about the project.
We've admired this house for years and are excited that this unique piece of residential architecture is now ours. As we would have it, the home is in need of some love, maintenance, and restoration. It has good bones and great space and light. We are looking forward to making it as energy efficient as possible, using healthy and natural materials while restoring its 1954 character.
This classic is an architect's dream and Passive House consultant's worst nightmare — an uninsulated house built with locally quarried stone with limited-depth framing cavities for insulation, and a huge, open, stone chimney that penetrates a large, west-facing glass wall. In other words, a beautiful, but enormous, unbroken heat loss fin in an R-2 wall. It will be a true test for our balancing skills.
Despite the major energy challenges posed by the existing conditions, we do not feel this was a bad move for us. However dedicated to low-energy design we are, we think a huge part of our work must be in acknowledging and dealing with the massive quantity of existing structures that have horrible energy performance and doing what we can with them.
The targets set for avoiding catastrophic climate change articulate goals of 80% carbon emissions reductions below 1990 levels by 2050. Estimates suggest that 70% of all structures standing in 2050 will be structures that are already standing today. That means that the current building stock must be aggressively retrofitted. This home will allow us to do our part in that heavy lift. It has wonderful southern exposure and lots of room for improvement and is a great home for our family.
The house stats
The house clocks in at an embarrassingly large 4,519 square feet. At 1,524 square feet, the original footprint is quite modest, with three bedrooms and two baths on the main level. But prior owners finished a covered porch, enclosed a three-seasons room over the entire two-car garage and, you guessed it, finished the full basement into a carpeted mold farm — we mean family/recreation room — a freezing cold and moldy bathroom and laundry, and two large but subterranean bedrooms.
As one might expect, while one of the prior owners did install an interior perimeter drain to deal with bulk water intrusion, there was no effort to control moisture diffusion behind the furred-out drywall and below the carpet pad. The real estate agent seemed to think that this finished basement was a real selling point. We just groaned.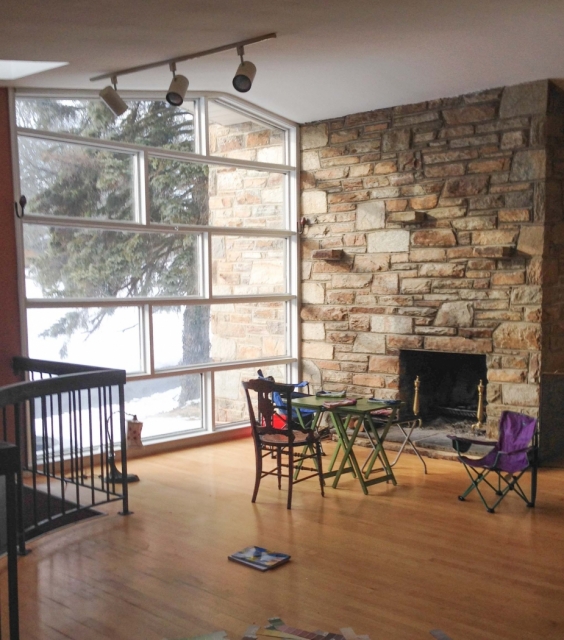 The house was a short sale — sold "as is" — or, in other words, a never-ending nightmare of things failing and breaking. The systems were a rusty mess: there was a natural gas leak, gutters falling off, copper piping with pinhole leaks about to explode, two macerating ejector pumps leaking sewer gas, and a few overloaded circuits here and there.
In addition to these system failures, the classic 1954 aesthetic had been covered by 6-panel faux colonial doors, bronze light fixtures, dark paint, and 1990s-dated bathroom and kitchen updates. The remnants of a once well-tended landscape was overgrown with English ivy. And, for better or worse, it has a swimming pool with a majorly leaking pump and broken valves, guzzling tons of chemicals.
So why did we buy such a money pit? The house was once a lovely example of mid-century modern residential architecture. The furniture we have collected over the years is all vintage 1950-60s Danish modern; we lean toward Japanese detailing, simplicity, and textures. And we love drinking bourbon out of roly-poly glasses. Carri drove by this house every day for three years, and at least once a week for 12 years prior. We've always loved its uniqueness and lines. When you go inside and see the stone fireplace slicing through a wall of glass with a cathedral ceiling, you're kinda like in genuine modern design heaven.
Oversized HVAC systems
When we first visited the house it was clear that the furnace and AC were in tough shape, and the previous owner did disclose that the mechanicals were only 50% operational. We knew these systems would need to be replaced soon but did not understand the full extent of the problems, nor the urgency with which we would be forced to deal with them.
The original house had two furnaces, each rated at 80,000 Btu/h, and about five tons of AC. These systems served a single-zone duct system. Two furnaces and a one-zone duct system? Yup. It was one strange setup.
The addition over the garage is graced with another 50,000 Btu/h furnace and 2½ tons of cooling. With a total of 210,000 Btu/h of heat and 7½ tons of cooling, you might think that we'd have no problem staying comfortable … but you would be wrong! We will be sharing our experiences, both good and bad, with sizing, selecting, and installing the perfect heating, cooling, and ventilation system.
Windows from the 1990s
Most of the windows are okay enough not to force a replacement, but all are old enough to make us wish we could. They are Andersen double-pane windows with fiberglass frames from the early 1990s, and they are definitely starting to show their age. A few window seals are broken, and several have non-functioning latches and will not properly close.
There is also a very strange phenomenon that we have never seen before. On a handful of windows, condensation forms in a tidy oval in the middle of the window on the interior surface. Between this very common (in our house) but unusual occurrence, some wavy vinyl siding, and a trash can lid that literally melted on a spring day, we deduced that the window panes are bowing in towards one another, creating concave mirrors for melting our siding (going to remove that nasty stuff anyway) and trash-can lids, and resulting in colder temperatures at the center of glass, rather than at the perimeter!
Some windows will have to be replaced, and this will be a very sensitive balancing act of performance, aesthetics, and budget. We will be exploring the performance, cost, and aesthetics of several windows as we move through the process.
Air leakage
Also as one would expect, the house is the furthest thing from airtight. We logged 5,250 cubic feet per minute at 50 pascals of pressure during our blower-door test. In a fascinating twist, the utility incentive program will reward us for improvements, but the auditors and home energy improvement contractors are instructed to recommend cut-and-paste improvements that leave tons of energy and money on the table.
The audit suggested, for example, that our house is 1.27 times leakier than it should be to allow "for proper ventilation!" Air-sealing as per the audit recommendation would only reduce our air infiltration to 4,200 cfm. Wow! We have designed and delivered houses almost this large that tested out at 200–300 cfm, around 0.3 ach50. Needless to say, we will go above and beyond these air sealing recommendations, but the incentives will not be commensurate with our increased ambitions.
We will discuss the challenging effort to find foam-free, locally available solutions to air sealing an existing house.
A big mold problem in the basement
We don't know the extent of the mold problem in the basement yet, although we know there is some. But that is not the only air quality challenge. High levels of air infiltration and exfiltration combined with frame assemblies built on top of concrete slabs exposed to the exterior (sunroom and garage addition) have resulted in focused areas of condensation-related moisture and its biological consequences.
Poorly installed (and maintained) gutters and downspouts and typically poor window installation details have led to some problems with bulk water entry. We will be sharing several different construction details that combine insulation and moisture control in a below-grade space on both the slab and the walls.
The previous owners had two large dogs and a cat and the pet stains, odors, and allergens were intolerable. Carri could hardly breathe due to allergies, so action was needed, fast. We will discuss healthy choices used in finishes such as flooring, paint, and salvaged materials.
Finally, the water heater is a standard-issue gas water heater, but with a hopelessly rusted flue that is sagging and is spilling combustion fumes. Or goal is to install a new heat-pump water heater and share our thoughts and experiences with this piece of equipment, as well as our new heat-pump clothes dryer.
What we'd like to accomplish
We are a family of five taking on a pretty big project, so cost is definitely a huge issue for us. For better or worse, we tend to make decisions based on quality, performance, and experimentation rather than budget practicality.
Our goal and challenge is to find ways to dramatically improve all of the above and to do it in a holistic, sustainable manner within a constrained budget. Spray foams and other foam products are used almost universally in utility-backed home energy improvement programs and, for that matter, in existing building retrofit solutions. We are committed to reducing the embodied energy, global warming potential, and embodied toxicity (not to mention acute toxicity to the installers) of our projects, so this project, as with many of our other collaborative efforts, will be completely foam-free.
We will be using our house projects to test new products (or new applications of old products) and strategies and will monitor and test our results.
Holistic sustainability is the guiding philosophy of our renovation. We are looking at every aspect of our built, economic, agricultural, and ecological environment and how the decisions we make affect it. We are taking into consideration our impact on the site, efficient use of water resources, healthy indoor air quality, efficient material and resource use, and aggressive energy use reductions.
Through our blogs, we hope to share our research, lessons learned, adventures, and a few personal rants. We welcome discussion and feel certain we have as much to learn by sharing these experiences as we have knowledge to offer. We look forward to participating in the advancement of the knowledge of homeowners and the design and construction community.
Here is a link to the next article in this series: CarMic House: No, We Are Not Crazy.
Weekly Newsletter
Get building science and energy efficiency advice, plus special offers, in your inbox.