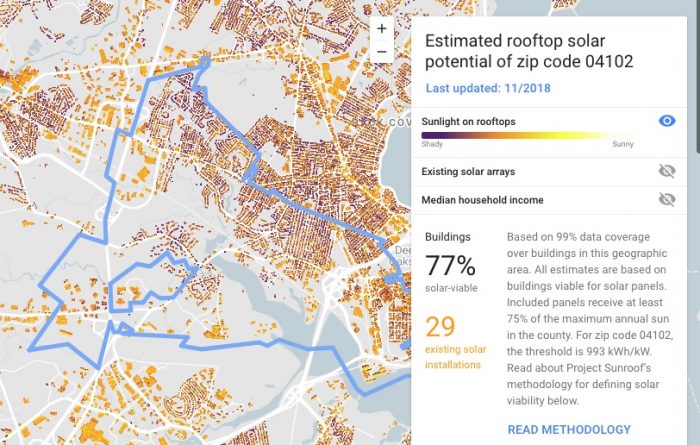 Although the rooftop solar market in the U.S. has grown by roughly 50% a year since 2012, not everyone is reaping the benefits, a new study says.
Writing in the journal Nature Sustainability, researchers said rooftop photovoltaic systems showed "significantly less" adoption in black and Hispanic neighborhoods even after differences in household income and homeownership were accounted for. (The full study is behind a pay wall, but you can read the abstract here.)
"Although the opportunities [solar] affords for clean, reliable power are transformative, the benefits might not accrue to all individuals and communities," the authors said.
Researchers from the University of California, Berkeley combined data from Google's Project Sunroof and the U.S. Census to reach their conclusions. Project Sunroof provides high-resolution satellite imagery showing the location of rooftop solar panels, part of a package that lets homeowners estimate how much rooftop space they have for solar panels and how much electricity a system would hypothetically produce.
Here's what researchers found:
For the same median household income, census tracts where black and Hispanic residents were the majority installed less rooftop PV than areas where they were not a majority by 69% and 30% respectively. White-majority census tracts installed 21% more solar.
When correcting for home ownership, black- and Hispanic-majority areas installed less PV compared with no majority areas by 61% and 45% respectively. White majority neighborhoods  installed 37% more solar.
In an article about the study, Scientific American spoke with study co-author Daniel Kammen who said he wasn't surprised that race and ethnicity were important factors in solar deployment. Kammen, however, said he had expected the effect would be reduced significantly when researchers controlled for income. "But alas," he said, "it was not."
How solar installations spread
The authors note that rooftop solar increases in two ways. One is through "top-down" approaches, such as public policy and alternative financing that makes the purchase of PV possible. The second are "bottom-up" approaches, such as the "social diffusion effect" in which someone who installs PV on their home influences neighbors to do the same.
A number of state and federal programs have been created to help  low-income people add solar. But programs that specifically target racial and ethnic minorities are still missing. This prompted researchers to study what they call the "energy justice landscape" of small-scale solar deployment.
"We hypothesize that PV adoption is not hindered by economic resources nor property ownership only," they write. They add that additional demographic variables, such as race, can provide insights into how and why solar is adopted and improve top-down efforts that help it spread.
In the case of black communities in particular, researchers found that 47% of black-majority census tracts had no existing solar installations, which in some cases was more than double the rate for white-, Asian- and Hispanic-majority neighborhoods. The lack of these "seed" installations can help slow the spread of solar.
Lack of diversity in the workforce
Although the authors don't offer an explanation for the disparities, they suggest that a lack of racial diversity in the renewable energy workforce could be part of the reason.
"The lack of racial diversity is particularly pronounced in management and senior executive positions in solar firms, where in the United States over 80% of these positions are held by white people," the report says.
A 2017 report on diversity in the U.S. solar industry by The Solar Foundation that said people of color make up only a small percentage of the U.S. solar workforce. Seventeen percent are Hispanic or Latino and just 7% are black.
Further, fewer men of color earned wages in the highest pay bracket than did white males. Only 4% of women of color fell into the highest wage bracket, those earning more than $75 an hour. People of color were more likely to have mid-level positions rather than work as managers, directors, or presidents.
"The root causes of the differences between black- and Hispanic-majority census tracts are difficult to predict and fully explain," authors of the Nature Sustainability write, "and can also have social-psychological attributions that require further validation."
They add, however, that when communities of color initially get a few solar installations, deployment significantly increases.
"These results," they said, "suggest that appropriately 'seeding' racial and ethnic minority communities may mitigate energy injustice in rooftop PV adoption."
Weekly Newsletter
Get building science and energy efficiency advice, plus special offers, in your inbox.