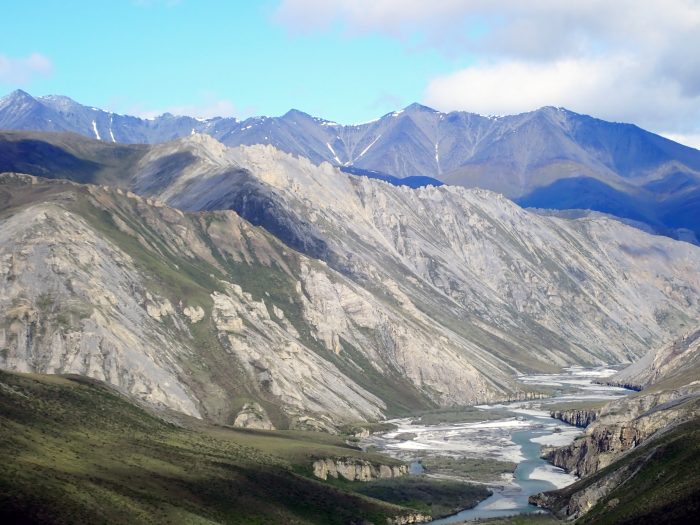 The Arctic National Wildlife Refuge (ANWR) covers more than 19 million acres in northeast Alaska. It's about the size of North Carolina. A significant portion of the refuge — 8 million acres — is designated as wilderness (the Mollie Beattie Wilderness).
The Arctic Refuge is the largest national wildlife refuge in the United States, and remains the wildest land in the country. If you are looking for the geographic spot in our country that is farthest from any trail, road, or building, you'll find that spot in the center of the Arctic Refuge.
When Congress was debating the establishment of ANWR and the Mollie Beattie Wilderness, pro-development interests lobbied legislators for the right to drill for oil in a portion of the proposed refuge. As a political compromise, Congress carved out a portion of the refuge, known as "Area 1002," where oil drillers might petition at some future time for drilling rights, should valid reasons be presented that such drilling was in the national interest. Ever since the possibility of oil drilling in Area 1002 was established by legislators, environmentalists have sought to delay or prevent that drilling. But if the Trump administration has its way, oil companies will soon be setting up drilling equipment in the Arctic Refuge.
As the New York Times has reported, "plans to allow the lease sales were completed and approved by Congress in late 2017. … Republicans made major advances toward drilling [in ANWR] during the first two years of the Trump administration, when they controlled both Congress and the White House. But Democrats, since winning a majority in the House last November, have tried to slow or halt the drive toward lease sales."
According to a recent story on Alaska Public Radio, "[Joe] Balash is a top Trump administration official, the assistant secretary for land and minerals management at…
Weekly Newsletter
Get building science and energy efficiency advice, plus special offers, in your inbox.
This article is only available to GBA Prime Members
Sign up for a free trial and get instant access to this article as well as GBA's complete library of premium articles and construction details.
Start Free Trial
Already a member? Log in