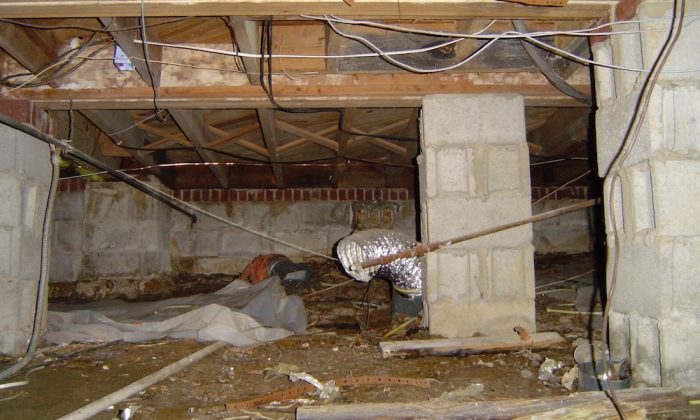 Vented crawlspaces are often nasty, dirty buffer spaces that can flood your home with a variety of indoor air pollutants. A lot of it starts with moisture, of course. Water comes up from the ground beneath the crawlspace, sometimes in strange ways. It comes straight through the foundation walls. And it can come in with outdoor air that's intentionally vented into the crawlspace. In many cases, the best solution is to encapsulate the crawlspace. But when should you encapsulate your crawlspace? And when should you not?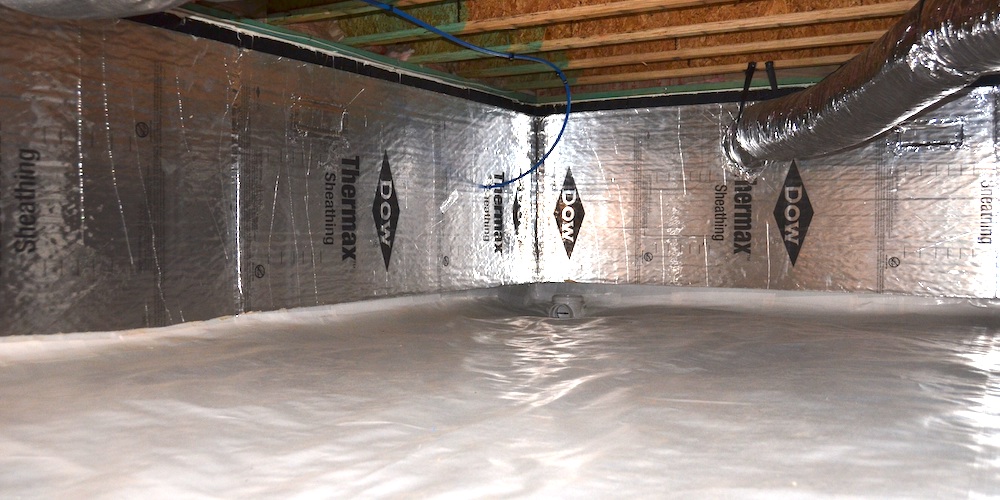 The photo above shows how much healthier your crawlspace can be when encapsulated. But it's not suitable for every house. Let's look at the primary factors you should consider when making this decision.
Bulk water problems
The first sign that you shouldn't encapsulate a crawlspace is standing water, as in the photo below. If bulk water is coming into the crawlspace, covering it up with plastic is maybe worse than doing nothing. That water is probably going to find ways to get on top of the plastic. Then it's trapped.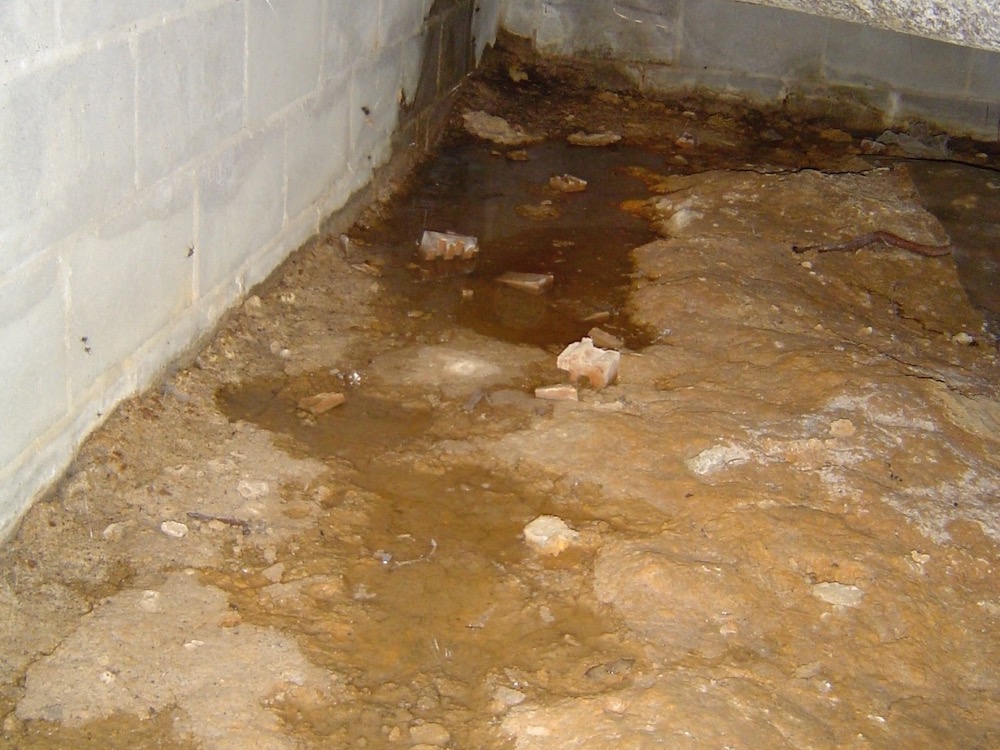 That doesn't mean you should never encapsulate a crawlspace with bulk water problems. It just means you have to solve the water problem before encapsulating. Often, the water comes from poor drainage in the yard. One house I looked at had standing water throughout the crawlspace because the backyard sloped toward the house. The crawlspace had no exterior water control layer, and the yard wasn't graded to divert the water. Another house I worked on had a downspout dumping water right at the foundation, and that water traveled a circuitous route into the crawlspace. Fix the water problems, and then you can encapsulate.
Flood-prone areas
A similar issue is building in a flood zone. If your house is required to have flood vents, it's not a good idea to encapsulate. If you do, you're asking for trouble. Flood vents don't drain the crawlspace from the bottom, like a bathtub. They drain from the side, where the foundation vents are located. If your encapsulated crawlspace gets flooded, you now have a swimming pool under your floor. Not good!
Combustion equipment
Atmospheric combustion equipment pulls air from the surrounding space to burn its fuel. A gas furnace in a vented crawlspace won't run short on oxygen because it's connected to the outdoor air. Once you encapsulate, though, the furnace has only the air in the crawlspace when it runs.
Well, sort of. As the furnace runs, it pulls in crawlspace air, burns the gas, and then sends the exhaust gases up the flue. As the exhaust gases leave the crawlspace, a negative pressure develops. That negative pressure will pull in air from wherever it can: the house above, leaks in the crawlspace walls, unsealed chases connected to the attic, etc.
The problem here is that the building code requires a certain amount of volume for atmospheric combustion appliances. The International Residential Code (IRC) has provisions for determining when you can use such equipment in enclosed spaces.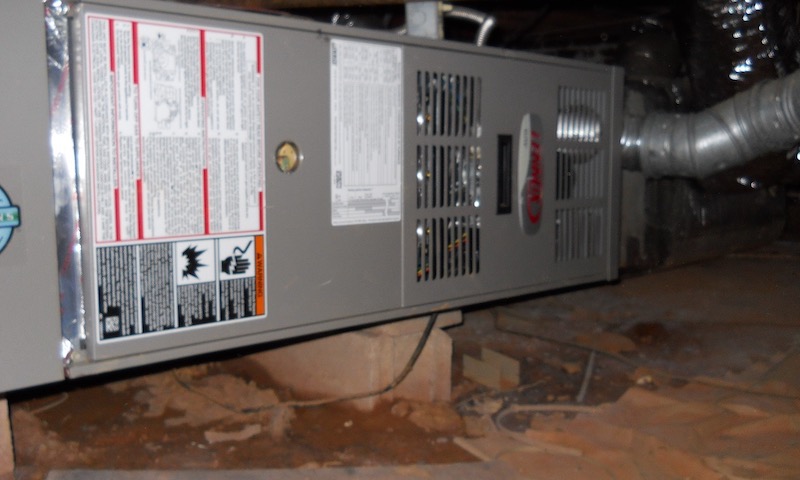 One of the methods in the 2018 IRC requires that there be at least 50 cu. ft. of volume per 1000 BTU/hr of heating capacity. That means that an 80,000 BTU/hr furnace would need 4000 cu. ft. of volume in the crawlspace. If the crawlspace has a floor area of 2000 sq. ft., the average height would have to be 2 ft. If the floor area is only 1000 sq. ft., you'd need an average height of 4 ft.
There are a couple of other methods for determining whether it's OK to put combustion equipment in an encapsulated crawlspace, so check the code (or check with your building officials).
The other way to deal with this problem is to change the equipment. Replace atmospheric combustion equipment with direct vent or sealed combustion, methods that allow the appliance to bring in its own combustion air. Or go the electrification route and replace what you've got with a heat pump.
Climate zone
Another factor to consider is the climate zone. Moisture can be a really bad problem in humid climates, but a vented crawlspace can work well in a dry climate. The keys to make the determination about crawlspace encapsulation in this case would be:
Do you have HVAC equipment and ductwork in the crawlspace? If so, encapsulation will bring it inside the building enclosure. But assess the encapsulatability of any combustion you equipment you might have in the crawl. (See previous section.)
How well air-sealed and insulated is the floor above the crawl? If you don't have ducts in the crawl and the floor is leaky and poorly insulated, it may be easier and less expensive to encapsulate.
Even without moisture problems, a vented crawlspace can harbor critters of various sorts: spiders, snakes, possums, cats . . . Who knows? You may even have a honey badger living down there. A good encapsulation can keep them out, or at least make it harder for them to get in.
General guidance
Water is probably the biggest problem with most crawlspaces. Encapsulating can make it better, but first you have to make sure you don't create another kind of water problem. Do a thorough assessment to make sure you don't have bulk water problems. Then do a combustion equipment check to see if it's compatible. Finally, consider your climate and where might be the best location for the building enclosure.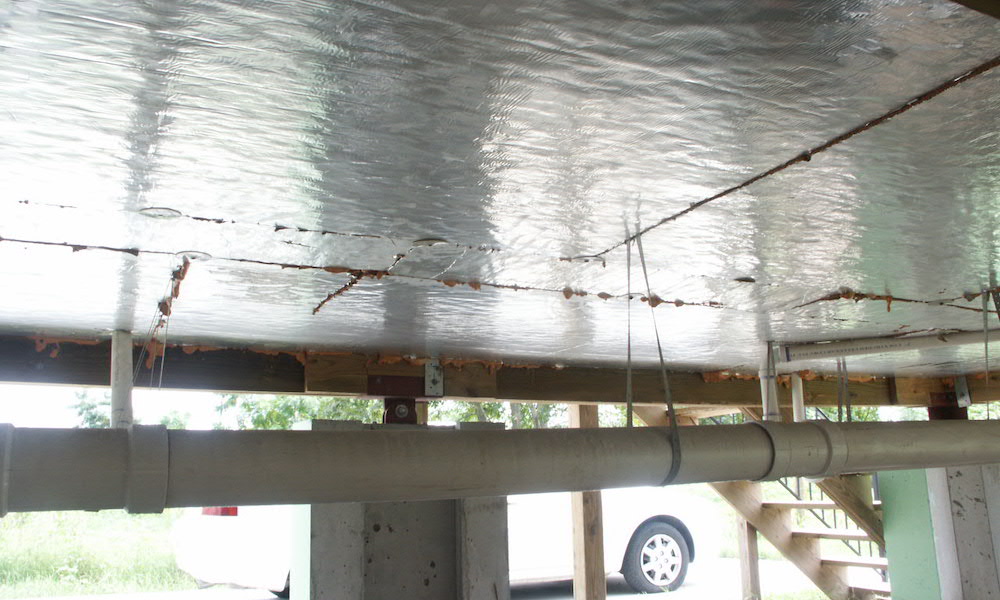 If your house isn't a good candidate for crawlspace encapsulation, do the best job you can insulating and air-sealing the floor above the crawl. I'm not a fan of putting spray foam in the floor because it makes it hard to do anything with the wiring and plumbing afterward. I'm also not a fan of fiberglass batt insulation held in place by wire supports. It will fail. My preferred method for a framed floor above a crawlspace is blown or batt insulation (installed to Grade I quality) supported by rigid foam board insulation. The photo above shows what that looks like.
No matter what you choose, you can find a solution much better than leaving your crawlspace looking like those in the first and third photos above. You'll breathe easier when you do.
________________________________________________________________________
Allison A. Bailes III, PhD is a speaker, writer, building science consultant, and the founder of Energy Vanguard in Decatur, Georgia. He has a doctorate in physics and writes the Energy Vanguard Blog. He also has written a book on building science. You can follow him on Twitter at @EnergyVanguard. Photos courtesy of author, except where noted.
Weekly Newsletter
Get building science and energy efficiency advice, plus special offers, in your inbox.