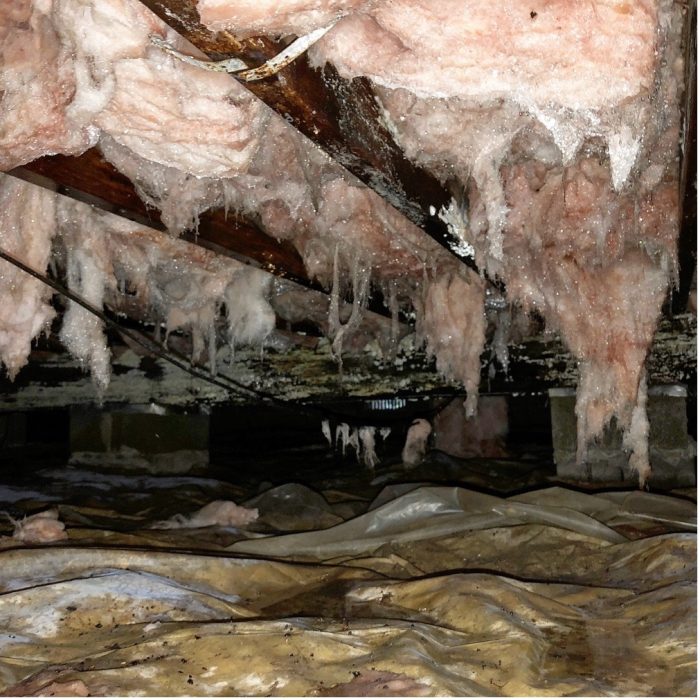 The crawlspace is one of the most confusing and misunderstood areas of a house. Typically, it is the dirtiest, dampest, and smelliest space in the home, too. If not treated properly, a crawlspace can negatively impact the building's structure, occupant health and comfort, and energy consumption.
In many parts of the country, during the spring, summer, and fall months, warm, moist air enters a vented crawlspace from outside and condenses on the cooler surfaces of the walls, floor, and ductwork. This, coupled with the moisture from the dirt floor and water leaking through imperfections in the foundation walls, has led to an epidemic of sick houses.
Moisture in crawlspaces often migrates to the home's upper levels through stack effect. As warm, moist air rises and escapes through the home's upper levels, new air finds its way into the home to replace what's been lost. Intake air comes in at the lower levels—through unsealed crawlspaces. As a result, moisture levels can quickly elevate.
Once above 60% relative humidity (RH), the crawlspace will attract more pests and grow mold, mildew, bacteria, and other biological allergens, leading to musty odors and even foundation structural issues. It is important to remember that polluted air in the crawlspace will make its way into the rest of the home, contributing to poor indoor air quality, and causing uncomfortably high humidity levels.
Reasons to encapsulate a crawlspace
A home with a vented or unsealed crawlspace is limited in its ability to separate the indoor conditioned space from the outdoor environment because it is open to the outdoors. Building experts agree that homeowners should invest in encapsulated systems in both new and existing homes—particularly in hot-humid climates—to ensure a healthy residence and sound structure.
1. Health and comfort
High humidity in homes has…
Weekly Newsletter
Get building science and energy efficiency advice, plus special offers, in your inbox.
This article is only available to GBA Prime Members
Sign up for a free trial and get instant access to this article as well as GBA's complete library of premium articles and construction details.
Start Free Trial
Already a member? Log in