Dutch solar bike path hits 1-year mark
An experimental solar bike path outside the city of Amsterdam has ended its first year of operation by producing as much electricity as planners had estimated as a best case scenario, raising hopes that similar roadway projects could one day be an important source of electricity.
The project, built by a consortium called SolaRoad in the community of Krommenie, produced 9800 kilowatt hours of electricity in its first year, which SolaRoad said would be enough to power three Dutch households with electricity.
The 230-foot-long bike path, is made from prefabricated concrete modules 2.5 meters by 3.5 meters (roughly 8 feet by 11 1/2 feet). Among the technical challenges designers faced was making a translucent surface that would allow sunlight to reach the photovoltaic cells and yet be robust enough to stand up to constant bike traffic, and an occasional car.
The bike path was very expensive, the equivalent of $3.75 million, according to an article posted at Fast Company, but designers say the concept holds promise. "This could be a breakthrough in the field of sustainable energy supply," SolaRoad's website says.
In the Netherlands alone, there are some 140,000 kilometers of roads, said one project planner, more than all of the nation's rooftops combined. "If we can put panels in a road which is there anyway, then we can get that function and lots of green energy without disturbing the landscape or taking extra space," researcher Sten de Wit said.
Pot growers increasing loads on the grid
Although legal, indoor marijuana growing operations in Oregon and Washington are becoming a headache for local utilities.
In Seattle, more than 100 applications are pending for marijuana growing operations that collectively could lead to a 3% increase in the demand for electricity, which has local officials worrying about the chance for power outages, according to a post at UtilityDive.
"In the theoretical sense, it could cause outages," Robert Bonaccorso, a spokesman for Seattle City Light, said. "The main issue is just stressing the wires that supply the area so we would have to add capacity."
No disruptions have yet been reported in Seattle City and Light's service territory. But in neighboring Oregon, Pacific Power says there have been seven blackouts from indoor growing operations since marijuana became legal over the summer. Those responsible face fines averaging $5,000.
The problem is the intense light marijuana plants need when they are grown indoors. "What most people don't realize is that growing marijuana is a very intense power use," Roger Blank, director of safety for Pacific Power, said in a written statement. "From a power use standpoint, even a small operation of four plants with standard lights is like hooking up 29 refrigerators that run 24/7."
In Denver, where recreational marijuana also is legal, officials said 45% of the increase in electricity use is a result of demand by grow houses.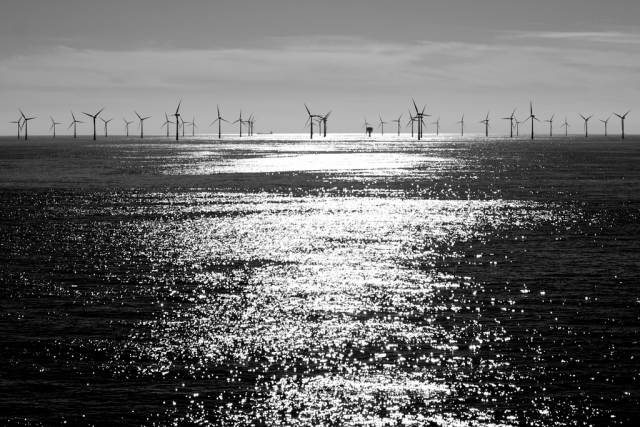 Offshore wind farm proposed
Denmark-based DONG Energy wants to build a wind farm off the coast of Massachusetts that could grow to a capacity of 1,000 megawatts.
The Boston Globe reports that the collection of as many as 100 wind turbines would be built 15 miles south of Martha's Vineyard. The total capacity would be twice that of the proposed Cape Wind project in Nantucket Sound, but also farther out to sea.
The company has both the experience and the expertise to pull off the project, its North American general manager told The Globe, but it faces a lengthy permitting process at both the state and federal level, including an environmental review of plans for bringing power lines ashore. Once permits are in hand, it would take about three years to build the wind farm, with the first 30 to 35 turbines in service by early in the next decade.
Cape Wind faced withering criticism, but DONG may have an easier time of it. "It's absolutely a better plan," said Audra Parker, president of the Alliance to Protect Nantucket Sound. "We find these areas far more superior."
DONG has secured approval for a lease from the U.S. Bureau of Ocean Energy Management, but has not yet filed any applications for the project. The company has annual revenues of $11 billion and said it would be able to finance the project without outside investors. The project would be called Bay State Wind.
Two other companies are interested in developing wind projects in the same patch of ocean. Deepwater Wind has leases nearby and wants to build 200 turbines with a rated capacity of 1,200 megawatts. OffshoreMW of Princeton, New Jersey, also has a lease in the area but says that it is too early to release details of its plan. Meanwhile, Cape Wind, which lost two potential buyers of the power from its proposed wind farm, hopes to keep its 130-turbine project alive.
Net-metering under review in half of all states
Net-metering policies were altered or under review in 27 states in the third quarter of the year, one result of a rapid growth in grid-tied solar installations, a report by Greentech Media said.
Citing a study by the North Carolina Clean Energy Technology Center, the web site said that the trend is due in part to solar's success. Utilities in several states at or close to their net-metering caps.
"This has been another incredible year of growth in distributed solar thanks to rapidly falling costs and policies like net metering," Benjamin Inskeep, an analyst at the center, told Greentech Media's Julia Pyper. "However, some states are tapping on the brakes for solar by undermining this key policy or adding new fees and charges on solar customers. This comes at a time when federal incentives for solar are set to expire at the end of next year, while fossil fuel subsidies remain in place."
In the last quarter, ongoing or decided rate cases involving 26 utilities in 18 states included requests for increase in fixed charges of at least 10%, the report said. The average increase was 70%. Fourteen utilities in 10 states had pending or decided proposals for new charges on net-metered solar customers, an increase from six utilities in five states in the previous quarter.
"Utilities are waking up to the potential threat that distributed solar has on their existing business models," Inskeep said.