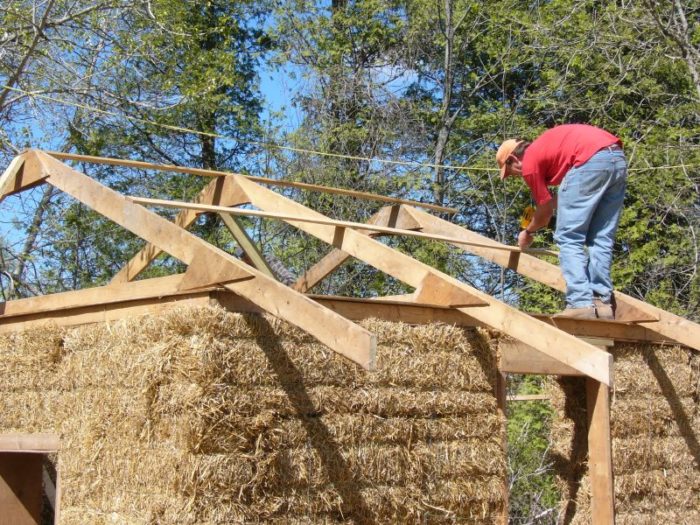 Do you want to build your home out of natural materials? If so, you can build your walls with adobe, cob, cordwood, rammed earth, or wattle-and-daub. Although all of these walls have a long history, their thermal performance is poor. If you want a well-insulated wall, one natural material is the clear winner: straw bales.
A 23-inch-thick straw-bale wall has an R-value of about R-33. Moreover, since virtually all straw-bale walls are plastered on both sides, these walls are relatively airtight.
If you are an owner/builder with lots of time on your hands, and you want to build your walls out of natural materials, straw-bale construction makes a lot of sense.
Nebraska roots
The first straw-bale houses were built in Nebraska in the late 19th century. (I'm proud of this Nebraska connection. Both of my maternal great-grandparents settled in Enders, Nebraska, in the 19th century, while my paternal grandmother grew up in a sod house in South Dakota.) According to Bruce King, the author of Design of Straw Bale Buildings, the oldest standing straw-bale building in the world is the 108-year-old Burke house in Alliance, Nebraska.
Many people confuse straw and hay. Hay is dried grass — the same stuff that your lawnmower spits out. Hay is used to feed cattle, horses, and other farm animals. Straw, on the other hand, consists of the dried stems of grain plants — for example, wheat, oats, barley, rye, or rice. Since hay is more vulnerable to rot and mold than straw, hay bales should not be used for wall construction.
Straw is often sold for use as…
Weekly Newsletter
Get building science and energy efficiency advice, plus special offers, in your inbox.
This article is only available to GBA Prime Members
Sign up for a free trial and get instant access to this article as well as GBA's complete library of premium articles and construction details.
Start Free Trial
Already a member? Log in