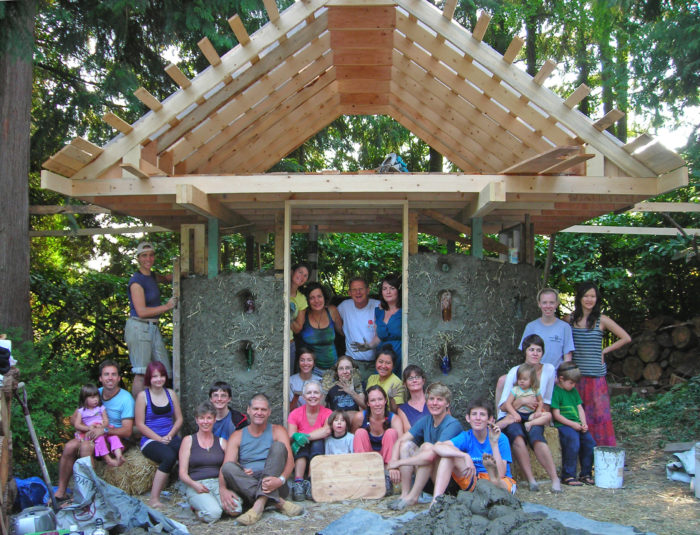 There are two camps in the green building world. One camp — the one focusing on energy efficiency — gets most of the world's attention. The other camp — natural builders who favor materials like mud, straw, and sticks — usually gets short shrift.
My roots are firmly in the natural building community. When I was a poor hippie in the 1970s,  I built a house from materials I gathered in the woods or found at the dump. Most of my Vermont friends were doing the same thing back then.
In my opinion, today's green builders need to pay attention to natural builders. In most cases, a small cob-walled house with hand-split cedar shake roofing has a much smaller carbon footprint than a typical zero-energy home. (For an extended discussion of the split in the green building community, see "Low-Road Buildings Are Homeowner-Friendly.")
At GBA, I've tried (and mostly failed) to highlight the accomplishments of natural builders. In my attempts, I've swum against the tide: most of the questions posted by GBA readers concern energy efficiency, not the use of natural materials.
With that background in mind, I'm happy to take this opportunity to recommend a book, Mudgirls Manifesto, that focuses on natural building.  (Mudgirls Manifesto is available from New Society Publishers for $19.50.)
Changing the world
If you look at American residential builders who are now in their 60s and 70s, you'll find that a large percentage of this group started out as hippie builders. The cohort of hippie builders who began working in the late 1960s and 1970s created many cultural ripples: for example, we were largely responsible for the success of Fine Homebuilding magazine and the Journal of Light Construction.
As part of the counterculture, many of us were unapologetically out to change the world. Looking…
Weekly Newsletter
Get building science and energy efficiency advice, plus special offers, in your inbox.
This article is only available to GBA Prime Members
Sign up for a free trial and get instant access to this article as well as GBA's complete library of premium articles and construction details.
Start Free Trial
Already a member? Log in