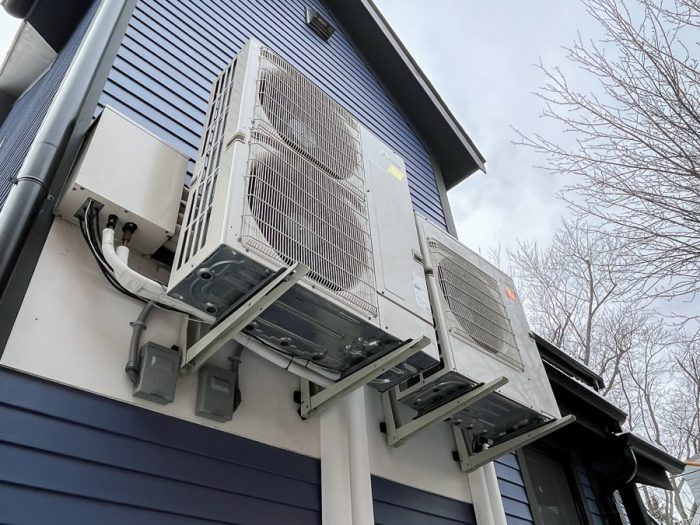 Levi Tofias is one year out from a gut renovation of his Boston area home, and he's finding that his new minisplit HVAC system is anything but a match made in heaven.
The house, located in climate zone 5A, has 2500 sq. ft. of conditioned space, including 600 sq. ft. in the basement. It's 2×4 walls have been insulated with dense-packed celluose with an air-sealing membrane on the inside. The new windows are triple-glazed, and seven Lunos units provide whole-house ventilation.
Now . . .  to the root of Tofias's unhappiness—the Mitsubishi multizone heat-pump system. As he explains in this recent Q&A post, it consists of two outdoor compressors, rated at 30,000 and 42,000 Btu/hour, and a total of seven indoor units. (Later, in an email, Tofias corrected the capacity of the outdoor units to 24,000 and 36,000 Btu/hour.)
"My electric bills have been between $600-$700," he writes. "We also had humidity issues this summer in cool mode. Basically, turning on the units would both cool and add humidity to the room, which meant adding between 5%-10% relative humidity." This problem apparently affected units running on the larger of the compressors. (Tofias has attached both a floor plan of the house and the Manual J calculations for heating and cooling loads.)
"Lastly," he adds, "interior vibrations and exterior noise of the large compressor have become unbearable. It sounds like it is permanently in defrost mode. [We are] in an urban area, and the unit is 5 ft. from the property line. Neighbors want to kill me."
The compressor is on a wood frame mounted to the side of the house, but the installer is coming back to move it. In the meantime, Tofias shut off the big compressor so he can get some sleep.
What now? That's the puzzle for this Q&A Spotlight.
Weekly Newsletter
Get building science and energy efficiency advice, plus special offers, in your inbox.
This article is only available to GBA Prime Members
Sign up for a free trial and get instant access to this article as well as GBA's complete library of premium articles and construction details.
Start Free Trial
Already a member? Log in