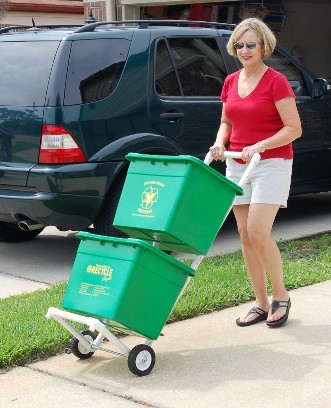 Over the next ten weeks, I'm going to lay out my top-ten priorities for green building—starting, in Lettermanesque fashion, with #10 and working up to #1. These priorities are directed primarily toward the design and construction profession, but homeowners having a house built or work done on a house need to be part of this discussion too.
This shouldn't be thought of as a hard-and-fast priority ranking. Of necessity, I've had to average the various considerations. In some places, where it's extremely dry, for example, or where the ecosystem is pristine, my priority rankings would be quite different. And if I were addressing solely existing buildings or solely new construction, my rankings and some of the measures might vary. Here, I'm taking both new construction and renovation into consideration.
My hope is that this will be a good conversation starter. I expect some readers will be surprised at what attributes I consider to be more—or less—significant as we work toward creating greener homes. The bottom line is that all of the priorities I will cover are important in most situations—and there are lots of other greening strategies we should try to address, even if they don't make it onto this list.
Priority #10: Make it Easy for Homeowners to be Green
How we operate our houses and how we live our lives have huge bearing on our impact on the environment. There are some things we can do in building or renovating a house to make it easier for homeowners to live greener lives. A few of these measures are described here.
Provide instructions on operating the house. It never ceases to amaze me that a new house doesn't come with an owner's manual. You wouldn't expect a new car to come without guidance how to operate and maintain it; shouldn't we expect the same with something we're spending ten or twenty times as much money on? This owner's manual should explain—in plain English—such issues as how to operate and maintain heating and cooling equipment, the importance of cleaning out gutters, what homeowners need to know about operating storm windows, why it's important to always use the bathroom fan while showering, and how to inspect for termites or other problems. A homeowner's manual is also a great place to aggregate all the information that comes with appliances, HVAC equipment, and any other systems in the house.
Install easy-to-use comfort controls. Programmable thermostats can save a lot of energy and money—if they're used properly. Provide thermostats with intuitive controls that are easy to understand, easy to set, and easy to override. Include instruction on the use of such controls, and explain how their proper use will save both energy and money.
Make it convenient to recycle. Most homeowners are glad to do the right thing when it comes to living responsibly, including recycling much of their solid waste. But it needs to be convenient. Providing built-in, easy-to-clean, hidden storage for recyclables (paper, bottles, cans, plastic) will make it more likely that the homeowners will actually recycle their waste. Storage should be adaptable, but tailored to local options for recycling. If there's curbside recycling using supplied plastic containers for recyclables, design the storage to handle those bins. If homeowners have to drive materials to a recycling facility, provide more space (perhaps including secondary storage in the garage) so that fewer trips to the recycling center are necessary.
Make it easy to leave the car home. Convenient storage of bicycles might inspire homeowners to bike more often, avoiding the use of their car—keeping the air cleaner for us all.
Make it easy to hang laundry outside. If a homeowner has to traipse laundry through the house to get outside, it's going to discourage line-drying. Think about this when planning the location for laundry equipment. And install a clothesline.
Create spaces that are easy to keep clean without harmful chemicals. There are some simple measures that can help keep houses cleaner; among the simplest are track-off mats at entryways and a convenient place to keep slippers to change into when getting home. And some materials don't require as much cleaning; with porcelain toilets and sinks, for example, look for high-gloss surfaces (SanaGloss¯ in the TOTO line, for example) that are designed for easy cleaning.
Make it easy to appreciate nature. Homeowners who look out a kitchen window at a beautifully landscaped native garden, or city residents whose apartment windows face the graceful branches of a tree that's hanging on despite the limited green space, may gain more appreciation for the natural world and become more invested in protecting the environment.
What else comes to mind? How could your own house have been designed or built differently to make it easier for you to live a greener lifestyle? Post comments with your own thoughts and suggestions, and I'll incorporate new ideas into future coverage.
In addition to this Energy Solutions blog, Alex writes the weekly blog on BuildingGreen.com: Alex's Cool Product of the Week, which profiles an interesting new green building product each week. You can sign up to receive notices of these blogs by e-mail—enter your e-mail address in the upper right corner of any blog page.
Alex is founder of BuildingGreen, LLC and executive editor of Environmental Building News. To keep up with his latest articles and musings, you can sign up for his Twitter feed.
Weekly Newsletter
Get building science and energy efficiency advice, plus special offers, in your inbox.