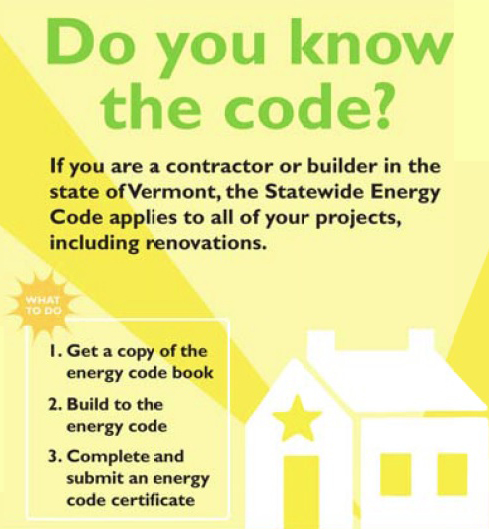 Vermont regulators who are rewriting the state's building energy codes have adopted a revolutionary and progressive approach, providing new evidence that Vermonters are at the cutting edge of building code development and climate change action. This news is evidence that sometimes, small states can lead the way.
A group of employees of the Vermont Department of Public Service, aided by consultants and volunteers, are completing work on a new version of the Residential Building Energy Standards (RBES), Vermont's energy code for single-family homes and duplexes. Like most energy codes in the U.S., this Vermont code is based on the International Energy Conservation Code. That said, the proposed changes will make the Vermont version so different from the IECC that it's almost a new code.
At the Better Buildings by Design conference in Burlington, Vermont, on February 7, 2019, two energy code specialists (Richard Faesy and David Keefe) gave a presentation on the code revision process. "Vermont has a comprehensive energy plan requiring designing for net zero by 2030," Faesy told the audience. "That's one of the goalposts we are striving for, so we're asking, 'What will we have to do each step of the way to get there?'"
Vermont is different
Vermont is a rural state without any effective code enforcement mechanisms. The vast majority of Vermont towns have no building inspectors, and the vast majority of new homes are completed without being inspected.
For the last decade or so, Vermont has had a voluntary system of code compliance that goes like this: builders who complete a new home are supposed to sign a declaration that the house meets code requirements, and are expected to file that declaration with the local town clerk. Some builders complete these declarations, but many don't.
"You are supposed to build…
Weekly Newsletter
Get building science and energy efficiency advice, plus special offers, in your inbox.
This article is only available to GBA Prime Members
Sign up for a free trial and get instant access to this article as well as GBA's complete library of premium articles and construction details.
Start Free Trial
Already a member? Log in