Editor's note: This is the first in a series of posts by Eric Whetzel about the design and construction of his house in Palatine, Illinois, a suburb of Chicago. Eric's blog is called Kimchi & Kraut.
My wife and I decided to try to build a Passive House in 2014 when we moved closer to her work as a school teacher. After some major glitches with our original builder (this is a huge understatement: see The Passive House Nightmare), we are moving forward and started building in 2016.
We also hope to do a significant amount of permaculture design in our yard, and we wanted to share the process as the structure of the house and the yard develop over time.
I will also try to share resources we find helpful along the way as well.
Passive House (Passivhaus): initially a German-based building standard, now a way to build residential and commercial structures that is growing every year, mainly in Europe and North America.
The basic principles are:
(1) Create an airtight building envelope (0.6 ach50 is the goal — current codes typically allow 3.0 ach50 or higher).
(2) Use significant amounts of insulation (sub-slab, exterior of foundation, walls, and attic) to dramatically increase R-values above most current code-built structures. (Also use Passive-certified windows and doors, and try to eliminate, as much as possible, all areas of thermal bridging.)
(3) Constant ventilation via either an ERV or an HRV, which are efficient air exchangers that can hold on to either warm (in the winter) or cool (in the summer) conditioned air. Typically this is combined with ductless minisplits (heat pumps) for heating and air conditioning.
The goal is to dramatically reduce the energy demands of the structure (by 80-90% is the typical claim), while creating a more comfortable living space: Higher R-values surround the structure like a thermos (warmer in the winter, cooler in the summer). Constant, but also filtered and balanced, incoming and outgoing air streams, and low or no VOC building materials and finishes work in concert to produce and maintain a high level of indoor air quality (IAQ). Certain houseplants can also make a significant contribution to indoor air quality.
Once the energy demands of the structure have been radically reduced (this includes HVAC, lighting, heating water, and plug-in loads), a building standard such as net zero — aka: Zero Net Energy (ZNE) — becomes relatively easy to achieve. If successful, the structure will produce at least as much energy as it uses (in some cases even a surplus can be produced).
Why build a green home anyway?
In the summer my wife Anita and I teach a class together, called Excel 2, which is one small component of a larger, overall Excel Program. (My wife is a high school Social Studies teacher.)
Typically, Excel students come from first-generation immigrant families. They are college-bound students who have exhibited great potential, but who are in need of some encouragement, particularly in regards to taking Advanced Placement (AP) courses. For most of our students, they will be the first ones in their family to attend college, so it is understandably an intimidating prospect in any number of ways.
The course itself takes three weeks in the summer session. Its focus is on developing reading and writing skills by utilizing non-fiction reading assignments. We emphasize the importance of correct spelling, proper grammar usage, and attention to detail by requiring multiple revisions to several thesis paragraphs, which are themselves based mostly on college-level reading assignments.
In addition to the normal stresses associated with being a teenager, many of them deal with balancing school work with long work hours at low-paying jobs (helping their families make ends meet), social pressures to stray down the wrong path (in any number of ways), and even (most heart-breaking of all) confronting what researchers term being food insecure — in plain English, not always knowing when or where they will get their next meal.
We present the class to the students as an opportunity to test themselves, to really see where they are, currently, in terms of a whole host of skills. The main goal of the Excel 2 program, therefore, is to really challenge their abilities, not just in terms of reading and writing skills, but also soft skills such as interpersonal communication, the importance of body language, time management, and self-discipline.
We encourage our students to start asking questions about everyday things they may be taking for granted. We hope this sharpens their critical thinking skills, but we also hope it encourages them to be more active participants in their lives, rather than just sleepwalking through their days as passive consumers.
So we did some thinking about our new home
Consequently, when it came time for us to find a new place to live, we saw it as a good opportunity to practice what we preach. We asked these questions:
(1) What exactly do you want from a new house?
(2) If you're going to buy a house (and you're lucky enough to even contemplate doing so), what should it look like? A condo? A townhouse? Or a single-family residence?
(3) In which neighborhood are you going to buy?
(4) How many square feet do you want (or need)? How many bedrooms? Do you want (or need) a formal living room or dining room? Do you want (or need) a basement?
(5) What architectural style appeals to you?
(6) How are you going to furnish the interior?
(7) Should you care about indoor air quality (IAQ)? And if you do, how do you protect it or improve it?
(8) What do you want in your walls and attic for insulation? How much do you need?
(9) How much will utilities cost? Are there cost-effective ways to reduce those costs?
(10) Are renewables — solar, wind, or geothermal — worth considering? How long is the payback period?
(11) Do you want your house to be environmentally friendly — and what does that mean anyway?
Instead of moving into the typical, leaky, not-very-environmentally-friendly suburban condo, town home, or house (we were leaving behind the latter), we thought it would be more interesting to see just how "green" we could make our next house.
Because we wanted a yard to do plenty of landscaping and gardening, we narrowed the choices down to a single-family house. And, instead of tackling the challenges that come with a retrofit, we decided to try building new.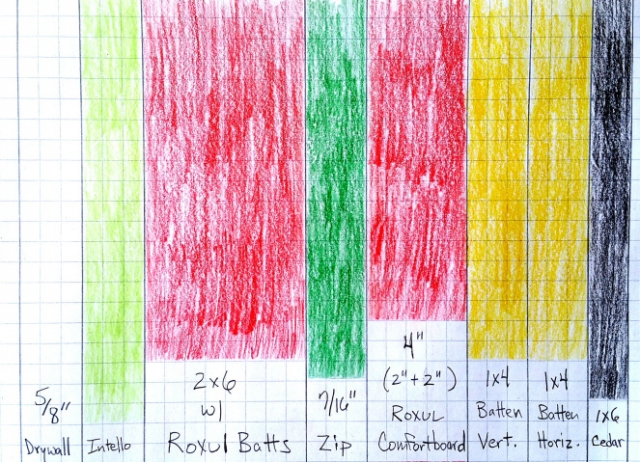 Much like hearing Jonathan Ive talk about an Apple keyboard, we appreciated the detail required to meet the certified Passive House standard. At the time (summer 2014), this seemed like the way to go.
After the experience we had with our original builder (2015), and then subsequently trying to learn as much as possible about the Passive House standard, in addition to discovering the Pretty Good House concept along the way, our house plans have evolved into a kind of three-headed hybrid: Passive House science + Pretty Good House + Net Zero (Zero Net Energy: ZNE).
Use less energy, eat better food
The goal of all three is to dramatically reduce the energy consumption of our house as much as possible (especially our dependence on the energy grid). We also want to do a significant amount of planting and growing in our yard, mostly xeric plants that require little additional watering, in order to combine house and yard into an eco-friendly system of sorts.
Our last home (approximately 2,800 square feet) was a fairly typical suburban tract house. It had builder-grade windows and doors (most of which had to be replaced after just a few years), very little insulation in the walls (the switch for the back porch light would actually ice up when temperatures fell below 20°F), and it had a great deal of under-utilized space (e.g. a two-story foyer, a formal living room and dining room, and a fourth bedroom, all of which saw little use).
With our new home (just over 1,500 square feet of living space), we're trying to turn all of this on its head so we end up with something we really want and will enjoy. To paraphrase Kevin McCloud: "Maybe it's better to have a little bit of something special than a lot of something mediocre."
An oft-quoted statistic suggests a significant amount of our greenhouse gas emissions can be attributed to our structures (typically the figure is in the 40-50% range) — including residential, commercial, industrial, and governmental — so maybe change really does begin at home.
Weekly Newsletter
Get building science and energy efficiency advice, plus special offers, in your inbox.