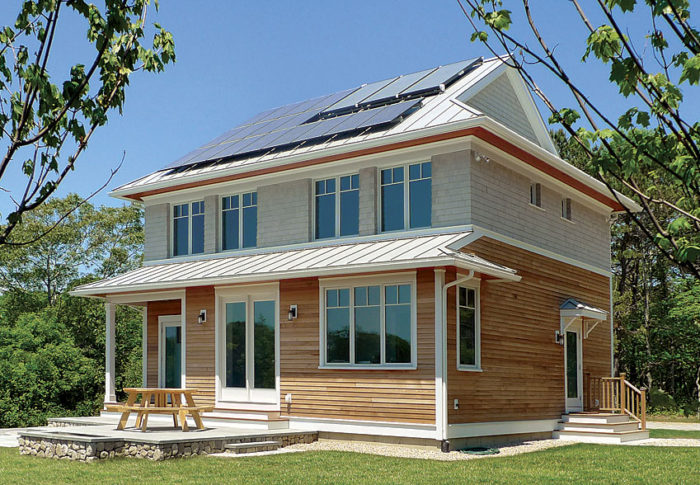 I began my career in architecture nearly 17 years ago after spending many years as a contractor. My background has given me a strong appreciation for and understanding of people who design and build homes. I've designed more than 30 zero-energy homes, six deep-energy retrofits, and numerous high-performance houses. In truth, the path to optimum performance and durability hasn't always been easy.
In many ways, the knowledge that I've gained over the years has culminated in the design and building of this home — my first certified Passive House, in the coastal community of Falmouth, Mass. — which I confidently consider my best work to date. Not only am I proud of what we accomplished in this project, but I'm also proud of how we did it. My informed, organized team and I were able to build a comfortable and exceptionally durable Passive House with standard building materials and practical construction techniques — an approach that's replicable for any homeowner, builder, or architect looking to build a cutting-edge house of comparable performance.
Chasing the plaque
Passive House standards are the strictest residential-building parameters we have in this country, and hitting their performance target is a challenge.
Passive House isn't for everyone, and there are some caveats worth considering. Passive House standards are performance-based, with no relevance to cost or aesthetics. Because of this, material and product options can be limited when compared to, say, an Energy Star home. For example, we wanted to use insulated, triple-glazed wood windows on this house because of the way they looked, but when we modeled them with the Passive House software, we realized that they wouldn't perform well enough. We opted instead for fiberglass Thermotech windows that met Passive House standard but were different from what…
Weekly Newsletter
Get building science and energy efficiency advice, plus special offers, in your inbox.
This article is only available to GBA Prime Members
Sign up for a free trial and get instant access to this article as well as GBA's complete library of premium articles and construction details.
Start Free Trial
Already a member? Log in