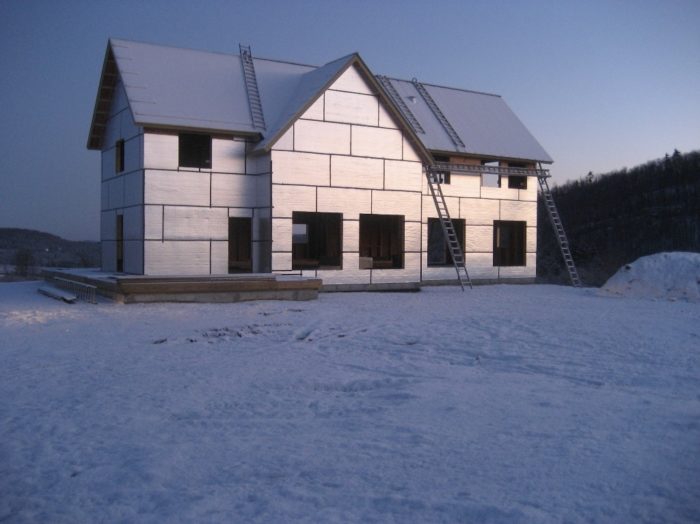 After Two Years, NESEA Chooses a Winner
BOSTON, Mass. — An energy-efficient house in Charlotte, Vermont, has won a $10,000 prize offered by the Northeast Sustainable Energy Association (NESEA) for the best net-zero-energy building in the Northeast. Completed in August 2007, the 2,700-square-foot home was designed by the homeowners, architects David Pill and Hillary Maharam.
Monitoring data from January 2008 to January 2009 has confirmed that the home's on-site 10-kW Bergey wind turbine produced 17 kWh more energy than the occupants consumed. While Pill and Maraham used 6,269 kWh of energy (6,094 kWh of electricity and the equivalent of 175 kWh of firewood), the wind turbine produced 6,286 kWh.
The $40,500 cost of the wind turbine and tower was partially offset by a $12,500 renewable-energy incentive.
An all-electric home
Space heating for the all-electric home is provided by a three-ton Econar ground-source heat pump. The Pill-Maraham house is the fourth house in the country to demonstrate 12 consecutive months of net-zero-energy performance, after the André Rambaud house in Hancock, Mass., the Habitat for Humanity house in Wheat Ridge, Colo., and the Doub/Childs house in Boulder.
In a 2008 interview, Pill explained that achieving the net-zero-energy target depends on occupant behavior. "I think a huge piece of this is homeowner awareness," said Pill. "You could build a hundred energy-efficient houses like this, and each house would have different usage data." The lure of a $10,000 prize undoubtedly helped everyone in Pill and Maraham's family to remember to turn out the lights when leaving a room.
A controversial prize
NESEA first announced the $10,000 prize for a net-zero-energy house in March 2006. One year later, the only entrant was André Rambaud, whose 1965 off-grid home in Hancock, Mass., is powered by a homemade 8.5-kW micro-hydro system. In a controversial decision, Rambaud was denied the $10,000 prize, despite the fact that he documented several years of net-zero-energy performance.
David Barclay, NESEA's executive director, defended the decision to deny Rambaud the prize. "André Rambaud is a very creative individual, and he has worked to achieve his own energy independence, but his example is an extraordinarily difficult thing to replicate," said Barclay. "His submission is a really unique and special one, but one that is almost impossible to model."
Rambaud concluded that NESEA was looking for a glitzier house with more up-to-date equipment than Rambaud's homemade hydroelectric set-up. "What they are looking for is a house they can put on the Internet," said Rambaud.
Weekly Newsletter
Get building science and energy efficiency advice, plus special offers, in your inbox.