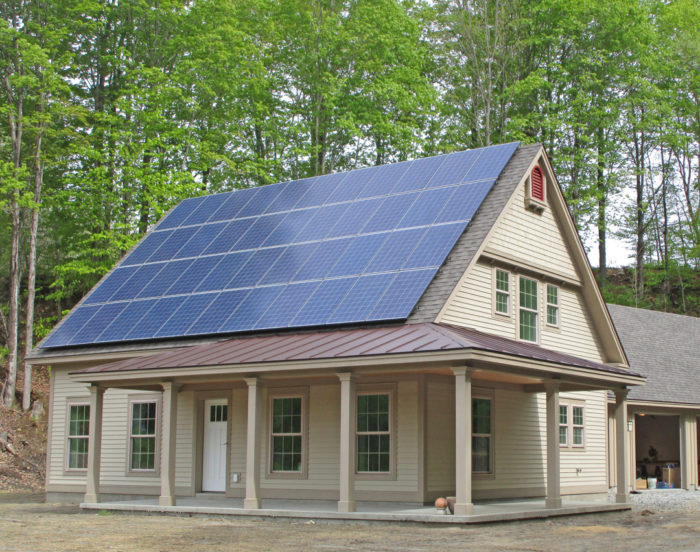 An 6-kW photovoltaic (PV) system can be installed for about $18,000 in many U.S. locations. With a 30% federal tax credit, the system costs the homeowner only $12,600 — or even less if utility or state rebates are available.
This 6-kW system will produce about 8,000 kWh per year in Boston (worth about $1,600) or 10,300 kWh per year in Phoenix (worth about $1,230). That's a lot of electricity.
If you want to save between $1,200 and $1,600 per year on your heating or air conditioning bill, and you are willing to invest up to $12,600 to make it happen, you'll probably find that adding insulation or new windows won't get you to your goal. However, adding a PV system will.
Back in late 2006, when a Habitat for Humanity house in Wheat Ridge, Colorado, became the first house in the U.S. to achieve 12 months of net-zero-energy use, the net-zero goal was challenging. Eleven years later, the net-zero-energy goal is routinely achieved by builders all over North America. That's because designing and building a net-zero energy house is becoming easier and easier.
Less expensive PV means a less expensive thermal envelope
The usual way to design a net-zero-energy house is to stop improving the thermal envelope of the house when the envelope improvements cost more per unit of energy saved than an investment in a bigger PV system.
In 2007, installing 1 kW of PV cost about $8,500. These days, the same PV system costs only $3,000 or $3,500. As the price of PV drops, investments in envelope improvements make less and less sense. Why upgrade to triple-glazed windows when the windows won't save as much energy as an equivalent investment in PV?
With less expensive PV, today's optimized net-zero-energy home will have a thermal envelope that performs worse and costs less to build than the optimized net-zero-energy homes of…
Weekly Newsletter
Get building science and energy efficiency advice, plus special offers, in your inbox.
This article is only available to GBA Prime Members
Sign up for a free trial and get instant access to this article as well as GBA's complete library of premium articles and construction details.
Start Free Trial
Already a member? Log in