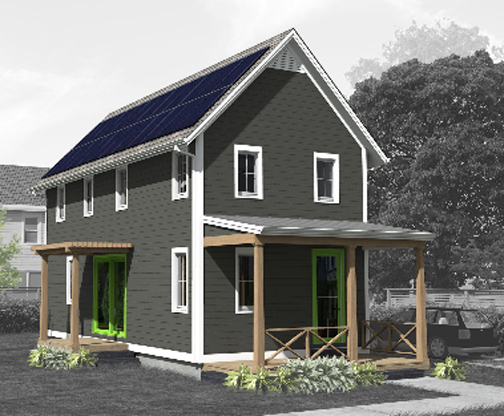 A four-bedroom, two-bathroom house its designers named "The Little Green Rhody" has won top honors in a design competition that promotes affordability, reduced fossil fuel use, and a lower carbon footprint.
The Carbon Challenge Providence Design Competition, sponsored by LP Building Products and Boise Cascade, was based in Providence, Rhode Island, but was open to anyone in the U.S. A total of 144 designers submitted entries to the competition and a simultaneous contest in Baltimore, Maryland. Judges looked at each entry's carbon footprint, its use of wood, its cost effectiveness, and its appearance, organizers said.
The Providence entries were designed as a Habitat for Humanity project to be built on a vacant lot at 24 Hannah Street. The winning entry is the work of ZeroEnergy Design in Boston.
The 2,000-sq.-ft. net-zero-energy house has an uncomplicated style and a simple, gabled roof. It was considered a good match with traditional architecture in the neighborhood. Among the construction details provided by ZeroEnergy Design:
The R-27 walls are framed with 2x4s on 16-in. centers. The stud bays are insulated with mineral wool or cotton batt cavity insulation. In additon, the exterior of the walls is insulated with a continuous 3-inch-thick layer of mineral wool insulation, which has a "low global warming potential, is not a petroleum-based product, and does not expand and contract like foam-based insulation products."
Basement walls are manufactured by Superior Walls of America placed on a rubble footing rather than a poured concrete footing and insulated with expanded polystyrene (EPS) insulation rather than extruded polystyrene (XPS) because of its lower global-warming potential.
The roof is framed with raised-heel trusses, 24 in. on center. The floor of the vented attic is insulated with 14 in. of loose-fill cellulose for an R-value of 52.
The European windows are triple-glazed. Door lights are also triple-glazed.
The air barrier for the walls consists of taped Zip System wall sheathing.
A 7.5-kW solar electric array is specified for the south-facing roof.
Domestic hot water is provided by a heat-pump water heater.
Space heating and cooling are provided by an air-source heat pump. Mechanical ventilation is provided by a heat-recovery ventilator.
Adam Prince, one of three owners of ZeroEnergy Design, said the design team estimated the house would cost about $8,000 more than a code-minimum structure of the same size. (That estimate did not include the cost of the roof-mounted PV array.)
Lower annual operating costs, smaller carbon footprint
Designers predict Little Green Rhody would use less than half the energy of an equivalent house built to code minimums, using a total of $1,460 in energy vs. $3,652 for a conventional house. Savings could be found across the board, for heating, cooling, hot water and appliances. Heating costs were significantly less in the Rhody, dropping from about $2,000 in the comparison house to less than $500.
The design also predicts a reduction of 25 cu. yds. of concrete in the foundation by using the manufactured Superior Wall system and eliminating a conventional concrete footing. The manufacture of concrete represents a major global warming contribution.
One of the surprising results came in the area of windows. Designers found less global-warming potential in shipping windows in from Europe than it did in buying them from U.S. or Canadian suppliers.
"Shipping the windows across the sea can actually have a smaller carbon footprint than trucking them across the country or [from] Canada, where some of the best-performing windows in North America are currently made," the project description says. "Shipping from manufacturing facilities to ports in Europe is often a short distance by truck or rail."
Using a carbon calculator from Log-Net, designers predicted that buying German windows over Ontario windows would lower the building's carbon impact by 5%.
Other winners
A total of $10,000 in prizes was awarded. Other winners included:
Kyle Bamrick & Christopher Armstrong of Providence, second place ($2,500 cash award).
Joseph P. Campanella — Design Alliance, LLC, of West Hartford, Ct., third place ($1,000).
Best Use of Wood Products ($500): Anne Lissett & Benjamin Monroe — LEAF Architecture of West Hartford.
Best Curb Appeal ($500): Erik Rhodin and Taina Rhodin — Line Company Architects of Waltham, Mass.
Most Cost-Effective ($500): Christen M. Robbins —- Vision 3 Architects of Providence.
The Carbon Challenge was organized by the Forest Products Laboratory, a research arm of the U.S. Forest Service, and the APA—The Engineered Wood Association, an industry trade group. The initial design contest took place in Florida in 2010 as the two organizations looked for a way to promote the carbon neutrality of wood.
The APA said it was likely Habitat would eventually build the house when the right family and funding became available.
Weekly Newsletter
Get building science and energy efficiency advice, plus special offers, in your inbox.