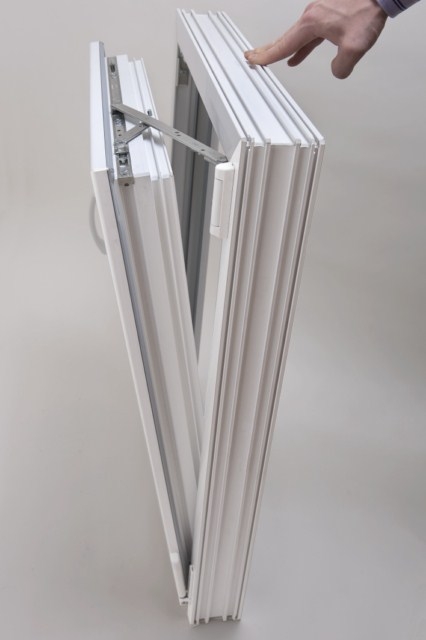 Should vinyl building materials be banned from green homes? Some environmentalists think so. There seem to be three categories of building materials that particularly irk the anti-PVC crowd: vinyl siding, vinyl windows, and vinyl flooring. Since there are alternatives to all of these materials, these environmentalists argue, green homes shouldn't include any of them. (Although the anti-vinyl group sometimes mentions PVC pipe used for drains and vents, it seems that neither plastic pipe nor the vinyl insulation on Romex wiring raises as many hackles as vinyl siding, windows, and flooring.)
Vinyl-framed windows now outsell windows with wooden frames, aluminum frames, or fiberglass frames. Moreover, in many areas of the country, vinyl siding outsells all other types of residential cladding, and PVC is by far the most common material used to manufacture residential drain pipes. While these facts probably distress anti-vinyl crusaders, they provide evidence that these vinyl building products outperform competing products in some ways. Vinyl building products fill a niche. Vinyl is durable, weather-resistant, low-maintenance, and affordable.
The anti-vinyl position rests on several arguments:
The raw materials used to manufacture vinyl — chlorine and fossil fuels — are associated with environmental problems.
Some of the chemicals present in vinyl as a contaminant — especially dioxin — raise environmental concerns.
Workers in plants that manufacture PVC resin face health risks.
Some vinyl products include plasticizers that may be released into indoor air, potentially damaging occupants' health.
When vinyl building products wear out, they aren't always disposed of in an environmentally appropriate way.
When buildings catch fire, vinyl building products release toxic smoke, endangering firefighters.
A life-cycle assessment of vinyl's environmental impacts may indicate that vinyl is less desirable than some alternatives.
All of the above arguments have been used by anti-vinyl groups. Some of the points are indisputable, while others are…
Weekly Newsletter
Get building science and energy efficiency advice, plus special offers, in your inbox.
This article is only available to GBA Prime Members
Sign up for a free trial and get instant access to this article as well as GBA's complete library of premium articles and construction details.
Start Free Trial
Already a member? Log in