Walmart Tops Business PV List
America's biggest retailer is also the biggest business installer of photovoltaic (PV) panels.
In its Solar Means Business report, the Solar Energy Industries Association says that the Bentonville, Arkansas, retailer now has 348 PV installations with a total capacity of 142 megawatts.
Next in line were industrial real estate developer Prologis, with 97.5 MW of capacity, Target (71.9 MW), Apple (60.7 MW), Costco (50.7 MW), Kohl's (50.2), and Ikea (41.4 MW). Other companies on the list represented a variety of industries, including auto manufacturers, a drug store chain, telecom companies, and an office supply chain.
In all, the companies sampled in the report installed 1,686 PV systems with a combined capacity of 907 MW, generating enough electricity for 158,000 homes. That's a 59% increase over findings of last year's report, the association said.
German battery firm challenges Tesla
UPDATED on Dec. 4, 2015
A German battery company is giving Tesla a run for its money in providing solar systems combining photovoltaic panels and battery storage for European customers.
According to a report posted at Greentech Media, Sonnenbatterie has announced that it will sell residential systems incorporating a 2 kilowatt-hour battery, a PV array, an inverter, and a control system for the equivalent of $10,645 (9,999 Euros), including a hefty 19% VAT. Installation, estimated at $745, is extra.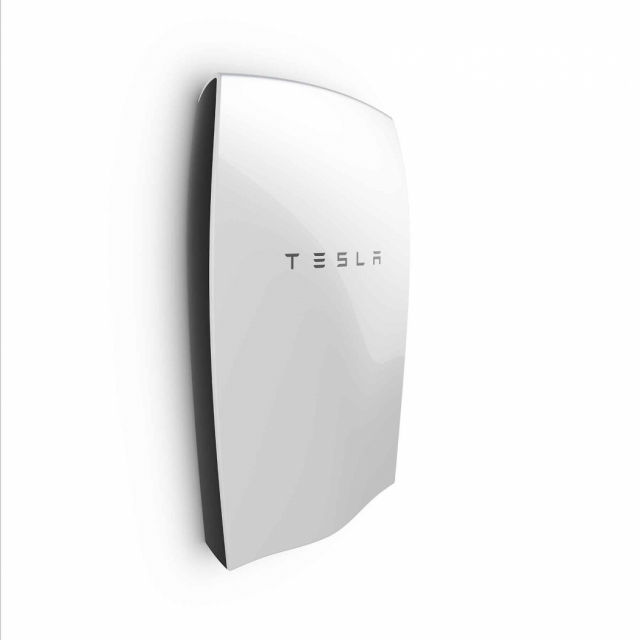 For customers who already own PV panels, the battery and control software will be available for prices starting at $3,830.
Sonnenbatterie made the announcement at a press conference in Berlin on November 25.
Tesla's 7 kWh Powerwall battery is available in Germany, Austria, and Switzerland for the equivalent of $3,848 wholesale, but $6,385 for consumers, according to Greentech Media. If you want the whole system, which includes a Tesla battery and a 4 kW PV array, the Tesla price is reported to be $19,075.
Sonnenbatterie said its battery will get 10,000 charging cycles, double that of the 7 kWh Powerwall.
Tesla announced earlier this year it would begin selling two versions of its lithium-ion batteries, one rated at 7 kWh for $3,000 and a 10 kWh model for $3,500. At the time, Sungevity, an Oakland, California, company, said it would begin offering the Sonnebatterie system in the U.S. Details were not announced then, and no one was available at Sungevity to answer questions about the availability of Sonnenbatterie systems in the U.S.
Sonnenbatterie now has U.S. headquarters in Los Angeles and an R&D facility in Georgia. The company's U.S. senior technical director, Greg Smith, said by telephone the first U.S.-produced Sonnenbatterie will be shipped the week of Dec. 7. The lithium-iron-phosphate batteries, which the company calls Eco, are built with 2 kWh modules, ranging from the Eco 4 (4 kWh) to the Eco 16 (16 kWh). The Eco 4 retails for $9,995. The Eco 16 costs $24,000.
The announcement in Berlin was part of a broader plan to create a virtual network of solar-plus-storage systems that would allow homes and businesses to share energy, PV Magazine said.
Under this arrangement, called "Sonnencommunity," excess electricity generated at a home or business would be split among other members on the system. If not needed by any other users, the power would be traded on the wholesale market, the magazine said.
Minnesota efficiency program gets a high return
An energy efficiency program in Minnesota is paying handsome dividends: at least $4 for every buck that's spent.
A report from the state's Commerce Department relied on findings by Cadmus, an energy consulting firm. Cadmus conducted a cost-effectiveness analysis as well as a separate economic impact assessment, UtilityDive reported. Combining these numbers, Cadmus said that every dollar invested in the state's Conservation Improvement Program yielded energy savings, environmental benefits, and new economic activity totaling $4 to $4.30.
Under the CIP program, utilities offer residential customers energy audits and incentives for making energy-efficiency improvements. Business customers get rebates for high-efficiency boilers, chillers, lighting, and motors, the report said.
"The Conservation Improvement Program plays a vital role in helping Minnesota achieve our goals to address climate change and reduce our dependence on power that comes from burning fossil fuels," Commerce Commissioner Mike Rothman said in a prepared statement. "The cheapest and cleanest form of energy is the energy that we never use in the first place."