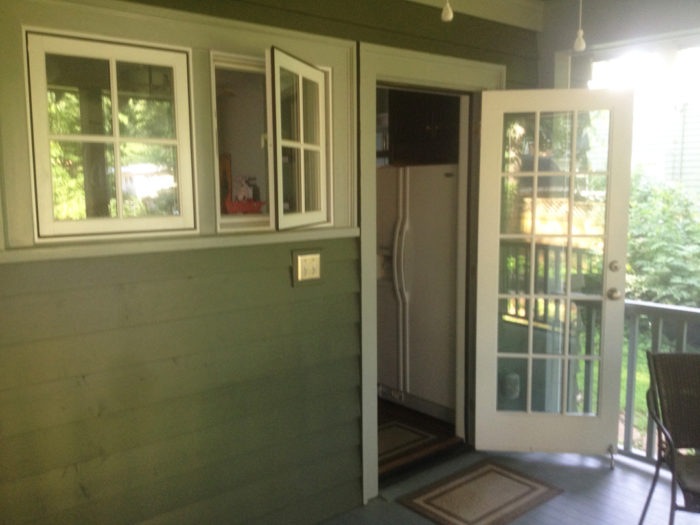 Last summer my house developed a fruit fly infestation, due to the fact that I had a lot of fresh fruit sitting around ripening on my counters. I recall once using aerosol bombs to get rid of them, but I figured this time around I would look for a slightly less toxic solution.
A quick web search turned up details for a standard fruit fly trap, consisting of a jar with a little cider vinegar and dish soap, covered with clear plastic with a few holes in it. The flies are attracted to the vinegar, fly in, get coated with dish soap, and drown in the cider.
This works pretty well, but only if you don't leave any fruit (including pits) lying around, or leave any fruit scraps in the garbage. So I bought a mesh tent to cover my ripening peaches and started collecting all my fruit scraps in a container in the refrigerator instead of putting them in the garbage.
In a few days, the fruit flies were gone. I keep thinking how inconvenient the whole process was, but it did get rid of the flies without resorting to any chemicals.
Packaged food is more expensive and less healthy than fresh food
I frequently write about food, because I like to cook and eat, and I see many deep-rooted societal problems based around our growing, shopping, cooking, and eating habits. A lot of money is being made on prepared, packaged foods. Look at any supermarket – there are endless packages of food – dry, hot, cold, and frozen, that make it easy for us to eat "tasty" food quickly.
The downside is that these foods are almost always more expensive and less healthy than meals we prepare ourselves, and, in my personal opinion, home cooked food usually tastes better. They also produce a lot of packaging waste, much of which cannot be recycled. They are designed and marketed because they generate big profits for the manufacturers who work hard to convince us that we should buy their prepared products instead of cooking our own food – directly or indirectly leading us to spend more money, create more waste, and often degrade our health in the process.
So exactly what do fruit flies have to do with anything?
So, you may ask, what the hell does this have to do with green building? Well, I'll tell you.
Most readers of GBA probably agree that we should build and operate our homes so that they are healthy and efficient. A good building envelope with occupants who are willing to turn off the HVAC and open windows when the weather is nice is critical to energy efficiency and long-term sustainability.
Too many people never open windows, running their HVAC all year long, even when the weather is lovely outside. Whenever my windows are open I can hear my neighbor's heat pump running. I know that I tend to live at the outer edge of comfort compared to most people, but as I am writing this, it's about 75 degrees inside my house and my neighbor has their air conditioning running. This behavior is due to the state of their home (old and inefficient) as well as their unwillingness to open windows and manage temperature by anything other than HVAC.
This behavior is encouraged by codes and the building and HVAC industries, creating homes that, provided there is energy, never have to be open to the outdoors.
Convenience is trumping conservation
Since energy costs tend to be low and equipment reliability tends to be high, we are willing to pay for the convenience of not having to open and close windows. I admit that managing natural ventilation can be a pain, but I don't mind, and I have the time to do it. Most people aren't interested or don't have the time to manage a home this way, but by not doing so they use more energy than necessary, leading to more power plant emissions that use more natural resources and ultimately degrade our air quality. And when the weather is nice (and pollen count low) breezes through windows beat out air coming out of ducts any day.
Most conveniences that we have become accustomed to were developed because someone can profit from them. These conveniences are created, marketed, and, if we buy them, continue to be sold to others, at least until something better comes along.
What we lose when we opt for convenience
These ruminations led me to assemble a list of behaviors that most of us engage in that trade convenience for money, a compromised environment, or both, and in most cases create profits for the business that creates or sells the products involved.
• Driving instead of walking, cycling, or taking transit. In most places, driving is faster, but in more dense areas where traffic is bad and parking expensive, alternatives can be more convenient. Many trolley systems in US cities were bought and removed by GM and Firestone in order to sell more buses and tires. One of the more egregious examples of the profit motive manipulating people's opportunities to live sustainably.
• Using a clothes dryer instead of a clothesline. This takes time and is weather dependent, but it not only saves energy but avoids heating up the house in the summer. Appliance manufacturers profit from selling us their products and utilities from selling us energy to operate them.
• Wearing street shoes inside instead of taking them off at the door. No profit motive here, but we could keep our interiors much healthier if we did this.
• Installing carpet instead of a more durable hard-surface flooring. Carpeting has a lower first cost, but profits are made by cleaning and replacement businesses.
• Buying instead of growing our own food. This takes work, but it can be cheaper and is frequently healthier than buying all of our food in stores.
• Forgetting to turn off lights, fans, and equipment. This takes effort but saves energy. Using more power increases utility profits.
• Running sprinklers instead of installing water-efficient landscaping. Better landscaping plants and features have a higher first cost, but it result in long-term water savings and lower utility costs.
• Discarding or disposal instead of composting. Takes effort, but it can reduce landfill volume and food waste that clogs sanitary sewer systems. Provides free compost for the food you can grow yourself. I find it interesting that much of what we view as waste is seen in other cultures as agricultural nutrients.
• Throwing away instead of recycling waste. My town recycles for free but you have to pay for bags to throw away trash; this is a good system to encourage recycling.
• Installing a ground-source heat pump (GSHP) instead of simpler equipment. A GSHP has high first costs and debatable total efficiency compared to a high-performance air-source heat pump; and if you manage your ventilation well, the amount of energy needed to heat and cool can be reduced dramatically, making the ROI for a GSHP very long.
• Installing batt insulation instead of better options. I've been known to rag on batts, but the real problem is the quality of the installation. Manufacturers and retailers make money selling them, subcontractors make money installing them (usually improperly), and far too many contractors and homeowners don't know or care that they aren't installed properly.
Confession time
Some of these things always I do (turn off HVAC and open windows), some occasionally (shoes off in house, use clothesline instead of dryer, walk instead of drive), some I aspire to (grow my own food and compost food waste), and some I may never do.
Many people will pay for convenience because they can afford it; saving effort takes priority over saving money or the environment. We pay a price for this convenience – in money, waste, and environmental issues – and we are sold many of these conveniences primarily because someone can make money from creating and selling them to us.
I don't expect to see much change in the status quo, at least until money and resources become so scarce that people are forced to. In the meantime, I will continue to listen to my neighbor's heat pump run whenever I open my windows.
Weekly Newsletter
Get building science and energy efficiency advice, plus special offers, in your inbox.