Relative humidity is such a confusing way to talk about moisture in the air. I've been hammering on this point for a decade, covering it in several different ways. But here's an angle that I haven't covered before. The weather is cooling off here in Georgia as I write this in early October, so we don't have to run our air conditioners all the time now. We still have humid days, though, so many people have the question: When is the humidity low enough to open the windows?
I opened the windows to 90% relative humidity
It's humid and warm here now, but a week ago we had some nice cool weather. Low temperatures in the low to mid 50s Fahrenheit (10°-13°C), highs in the 70s Fahrenheit (25ish Celsius), and sunny. Gorgeous fall weather! About a week ago I opened one of my basement windows and put a fan in it to blow outdoor air into my house. And the outdoor relative humidity at the time was about 90%.
Opening the windows means letting outdoor air into your house. In a humid climate, you don't want to do that when the outdoor air is more humid than indoor air, right? But the trap many people fall into is looking only at the relative humidity. They see the outdoor relative humidity at 70% and say, "Oh, I should keep the house closed up now because that's too humid."
There's a better metric
And that's wrong. Well, it might be right accidentally, but you can't look at the relative humidity by itself. You also need to know what the indoor and outdoor temperatures are. But there's an even better number to look at, and fortunately, weather apps show this number. It's the dew point.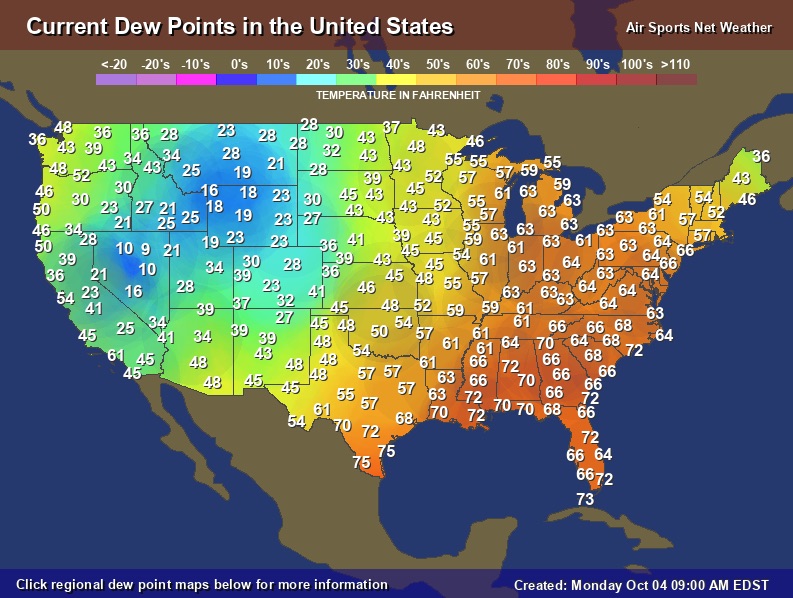 To decide whether it's OK to open the windows or not, the dew point is a much better metric because it tells you which air has a higher concentration of water vapor. Let's look at the example of when I opened the windows last week. Here were the conditions:
Outdoors: 58°F, 90% relative humidity
Indoors: 72°F, 64% relative humidity
It looks like the outdoor air is more humid; 90% is much higher than 64%, right? Nope. The temperatures are different, so you have to account for that. The dew point tells the truth here.
Outdoor dew point: 55° F
Indoor dew point: 59° F
By bringing in outdoor at 90% relative humidity, I actually dried out the air in my house. When the outdoor air entered and mixed with indoor air, it warmed up. I watched the relative humidity on my indoor data logger drop from 64% down into the 50s in just a short while with the fan running.
So, don't use relative humidity as your basis to judge when the humidity is low enough to open the windows. Use dew point, and you'll get it right. A good reference point for dew point, by the way, is 55°F. That's the dew point for conditioned air at 75°F and 50% relative humidity.
_________________________________________________________________________
Allison Bailes of Atlanta, Georgia, is a speaker, writer, building science consultant, and the founder of Energy Vanguard. He has a PhD in physics and writes the Energy Vanguard Blog. He is also writing a book on building science. You can follow him on Twitter at @EnergyVanguard.
Weekly Newsletter
Get building science and energy efficiency advice, plus special offers, in your inbox.