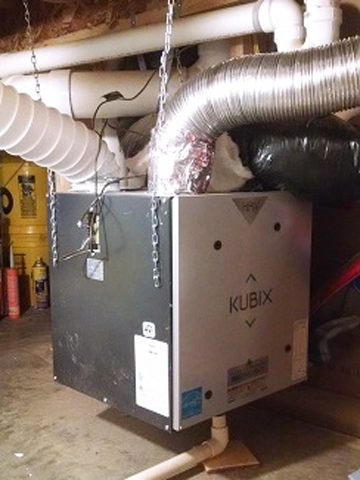 From the sound of it, Andy Chappell-Dick has left no stone unturned in his quest to keep the air inside his house comfortably dry.
His extremely tight new house in northern Ohio (Climate Zone 5) is built with structural insulated panels, and heated and cooled with a pair of ductless minisplit heat pumps. For ventilation, Chappell-Dick has a Venmar Kubix heat-recovery ventilator that pulls exhaust air from two small bathrooms and supplies fresh air to two upstairs bedrooms with a flow rate of between 40 and 80 cubic feet per minute (cfm).
"All my plumbing traps are good," he writes in a Q&A post at GreenBuildingAdvisor. "We hardly take any showers. We cook some, not a lot. No dishwasher. No aquarium. No dryer — we dry clothes offsite. I figure all the entrained construction moisture is long gone."
And yet the interior air isn't really very dry. Chappell-Dick has seven hygrometers around the house to measure relative humidity, and none of them seems to drop below 47 percent, typically reading about 60 percent.
Does he have a bum HRV?
"Even in a worst-case scenario of compromised or short-circuiting airflow, say 25 cfm, shouldn't this unit be capable of doing several total air changes per day? It was a damp December, but we had some cold, dry days that didn't move the needles much.
"In such a tiny tight house, does the humidity produced by just the two of us require a dehumidifier in addition to the HRV? Is there some moisture source we're overlooking? Or is there typically a long lag in getting the house's contents — tons of drywall and flooring and interior framing and everything — to dry out so it's no longer the source?"
Chappell-Dick's battle with high indoor humidity is the topic for this…
Weekly Newsletter
Get building science and energy efficiency advice, plus special offers, in your inbox.
This article is only available to GBA Prime Members
Sign up for a free trial and get instant access to this article as well as GBA's complete library of premium articles and construction details.
Start Free Trial
Already a member? Log in