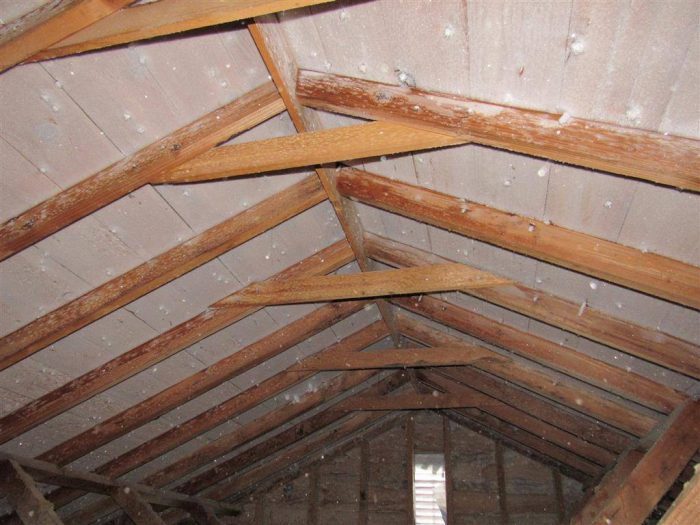 If you've got a damp attic, you may think that diagnosing the problem is complicated. And you may be right. But in the vast majority of cases, damp attics have one of just two causes.
Let's look at the phenomenon of the damp attic by dividing them into two categories: vented unconditioned attics and unvented conditioned attics.
Vented unconditioned attics
A vented unconditioned attic is the old-fashioned kind. You usually enter this kind of attic through a ceiling hatch, although some vented unconditioned attics have stairs. These attics are cold in winter and hot in summer.
How is this type of attic vented? Arrangements vary. In a new house, this type of attic usually has soffit vents and a ridge vent. Some older attics simply have gable vents. And some of these old attics don't have any obvious vents — they're just naturally leaky, with outdoor air entering and leaving through random cracks.
Vented unconditioned attics are naturally dry. They tend to get baked by the sun, which beats down on roof slopes facing east, south, and west. This type of solar heating just about guarantees dry conditions.
When a GBA readers tells me, "I have a vented unconditioned attic that is damp. There is black mold on the underside of the sheathing, and water dripping from the pointed ends of the roofing nails," I've got a pretty good idea of what's going on. In almost all cases, the moisture that is causing these problems is entering the attics through leaks in the ceiling.
Here is the mechanism: In winter, the stack effect causes the indoor air near the ceiling of a building to be pressurized with respect to the attic. If there are any holes in the ceiling — and there usually are —…
Weekly Newsletter
Get building science and energy efficiency advice, plus special offers, in your inbox.
This article is only available to GBA Prime Members
Sign up for a free trial and get instant access to this article as well as GBA's complete library of premium articles and construction details.
Start Free Trial
Already a member? Log in