The house in Dillingham, Alaska, that was crowned the tightest residential building in the world is for sale.
Tom Marsik and his wife Kristin Donaldson, who completed the two-bedroom house in 2012, are moving so Marsik can take a new job as director of research at the Cold Climate Housing Research Center in Fairbanks, 500 miles to the north. They're offering the house for $299,000.
The new owners won't have to worry about the cost of heating the house, even if it's located in a climate with about 11,000 heating degree days a year. With a roof insulated to R-140 and 28-inch-thick walls, the all-electric house was designed to be heated mostly with internal gains — appliances, body heat, and lighting — plus a little passive solar heat. But its real claim to fame is a blower-door test that measured its air leakage at an astonishing 0.05 air changes per hour at a pressure difference of 50 pascals. By way of comparison, the Passivhaus standard allows 0.6 ach50.
Marsik is an associate professor of sustainable energy at the University of Alaska at Fairbanks' Bristol Bay Campus who wanted to prove that a combination of a very small footprint and "super-efficient construction technology" could result in extremely low energy use.
He's done that in spades. Although there's nothing exotic about the building materials the couple used — wood framing, cellulose insulation, Energy Star appliances — the extremely tight building envelope and copious amounts of insulation mean that the house can be heated with about $15 worth of electricity per month.
The house, overlooking Scandinavian Creek and an expanse of tundra, has two bedrooms and one bathroom on a 24-foot by 24-foot footprint. It's built something like a house with double-stud walls except that the distance between the inner and outer walls is much greater, allowing for R-90 worth of cellulose insulation. The depth of the insulation in the roof assembly is about 3 feet.
The house has three fiberglass-framed windows with triple glazing, an exterior door that's mostly glass, and a heat-recovery ventilator.
Living in a cozy box
In an article for Alaska Building Science News, Marsik wrote that from January 1, 2012 through the end of April that year, the house used 1,620 kWh of electricity, or only about 400 kWh a month for heat, lights, hot water, and appliances. Modeling had predicted the house would use 1,520 kWh over the same four-month period. Marsik said the small discrepancy could be explained by an unusually cold winter that year.
"It is interesting to point out that our house uses less electricity than an average house in Dillingham," Marsik's article said. "This, coupled with the fact that our house uses no heating fuel, results in a significantly lower energy bill." Marsik calculated savings at $4,000 a year when compared to an average house in town, but it could be even more as energy costs go up in the future.
At the time, heat came from a simple electric-resistance heater. That's since been replaced with a Fujitsu RLS 3H series minisplit with an output of 12,000 Btu per hour.
Marsik wrote that his approach to building had pros and cons. Benefits include low energy use, a healthy indoor environment, and the safety of burning no fossil fuels or wood. On the downside, the cost of insulation itself was about $20,000.
"A thorough economic analysis hasn't been done yet," he wrote, "but the payback period on the extra costs isn't going to be super short. However, a well built-home is likely going to last for a very long time, and given all extra benefits to society through a reduced consumption of fossil fuels, I think the extra initial investment is well worth it." (Many details about the house, including photos taken during construction, are available at this page at Alaska Energy Wiki.)
Reached by phone, Marsik said this week that he and his wife, who now have a 4-year-old daughter, are sorry to give up the house.
"It's amazing," he said. "We love it. My wife asked whether he can just get a helicopter and move it."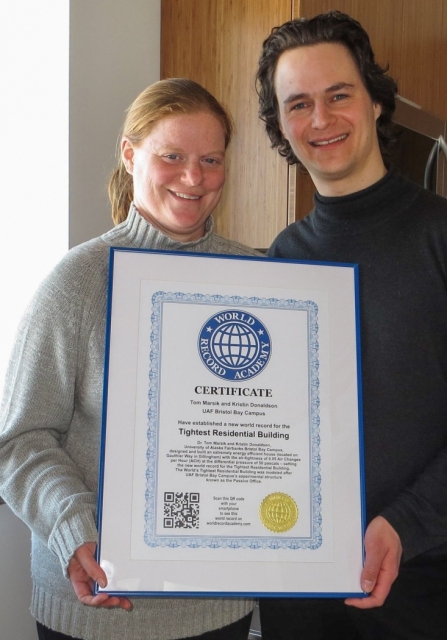 Although the house has only three windows, Marsik said they were custom-built and have glass with high visible transmittance of light. That plus the use of brightly painted walls and ceilings give the house excellent day-lighting.
The house has a total of about 1,150 square feet when you include the second-story loft bedroom (the total is what an appraiser would call the "gross living area"), Marsik said, and that's been plenty for the three of them and their dog. "It's more than we need," he said.
Marsik is a proponent of space efficiency and does not think that people living in much bigger houses are any happier than people living in small ones. In fact, he said, a United Nations happiness report found that in many European countries where apartments and houses are much smaller than in the U.S. people are, on the whole, happier. Smaller houses mean less maintenance and less cleaning, leaving time for intrinsically more rewarding activities.
Still looking for the right buyer
The house has been on the market, off and on, since Labor Day of last year. Although the couple has hosted an open house and quite a number of individual visits from potential buyers, they have yet to get a single offer. They'd prefer selling the house to someone who is as interested in sustainable design as they are.
"We want the house to continue being an example of sustainable housing, and so in light of that we are willing to go significantly down on the price," Marsik said. "But nobody has given us an offer yet."
When they do sell the house and move to Fairbanks, the couple will have to decide whether to build again. "We are going to explore options," he said. "Building a new home is certainly one of the options on the table, but I don't want to make a decision yet because we want to get familiar with the local situation first."
Should they build, Marsik says the design would vary little from what they already have. Fairbanks is colder than Dillingham — about 14,000 heating degree days a year — and the basic components of the current house would probably work well there. Whatever adjustments they make in design would most likely be to take advantage of technology that has become available since they originally built six years ago.
For example, they have a vented clothes dryer now because unvented heat pump clothes dryers were not available at the time. Now they are.
Other than that, Marsik sees little to change.
Note: The caption of the first photograph has been edited to clarify the size of the house.
Weekly Newsletter
Get building science and energy efficiency advice, plus special offers, in your inbox.