An Yale-educated architect credited with helping launch the design/build movement 50 years ago is at work on a mostly concrete house with a flexible interior floor plan and an all-but-bulletproof exterior that shouldn't need any maintenance for as long as five centuries.
The Home Run House is taking shape on Prickly Mountain outside the village of Warren, Vermont, not far from earlier experimental works by Dave Sellers and fellow architects who, according to an account published by Curbed in 2015, moved to the Mad River region in the 1960s itching to change the way houses were built. Sellers has been at it ever since.
The house, Sellers explained in a telephone call, is designed to overcome two glaring weaknesses with contemporary residential design: houses don't last very long because they're made out of materials that quickly deteriorate in the weather, and houses have rigid interior designs don't accommodate changing needs very easily.
Sellers is building the house with a $1 million contribution made by two California philanthropists to the Madsonian Museum of Industrial Design, which Sellers founded in nearby Waitsfield. The gift is essentially a revolving loan fund and will eventually be used to build more houses that refine the design. Over time, Sellers expects the fund to accrue many times its current value. "We are serially funded," Sellers says. "No one else has this amazing capacity."
Home Run House has been under construction for two years, says an article written for VT Digger by Jon Kalish, and could be finished in the next three months.
Why the "Home Run House"? Sellers says that name came from members of his design team, the idea being that if they could pull off the project it would be as rare as a home run after so many other house designs "fail or are stupid."
Durable materials, flexible design
Most of the exposed surfaces are stone or concrete, including the pillars that hold up the porch roof, and the gracefully curved sun shades for exterior windows. There is no exposed wood on the building's exterior (and not a whole lot on the inside of the house, either), and exterior trim is made from repurposed slate blackboards. Exterior doors and the windows are clad in aluminum.
"We designed it to last 500 years with no maintenance," Sellers said. "When you build with wood, the day you walk away from the house it starts to rot. Then you've got to maintain it. You've got to paint it, and seal it and redo it."
In this respect, Home Run House looks something like an earlier Sellers work called the "Archie Bunker," a name that evolved from the original title "Bunker of Arches," Curbed said. It, too, is mostly concrete and designed to last 500 years with no maintenance and no fuel bills. At the Home Run House, R-40 exterior walls consist of poured concrete, spray foam, and plaster; the roof is insulated to R-60. Floors and beams also are made of concrete — 100 tons of it in all. Heat comes from passive solar sources as well as a ground-source heat pump that supplies a radiant-floor system with hot water.
At 1,800 square feet, the Home Run House also is designed so interior walls can be moved or removed without affecting its structural integrity. As he looks at the political upheaval in parts of Europe and the accompanying migration of many thousands of people, Sellers sees a good case for designs that can handle changing needs.
"This house is designed to handle a single family, or two families, or three families," he said. "Or it could be designed to handle 50 people. There are no interior walls. It's like a big barn. You sort of fill in. We basically built post and beam out of concrete, and you can build whatever you want in it. It can change over time without wrecking the house."
It also features walls that swing open to the outside, and a pair of 14-foot-square windows that open above interior plant beds, according to Kalish's account. Electricity will come from a 600-square-foot photovoltaic array that Sellers also hopes will power an electric vehicle.
If there is a chink in this 500-year armor, it's probably the asphalt shingle roof. However, Sellers sees this as "interim roofing" that may very well be changed with an expected upgrade in PV panels down the road. "The building is a laboratory," he said.
Costs are relative
Although the house is being financed with a gift to the museum from two California philanthropists, Sellers says the $1 million price tag is misleading.
He put it this way: "If you ask Elon Musk what it cost to build his first electric car, he's not going to tell you $50,000. He's going to tell you $50 million. There's three years of R&D in order to get here."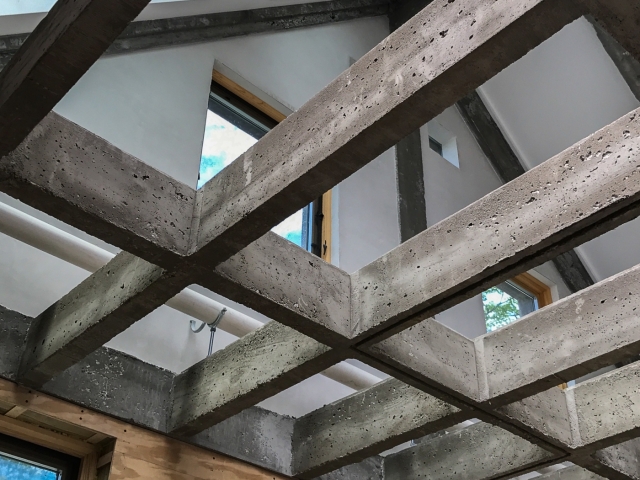 In time, could the cost of a similar house be reduced enough so ordinary people could afford one, say $120 or $140 a square foot? The problem with that, Sellers replies, is the notion of affordability that guides residential construction these days is basically flawed.
"The problem with that idea is that it an unsustainable number," he said. "When you build really shit houses that you can do for that, you take all the embodied energy and all the resources and you basically throw it away 15 years later. If you look at a 500-year house and you do it once, as opposed to 500 years of crappy buildings torn down every 20 years, it's thousands cheaper.
"Right now we're based on lowest first cost and cheapest financing," he continued. "That's all the banks are doing. What happens is you force the economy into building crap, throwaway stuff. Throwing away resources, polluting the environment and having things that are expensive to maintain, and then they get thrown away. That's where we are now: everyone wants to go cheap. Cheap Cheap Cheap. This is cheap when you say to yourself, 'What would you pay for a house when you don't have to pay for anything — no maintenance and no fuel bills?' "
A house like this probably could be built for $350 a square foot, he says, and that's a deal when you think about the multigenerational possibilities and next-to-nothing maintenance and operational costs that come with it.
A long and storied career
The Home Run House is only the most recent example of Sellers's zest for innovation, sustainable design, and experimentation. He has won a number of architectural awards over the years for work both in and well beyond the borders of Vermont. He was selected to the College of Fellows of the AIA in 2017, and named to Architectural Digest's list of top 100 architects in 1991.
He co-founded Northwind Power in 1974, a company that went on to successfully develop wind turbines. His other ventures have included the Vermont Iron Stove Company, the Four Elements Corporation, which developed a sewage treatment system, and the Mad River Rocket Company, which makes a plastic snow sled, according to his bio at the Yestermorrow design/build school where he teaches.
Home Run House, like many projects at Prickly Mountain, is not so much a solo endeavor as it is a collaboration — and in this case it included some pretty big names: Peter Calthorpe, the San Francisco architect and urban planner; Doug Kelbaugh, former dean of the Taubman College of Architecture and Urban Planning at the University of Michigan; and Harrison Fraker, a professor of architecture and the former dean of the College of Environmental Design at the University of California Berkeley. Sellers was the lead designer.
There's no telling where the next version of the Home Run House will be built, although Sellers says that he'd prefer a U.S. location. One idea that he and his colleagues are considering is buying some lots in a Vermont mobile home park and building smaller versions of the house.
The key, Sellers said, will be to ensure that the houses make an artistic as well as a technical contribution to high-performance building.
"You can have the most efficient, net zero, the best-of-everything building, if it's butt ugly it's going to be torn down in 10 years and you've wasted those resources," he said. "The buildings that have lasted for 500 years, the kind that people will lay down in front of bulldozers for, those buildings are beautiful and the craftsmanship in them, people take great pride in that. And that's one of the things we're emphasizing — these are artistic projects that happen to be using technology. But if they're not an art project, they don't work."
Weekly Newsletter
Get building science and energy efficiency advice, plus special offers, in your inbox.