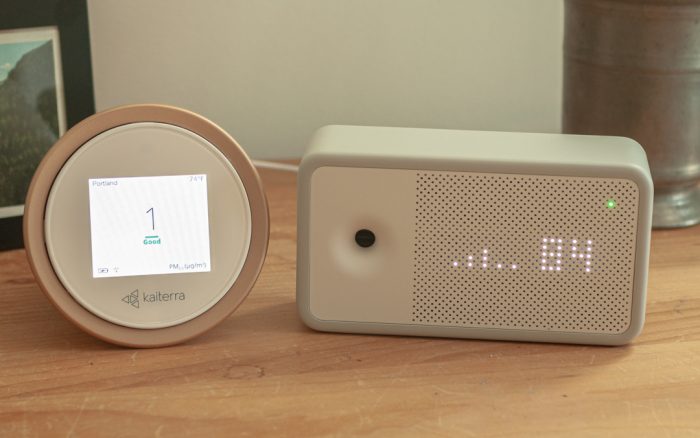 The World Health Organization attributes a long list of chronic illnesses and millions of premature deaths annually to polluted air inside and outside the home. Instead of offering a refuge from dirty air, our homes can harbor a variety of problem compounds we don't even realize are there.
Air pollution comes in many forms. One area of concern is PM2.5—particulate matter measuring less than 2.5 microns in diameter. These microscopically small bits of debris can travel deep into the lungs and cause serious health problems, even death, says the U.S. Environmental Protection Agency. Volatile organic compound (VOCs), chemicals released by many materials used to build and furnish homes, are another concern.
Measuring these health risks once required tools costing tens of thousands of dollars. These are lab-grade devices, big and impractical to install in individual houses. But as technology advanced, manufacturers found ways to approximate these functions in much smaller devices that cost a few hundred dollars. Although not as accurate, they are now widely available, and because they are relatively inexpensive they give homeowners an opportunity to track air quality at home in a way that wasn't possible a decade ago. What was a trickle of products five years ago now includes dozens of potential choices costing $300 or less.
Some of these consumer-grade devices measure PM2.5 concentrations, some measure both PM2.5 and total volatile organic compounds (tVOCs), and others also track C02, temperature, and humidity. Some units can be connected to a database that provides a network of real-time air-quality observations for a whole community. Others can be integrated with a home automation system to turn on a fan or other device when pollutants cross a certain threshold.
How well do they work? How long do they last? What compounds can be detected, and which ones…
Weekly Newsletter
Get building science and energy efficiency advice, plus special offers, in your inbox.
This article is only available to GBA Prime Members
Sign up for a free trial and get instant access to this article as well as GBA's complete library of premium articles and construction details.
Start Free Trial
Already a member? Log in