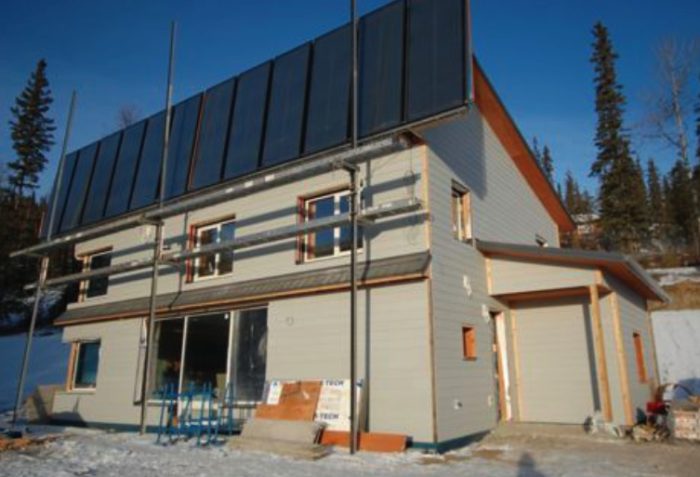 Residential builders in Alaska have at least two major sources of motivation to build homes efficiently and with first-rate performance characteristics. One is the short building season. The other, of course, is Alaska's Arctic cold.
But for general contractor Thorsten Chlupp, whose firm, Reina LLC, is based in Fairbanks, yet another motivator came into play when he set out to build his family's 2,300-sq.-ft. home to operate without fossil-fuel heat sources and conform to the Passivhaus standard: building-industry experts told him it couldn't be done.
"You wouldn't believe how many engineers have told me in the past year that it's impossible," Chlupp told Newsminer.com for a recently posted story. "I already know I need to build an outdoor swimming pool because I have too much heat."
A big barrier to cold
The builder and his family moved into the house in December and so far have burned a cord of wood in its stone masonry heater, although, Newsminer.com notes, the last fire was set in mid-February. Because there's very little direct sunlight in that part of the world in December and January, the 480 sq. ft. of solar thermal panels mounted on the south-facing roofline of the home, which Chlupp calls SunRise House, weren't yet a factor in the building's heat-source dynamic. But now the solar thermal system's water-and-glycol-filled tubing is delivering heat from the panels to the slab floor of the house and to its principal thermal storage system, a 5,000-gallon steel tank (14 by 8 ft.) filled with water whose temperature ranges from 130 to 150 degrees.
Between the water tank and the concrete surface on the first floor, the house can store about 8 million BTUs of energy, enough, Chlupp says, to heat the home for about two months while its heat recovery ventilator keeps its fresh-air needs in balance. Another, 40-gallon tank supplies hot water to the occupants of the house.
The slab of the house is insulated to R-63, while the exterior walls and the roof are insulated with cellulose to R-75 and R-115, respectively. The insulation was installed outside the wood-frame walls' CDX plywood sheathing, which was taped and sealed for airtightness. That approach allowed the exterior-wall framing to be used for wires, plumbing, and mechanical fixtures. In response to GBA community-forum comments about the project, Chlupp notes that insulation also can be added to that inside-facing wall space if it's needed, and that servicing the utility components later on can be done without compromising the airtightness of the outside insulation system.
Living in and learning from a prototype
Chlupp chose triple-glazed windows with insulated frames. The glazing has a solar heat-gain coefficient of 0.60 and a U-factor of 0.072.(These are glazing-only specs, not whole-window specs.) The window openings also are equipped with thermal shutters can be slid shut to provide an airtight seal and an additional R-20 of thermal resistance.
A former outdoor and mountaineering guide, Chlupp lived in Germany until 1996, when he moved to Fairbanks. According to Newsminer.com, Chlupp started his construction company 12 years ago with the intention of applying energy-efficiency standards common in Germany to projects in Alaska. The performance of SunRise House is being monitored by a network of sensors that will be analyzed by the Cold Climate Housing Research Center. And it appears the house will easily qualify for Passivhaus certification.
But Chlupp adds that the building is, essentially, a prototype – one that he hopes will serve as a source of information that can be applied in cost-effective ways to other projects in both the new-home and retrofit realms.
"What I'm after," he said, "is replacing everything fossil-fuel-based, because if we can get rid of it completely we're so much better off."
Weekly Newsletter
Get building science and energy efficiency advice, plus special offers, in your inbox.