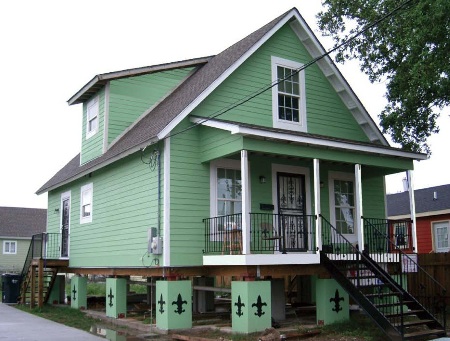 Expanding on my last post about ACI, here are assorted observations and amusing anecdotes about events, products, and educational sessions that I attended. Unfortunately, I was not able to attend as many classes as I would have liked. I spent much of my time in Austin preparing for an evening session with my friend and nemesis Michael Anschel (more about that later), as well as roaming the floor videotaping new segments of the Green Police series, soon to be available on YouTube.
A wash-n-wear what?
The most interesting session I attended was titled "The Wash-n-Wear House," about high-performance flood-resistant prototype homes in Louisiana. Built by the Louisiana State University Agricultural Extension Center in conjunction with Building Science Corporation, these homes were designed so that they could recover from flooding with a minimal amount of repair, allowing homeowners to get back into them quickly. The core concepts were simple: All solid wood and plywood—no OSB or engineered lumber; all wood treated with borate to resist insects; closed-cell spray foam in wall cavities or foam board exterior insulation with empty wall cavities; gaps in paperless drywall at floor and at chair rail level (covered with removable trim) to eliminate capillary movement of water up the wall and to allow access to hose debris out of the walls after water recedes; and a raised floor 2 feet above the calculated flood level.
I found the idea of hosing down walls after a flood interesting, and while I suppose it would work, I think I will have to reserve my judgment until the system is tested. It would have been interesting if they had built prototype wall sections in a big pool, flooded them, then cleaned them and let them dry out to see how well they survived.
My favorite session was, of course, my joust with Mr. Anschel, our North vs. South Smackdown, where we argued with each other and the attendees about efficiency, building science, green building, and other assorted subjects. Look for a video recap soon.
Building or computer show?
The show floor was larger than ever, with a few new products and services that I think are worthy of mention. Software was everywhere this year. Recurve demonstrated their online management system for home performance contractors. Energy Savvy featured their home energy calculator, and Home Gauge hawked their energy survey templates for their home inspection software. Energy Audits provided a list of auditors and raters for consumers. At times it looked more like a tech conference than anything else.
As for hardware, I was impressed with a magnetic induction lightbulb that claimed to be slightly more efficient than CFLs, with about four times the life. According to their handouts, the concept was patented by Tesla in 1891, but is only now becoming available in the U.S. The light looked good; energy draw was very close to CFLs and LEDs with a brighter bulb. The bulbs come with a 60,000-hour rating and a lifetime warranty.
Flir exhibited a Bluetooth IR camera that connects to a moisture meter so that you can file actual moisture content readings with a specific image—wirelessly—for simpler record-keeping. Nice feature, but what impressed me most was their entry-level IR camera for about $2000. Quite a price drop from just a few years ago. I'm waiting for them to be given away free with a Happy Meal.
Tamarack Technologies showed a flexible backdraft damper that looks like it would work well for a dryer vent or fresh air intakes. This could be a good alternative to exterior or interior flappers that often get stuck or clogged.
Overall, ACI provided a good selection of classes and products for both new and experienced practitioners. In a constantly evolving industry, it must be tough to keep up with everything, and I commend the management, presenters, and exhibitors for putting on a good show.
Weekly Newsletter
Get building science and energy efficiency advice, plus special offers, in your inbox.