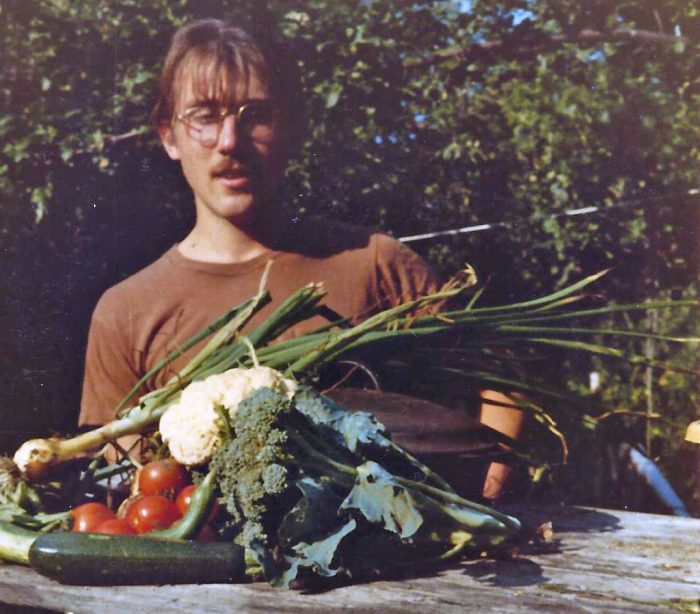 I've always had an optimistic approach to human and environmental problems. My attitude probably reflects the influence of the social movements of the 1960s and early 1970s—the trends which shaped my youth. Faced with a problem or a new idea, my usual philosophy is, "Be the change you want to see in the world," and my usual approach is "Just do it."
Now that I've retired, I can look back on my youth with an elder's perspective. Since few readers have any patience for recitations of old people's memories, I'll try to avoid the usual traps that accompany this type of retrospective—but readers may have to forgive a few sentimental lapses.
Back-to-the-land enthusiasm
Our generation was going to end war and racial prejudice, restore our injured environment, and usher in a new era based on love. Rejecting the ways of our elders, we set out to create a new society.
Attempting to separate ourselves from the corporate economy, many of us sought to become self-sufficient. When I moved to Vermont in 1974, I slept in a tent. That summer, I was part of a group—a mix of family and friends—that built a one-room cabin in the woods.
Over the next few years, I met other like-minded homesteaders who were building cabins and homes in the woods nearby. Most of our homes were off the grid.
We were ambitious. We cleared trees, dug stumps, and removed rocks from the stony ground—usually with hand tools. We built outhouses, sheds, barns, and homes. We learned to notch logs, develop springs, and build roads. Some of us kept hens; some had goats or cows; some had pigs or turkeys. We all had big vegetable gardens. In the fall, we made apple cider, canned tomatoes, and filled…
Weekly Newsletter
Get building science and energy efficiency advice, plus special offers, in your inbox.
This article is only available to GBA Prime Members
Sign up for a free trial and get instant access to this article as well as GBA's complete library of premium articles and construction details.
Start Free Trial
Already a member? Log in