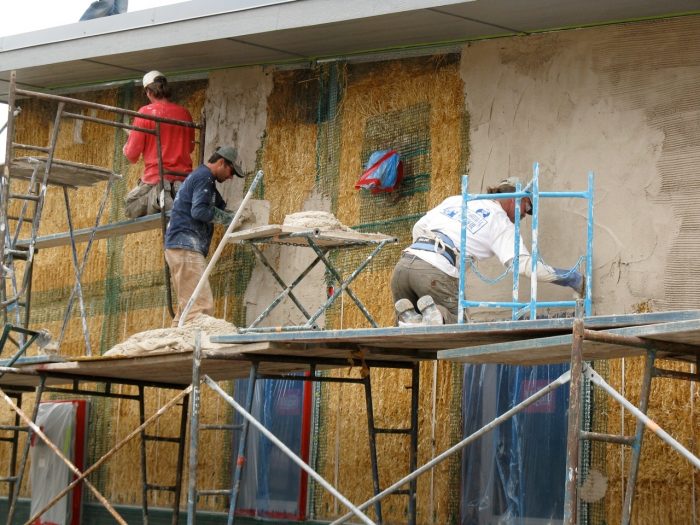 What is "embodied carbon"? I tried to answer that question in a 2018 article called "Carbon Emissions By the Construction Industry." The issue is complicated, and requires builders to make difficult judgment calls. To learn more about embodied carbon, I attended a presentation by Chris Magwood and Jacob Racusin titled "Beyond Energy Efficiency: Why Embodied Carbon in Materials Matters," at the "Better Buildings by Design" conference in Burlington, Vermont, in early February.
Chris Magwood is a builder from Ontario who specializes in the design and construction of straw-bale buildings. Jacob Racusin is the co-owner of a residential design-build company in Vermont called New Frameworks Natural Design/Build.
Emissions associated with building material production and delivery
Magwood defined "embodied carbon" this way: "Embodied carbon is carbon that is emitted in the production of materials." A classic example of this type of emissions would be the carbon dioxide emitted when a gas-fired kiln is used to make bricks. If you know how much carbon dioxide was emitted to make each brick, and how much carbon dioxide was emitted in order to deliver each brick to your job site, you have begun the complicated task of figuring out the "embodied carbon" associated with the brick veneer cladding that you intend to install on your home.
In general, embodied carbon is bad — because if a project's embodied carbon is high, it means that a lot of carbon dioxide was emitted in order to produce the building materials you're using. As everyone should know by now, carbon emissions are associated with global climate change.
If you are interested in performing a life-cycle analysis of carbon emissions associated with a building, embodied carbon accounts for only a portion of total carbon emissions. The other type of carbon emissions to consider are those that occur during…
Weekly Newsletter
Get building science and energy efficiency advice, plus special offers, in your inbox.
This article is only available to GBA Prime Members
Sign up for a free trial and get instant access to this article as well as GBA's complete library of premium articles and construction details.
Start Free Trial
Already a member? Log in