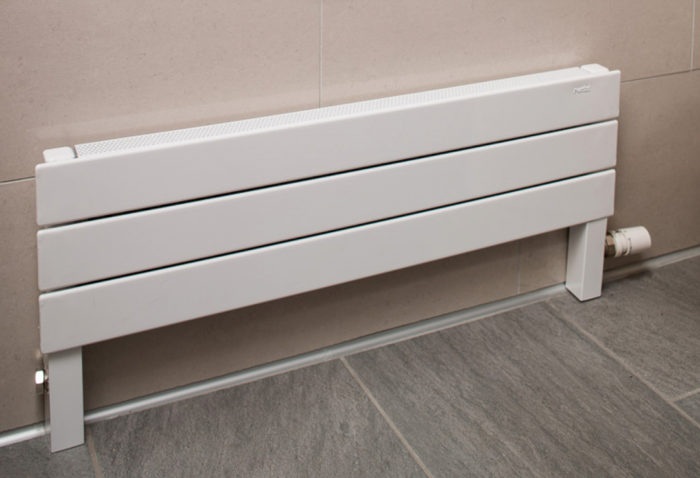 Green builders, preparing for a fossil-fuel-free future, are busy building all-electric homes. Most of these homes are heated and cooled by minisplit heat pumps. Occasionally, though, a builder who's worried about uneven heat distribution in a home with ductless minisplits will post a question on GBA suggesting the use of an air-to-water heat pump hooked up to a hydronic distribution system.
Although these systems are quite rare, a few brave pioneers have installed them, and GBA has documented their efforts with a series of articles. (See, for example, "Air-to-Water Heat Pumps" and "Split-System Heat-Pump Water Heaters.")
One of the many energy experts who's been investigating air-to-water heat pumps is Jake Marin, the program manager for HVAC at Efficiency Vermont. (Marin helped develop Vermont's first incentive program for ductless minisplits.) On February 8, 2018, at the Better Buildings By Design conference in Burlington, Vermont, Marin gave a presentation on air-to-water heat pumps called "Are We There Yet?"
We're still looking for the perfect heating and cooling system
The first question Marin addressed was, "What's wrong with ductless minisplits?"
Marin told the Burlington audience, "Ductless minisplits aren't a silver bullet. They have some limitations. They have the same comfort issues inherent to any point-source heater. They don't allow system integration — they can't be integrated with the rest of your HVAC system. Many people have aesthetic objections, calling them 'warts on the wall.' And anyone who wants more than one zone finds that the multi-zone systems have poorer performance than single-zone units."
Marin also pointed out that the systems aren't very intuitive. "People don't know how to use their remote control," he said. "And if the…
Weekly Newsletter
Get building science and energy efficiency advice, plus special offers, in your inbox.
This article is only available to GBA Prime Members
Sign up for a free trial and get instant access to this article as well as GBA's complete library of premium articles and construction details.
Start Free Trial
Already a member? Log in