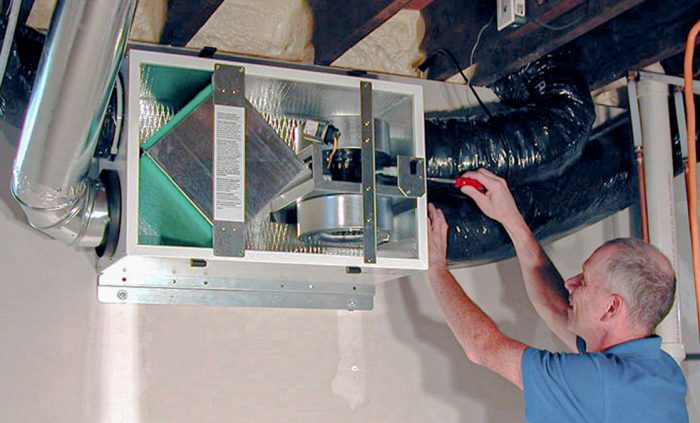 "Build tight, ventilate right" is a phrase becoming increasingly familiar to high-performance builders. It means that as houses get tighter and better insulated, the need for well-designed mechanical ventilation gets more compelling.
At its simplest, this means using kitchen and bathroom fans to remove moist or particulate-laden air. In this exhaust-only approach, outside air finds its way into the building via gaps in the building enclosure. Supply-only ventilation works the other way: fans bring fresh air into the house but there's no dedicated path for stale indoor air to leave. Both of these approaches are economical but have drawbacks.
A more effective option is a balanced ventilation system in which incoming air is offset by an equal volume of outgoing air, which keeps air pressure in the building close to neutral. Builders and designers who specialize in superinsulated houses with very low air leakage rates now are likely to include either a heat- or energy-recovery ventilator in the plans. These mechanical systems are similar in that they have a core through which both incoming and outgoing air travel to transfer energy and, in the case of ERVs, moisture.
In a heat-recovery ventilator, or HRV, there's an exchange of thermal energy across the core. This is what engineers call "sensible heat." In winter, exhaust air transfers some of its thermal energy to incoming fresh air, reducing much of the energy loss that would otherwise take place. In an energy-recovery ventilator, or ERV, there is an exchange of sensible heat but also an exchange of moisture, or "latent heat." (These systems also are called enthalpy-recovery ventilators.) In both winter and summer, ERVs are designed to keep indoor humidity levels more comfortable.
A newer generation of ventilator substitutes a conventional ERV core with a heat pump. The units provide heating and…
Weekly Newsletter
Get building science and energy efficiency advice, plus special offers, in your inbox.
This article is only available to GBA Prime Members
Sign up for a free trial and get instant access to this article as well as GBA's complete library of premium articles and construction details.
Start Free Trial
Already a member? Log in