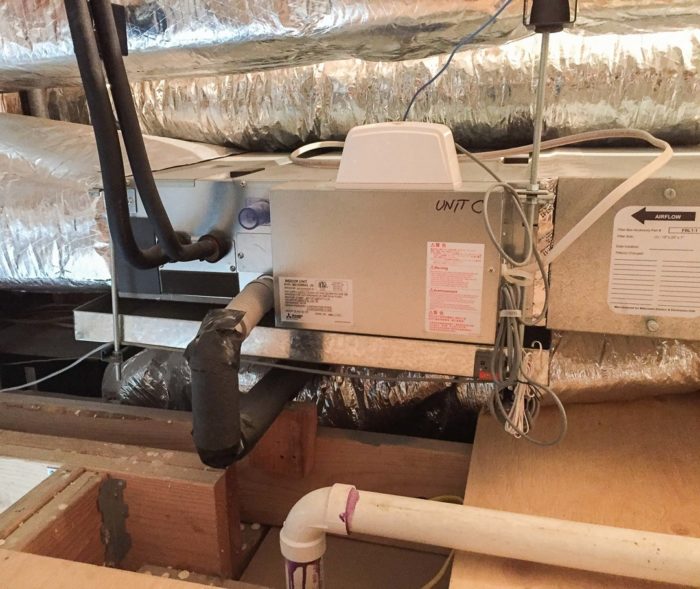 A GBA reader named Inverter0815 lives in a two-story colonial in New Jersey that's hard to keep comfortable in summer. In order to get the three upstairs bedrooms down to a relatively comfortable 75°F in July and August, Inverter must set the thermostat on his single-zone 2 1/2-ton air conditioner to 67°F.
An HVAC contractor has taken a look at the house and has a recommendation, Inverter explains in this Q&A post: install two Mitsubishi SEZ model ducted minisplits in the attic. One will cool the master bedroom, the other will cool the two bedrooms where Inverter's children sleep.
There's one snag. The attic at Inverter's house is unconditioned.
"What got me thinking is that Mitsubishi recommends installing the SEZ units in a dropped ceiling or closet," Inverter writes. "Can these be installed in an unconditioned attic as well? The [temperature] gets up to 130°F on a sunny day in the summer, so I am a little worried. Would a traditional air handler be a better idea?"
That's the underlying question for this Q&A Spotlight.
The units seem oversized
What strikes Chris King first, though, is the capacity of the minisplits that the contractor has recommended. At 20,000 Btu/hour, King says, they seem "incredibly overpowered" for cooling just three bedrooms.
"I also live in N.J. and use a 18,000 Btu/h unit for 1,500 square feet of 1960s poorly insulated home," King says. "Seems like your biggest issue is that your current system is single-zone."
Each of the units the contractor recommends, however, can be dialed back to 3,800 Btu per hour, Inverter says, and the output of the outdoor condenser can be lowered to 6,000 Btu/h. That means that if both units are running, each can operate at between 3,800 and 12,000 Btu/h.
Another…
Weekly Newsletter
Get building science and energy efficiency advice, plus special offers, in your inbox.
This article is only available to GBA Prime Members
Sign up for a free trial and get instant access to this article as well as GBA's complete library of premium articles and construction details.
Start Free Trial
Already a member? Log in