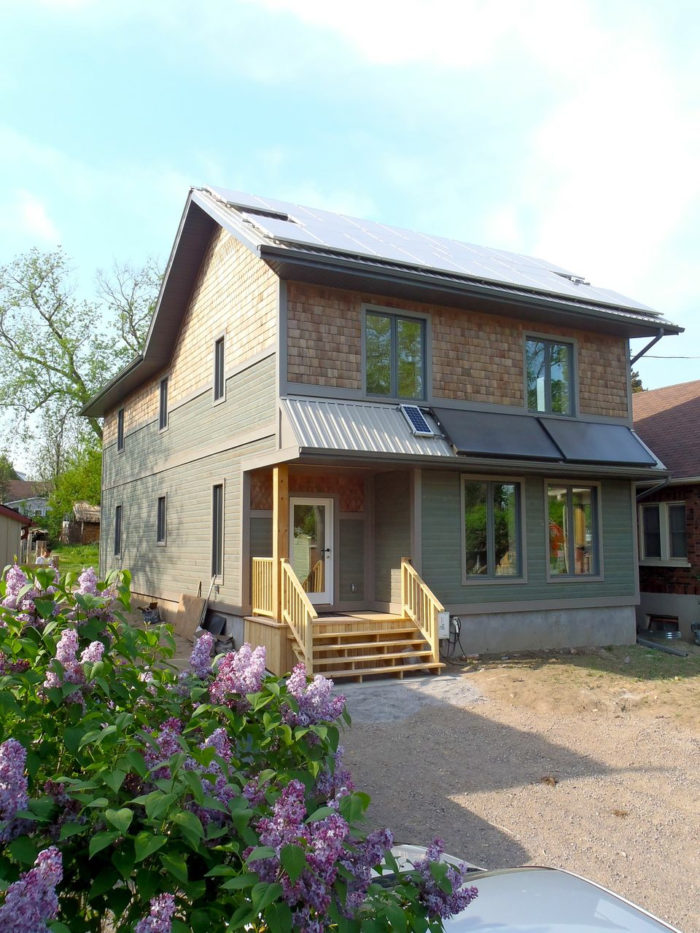 Students at the Endeavour Centre in Ontario, Canada, helped build a net-zero energy spec house a few years ago and called it "Canada's Greenest Home" when they were finished. There is, of course, no way to prove that, but they can prove just how energy-efficient the building is.
The school tracked energy consumption at the 2,300-square-foot two-story house between October 2013 and September 2014, logging the amount of power used every month against the amount produced by the home's 5 kW photovoltaic system.
Although total output was 2,792 kWh less than consumption, some months were so profitable under the province's feed-in tariff system the house actually netted $2,000 by the end of the year. Unlike net-metering common to the U.S., under Ontario's Micro-FIT system the house has two meters — one for outgoing power (which earns 38 cents per kWh) and another for power that's purchased from the grid (11 cents per kWh), said Chris Magwood, project director and executive director of the school.
Three adults, including Magwood, and a child lived in the house during the test period. Compared with averages for a 2,500-square-foot Ontario home, the Endeavour House used about 70% less energy, a total of 8,8678 kWh.
Equipped with a rainwater collection system and a composting toilet, the house also used 71% less water than the provincial average, 66 liters per person per day vs. 225 liters (17.4 gallons vs. 59.4 gallons).
Houses uses prefabricated straw panels
In addition to building in energy and water efficiency, designers also tried to lessen the project's environmental burden in other ways.
Magwood wrote that 90% of the materials used in the house were sourced within 250 km. (155 miles) of the job site, and that construction waste was a total of 852 pounds, or roughly 10% of the typical amount of waste for a 2,000-square-foot house in the region.
"It didn't take government grants, corporate R&D or high-tech components to make the home," Magwood wrote. "Every material and system used was an off-the-shelf item available to any builder, and the home was largely built by students in The Endeavour Centre's Sustainable New Construction program."
The walls were assembled from prefabricated straw-bale panels 8 feet tall and 3 feet wide. The 16-inc- thick panels, finished with drywall and plaster on the inside and stucco on the outside, have a two-hour fire rating and an R-value of 35.
Other features include a foundation made from insulated concrete forms, a composting toilet, an air-source heat pump, solar thermal collectors for hot water, and triple-glazed windows.
The project was described in more detail in two earlier GBA articles (a 2012 article called "Teaching Deep Green by Building It" and a 2013 article called "Builders Complete 'Canada's Greenest Home' ). More information on the house can also be found in a blog posted at the school's website.
Lessons learned for next time
Were they to build again, Magwood said a few things would be handled differently. "We learned a lot!" he said in a followup email.
Here's how he summed it up:
No full basement. The house has a full basement, mainly to accommodate a Clivus Multrum composting toilet. Since then, Magwood has discovered an alternate system called the Envirolet vacuum flush system that doesn't require a full basement. Building on a slab or over a crawlspace would have saved roughly $25,000.
More efficient duct work. "We couldn't find anybody who would stand behind a design with the outlets in the central walls of the two floors, and ended up with old-school ducts under each window," Magood writes. "We've since found a licensed heating designer who would have stood behind such a design, saving quite a bit of money and material."
Water storage outside. Instead of putting rainwater storage in the basement, it could have gone outside the house at a lower cost — another reason not to build a full basement.
Make the house a duplex. A key change would have been to turn the single-family design into a duplex. "This would have made the slightly higher costs for the more efficient systems/materials a much easier sell from a financial point of view," he said, "and also contributed more to urban density."
Construction costs were $398,000, or $173 per square foot. Rainwater collection, the composting toilet, and renewable energy systems accounted for $46,500 of the total. The construction budget also paid for 2.5 full-time instructors as well as professional trades.
The house is expected to go on the market this spring.
Weekly Newsletter
Get building science and energy efficiency advice, plus special offers, in your inbox.