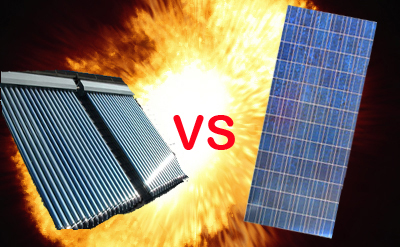 (With apologies to Ernest Lawrence Thayer)
Bob Casey's business worries made him grumble, whine, and moan;
His solar thermal enterprise was dropping like a stone.
While certain clients wanted water heated by the sun,
The calls and jobs were rare these days, which wasn't very fun.
The contractor regretted his decision long ago
To be a solar plumber; now his life was full of woe.
Old Casey's face was worried; he had wrinkles in his brow;
Hot water panels weren't requested very often now.
But on a roof in Mudville, when the morning sun was bright,
Old Casey felt quite cheerful in the warm December light.
Soon, winter would arrive, but now the weather felt like fall,
And Casey had a solar thermal system to install.
He liked to work on rooftops — Casey had no fear of heights —
And from the ridge he looked upon the neighbor's Christmas lights.

He heard a truck pull up next door, and looking down, he saw
José, the handsome PV guy, blue-eyed and square of jaw.
José set up a ladder and he quickly set to work,
And Casey thought, "I hate that guy! He really is a jerk!
José, the irksome fellow with the brand-new V-8 truck,
A thriving PV business, pretty wife, and all the luck!"
When Casey understood José was working right next door,
The competition freaked him out; he mumbled, "This is war."
José was cutting conduit; he worked with speed and skill;
When Casey saw his rival work, he had an urge to kill.
And Casey thought, "I'll race him! That's exactly what I'll do!
For every panel he puts up, I'll try to put up two."
At noon the score stood four to two, and Casey was ahead.
With four collectors up, he paused. He faced José, and said,
"Now don't those pliers give your hands a thousand little cuts?
I'd rather solder tubing than retighten wire nuts."
José was calm as he deployed a panel on his rack.
He said, "Now Casey, that's a most pathetic little crack.
You're soldering from dawn to dusk, and how much do you earn?
And every time you use your torch, you get another burn.
These PV panels represent the future, my dear friend,
Hot water panels are passé, and soon your job will end."
The blunt prediction stung, and Casey's face looked drawn and gaunt,
But Casey focused on his work, ignoring José's taunt.
An hour later, working hard, José had picked up speed.
With seven panels all installed, he stopped to smoke some weed.
Poor Casey's work was slowing as the autumn sun beat down,
He was almost out of solder and he'd have to drive downtown.
He'd put up five collectors — he wished he'd put up more —
And he realized that his workmanship was getting rather poor.
As he scrambled down his ladder, the sweat got in his eyes.
He wiped his brow, climbed in his truck, and drove to get supplies.

When he returned, José had put eight panels on his rack.
Still, Casey vowed to beat him. He was ready to attack.
With lightning speed he soldered, till the score was ten to nine.
Old Casey, who was leading, shouted, "Victory is mine!"
José responded, "Casey! Dude! It's still not quitting time!
You're not yet done; you still have many ladder rungs to climb.
You're mouthy, dude, and all your boasts are mostly empty jive;
I bet a thousand dollars, friend, that when the clock strikes five,
My roof will have more panels. It's time, my friend, to bet."
"You're on!" said Casey rashly, as he wiped his face of sweat;
"I'll take your thousand dollars," Casey boasted with a grin,
"I'll solder like a demon, and I'm certain I will win!"
Then, glancing at the sidewalk, Casey saw his wife Marie:
Excited by the wager, she'd begun to climb a tree.
And from her throat there soon arose a mighty, lusty yell;
It rumbled through the valley, it rattled in the dell;
It knocked upon the mountain and recoiled on the flat,
For Casey, mighty Casey, had put money in the hat!
"You go!" she cheered. "Your thermal panels have to beat PV!
Electric panels have to lose!" she shouted from her tree.

There was ease in Casey's manner as he lit his propane torch,
There was pride in Casey's bearing, though his flux fell to the porch.
And when, responding to the cheers, he waved his solder high,
His wife up in the tree was moved, and thought that that she might cry.
Defiance gleamed in Casey's eye, a sneer curled Casey's lip.
He knew he'd win; his torch's flame was blue right to the tip.
He finished thirteen panels, and his mind felt bright and keen.
Marie glanced left, and warned her man, "José has done fourteen!"
Still, Casey's vocal wife continued shouting out her cheers:
"Go, honey! You're a champion! Forget all petty fears!"
The sneer was gone from Casey's lip; his teeth were clenched in hate;
With fearsome strength he gripped his wrench, but now the hour was late.
The final panel he installed, his fifteenth of the day,
Did not quite match the sixteen panels wired by José.
Oh, somewhere in this favored land the sun is shining bright;
The band is playing somewhere, and somewhere hearts are light,
And somewhere men are laughing, and somewhere children shout;
But there is no joy in Mudville; mighty Casey has struck out.
With heavy heart, old Casey made his way down to the street,
Admitting sadly to José, "I know that I've been beat."
He paid his thousand dollars and he headed home to bed,
Afraid that solar thermal was, as rumored, truly dead.

Happy Hanukkah and Merry Christmas from the Energy Nerd. Martin's previous holiday greetings include The Energy Grinch, his Macbeth parody, his parodies of Christmas carols, and his parody of "'Twas the Night Before Christmas."
[Photo credit: blog.thesietch.org]