Two companies developing an improved type of cellulose insulation hope to get their products into the hands of installers later this year, but the race to the marketplace has been complicated by an ongoing legal dispute involving allegations that important trade secrets may have been misappropriated.
UltraCell Insulation, headquartered in Buffalo, New York, has been working on a new method of making cellulose insulation, incorporating changes that the company says will make the insulation cleaner and less dusty. At the same time, a Milwaukee, Wisconsin, firm called Nature-Tech is apparently at work on a similar product. Both hope for a product launch this year.
At the center of this competitive race is William Hulstrunk, who went to work for UltraCell in 2015 and became a key player in its insulation program before jumping ship and joining Nature-Tech at the end of 2017.
Hulstrunk went to court last November, trying to head off any no-compete claims by UltraCell by filing a complaint against UltraCell in a federal district court in Vermont. UltraCell fired back with its own claim against Hulstrunk and Nature-Tech, alleging that Hulstrunk will inevitably reveal trade secrets and erode UltraCell's competitive edge in the $500 million North American cellulose market.
The dispute is still in court. UltraCell is still planning on having its insulation on the market by the fourth quarter of this year. Whether the legal challenge could disrupt Nature-Tech's plans isn't clear.
UltraCell's new cellulose
As UltraCell explains on its website, producers of cellulose insulation typically use recycled newspaper and other forms of paper as raw materials. Fire retardants are mixed in as dry chemicals, a process that leaves the insulation vulnerable to contamination from foreign material in the shredded paper, and makes for a dusty product when installed.
UltraCell promotes two changes to the process. First, it uses recycled corrugated cardboard and other clean fibers as the feedstock. That would make the insulation "extraordinarily clean and robust," the company said. Second, instead of mixing dry fire retardants into shredded fiber, a new "wet" process along with a fire retardant blend it calls "Celluborate" results in reduced dust and the potential for higher R-values.
The innovations would make UltraCell's cellulose an "industry changing product," the company said in court filings.
Hulstrunk had been a long-time employee of Massachusetts-based cellulose manufacturer National Fiber. After the company closed its doors in 2015, he went to work for UltraCell and became, in UltraCell's words, "one of only a handful of people who knows all aspects of UltraCell's trade secret information regarding its wet process…" Further, the company claims, Hulstrunk became an owner by accepting "member units" in the company.
Hulstrunk says in his complaint that he went to work for UltraCell in 2015 as an independent contractor and worked from his home in Vermont. Later, he became the company's technical manager and in September 2017 was named vice president of technical services. But, Hulstrunk adds, he never signed the paperwork that would have prevented his move to another company.
In October 2017, Hulstrunk left his job at UltraCell and moved to Nature-Tech.
"If Hulstrunk has not already disclosed UltraCell's trade secrets to Nature Tech, his new employment puts him in a position where such disclosure is inevitable," UltraCell's complaint says. "UltraCell needs immediate injunctive relief to stop Hulstrunk and Nature Tech from misappropriating UltraCell's trade secrets and stealing UltraCell's goodwill."
Nature-Tech's entry into the market
Little is known about Nature-Tech's venture into the insulation market. Its website focuses on architectural woodworking. There are photos of millwork in corporate meeting rooms, hotels, condos, restaurants, and casinos. The company says it can work with a variety of materials beyond wood, including glass, metal, fabrics and plastics.
But there's nothing about producing insulation, cellulose or otherwise.
One hint comes from Hulstrunk's account at Linked-In, an online business networking app. He describes himself as "VP of Insulation Technology at NatureTech" and adds, "NatureTech will be bringing its innovative dedusted cellulose insulation to market starting in the second quarter of 2018."
Efforts to reach both Hulstrunk and Nature-Tech were unsuccessful.
Planned market area
UltraCell CEO Jon Strimling said by telephone that the company has raised about $6 million in financing and put up an initial production line in Buffalo, New York, where it is producing insulation on a limited basis.
"We don't want to launch anything until we're thrilled with the product," he said. "We really want to launch the best product the industry has ever seen."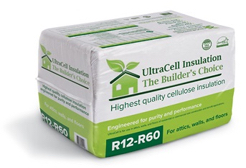 It will take another couple of months to work out any kinks in production, and another couple of months to get the insulation fully certified, Strimling said. He expects to be shipping product for sampling in the third quarter of the year, and to be in full sales mode by the fourth quarter.
Initially, the company's market area will be all of New England and parts of the Mid-Atlantic and Midwest regions, with a longer term goal of entering the Canadian market. Eventually, Strimling said, they'd like to take sales national.
Price-wise, Strimling said UltraCell should be "very competitive" with other forms of cellulose already on the market, in part because its manufacturing process allows a more efficient use of expensive fire retardants.
As to higher R-values, Strimling said the company believes that's possible, but no such claims are being made at this point.
"We are looking at this as what it is, which is an engineered composite," Strimling said. "I think there's been a tendency in the industry to look at this as shredded paper with some powder thrown on it and put in a bag. We're tying to be more meticulous about how we manage the materials, and we're definitely shooting to improve the state of the art in the industry, including R-values."
Weekly Newsletter
Get building science and energy efficiency advice, plus special offers, in your inbox.