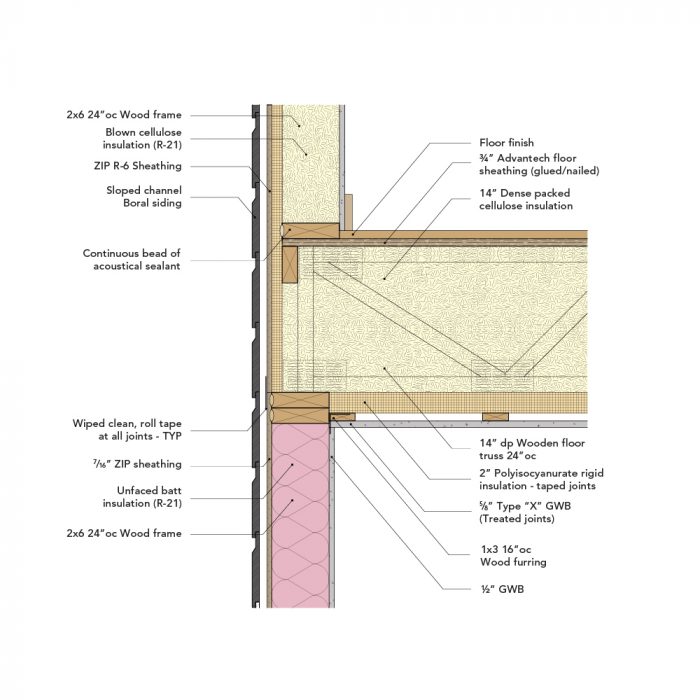 Architects, builders, and building industry professionals tend to think in terms of assemblies—specifically walls, floors, and roofs. In our office, we call the above detail a floor assembly, and it ensures air barrier continuity, thermal comfort, and humidity control—all of which are key when a conditioned space sits above an unconditioned garage.
The rules that apply to the floor assembly are similar those applied to an exterior wall of a house. Both the wall and floor assemblies form the building envelope containing the conditioned room above the garage. The garage itself and the space outboard of the exterior wall are both "outside." By virtue of its structural requirements, the floor assembly provides a building cavity approximately three times the depth of a wall cavity. Like all of our building assemblies, this detail was developed in accordance with the rules governing control layers.
In the exterior wall assembly bulk water is handled, in part, with Zip R-6 sheathing, which meets 7/16-in. Zip sheathing at the garage wall. (When working with a Zip System assembly, the joints should be wiped clean, then taped and rolled.) The water management strategy also includes 1×3 furring space beneath the exterior finish for a rainscreen, which provides a drainage as well as an air flow plane to help the wall dry out.
The Zip sheathing also serves as the primary air barrier along the wall and band joist of the floor truss below. The air barrier at the bottom of the truss is transferred through the framed wall to the polyiso rigid insulation. Essentially, the primary air barrier is folded around the floor. Like the sheathing, the rigid foam joints need to be wiped clean, taped, and rolled for an effective barrier.
In terms of vapor control, the rigid foam protects the floor from any…
Weekly Newsletter
Get building science and energy efficiency advice, plus special offers, in your inbox.
This article is only available to GBA Prime Members
Sign up for a free trial and get instant access to this article as well as GBA's complete library of premium articles and construction details.
Start Free Trial
Already a member? Log in