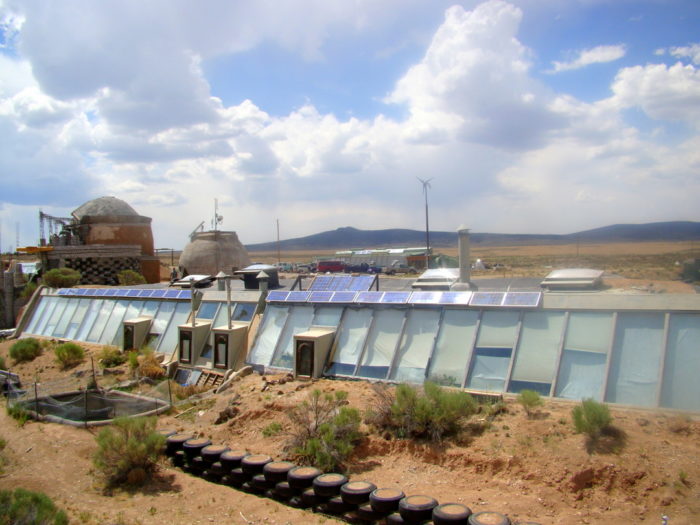 If you are a hippie from Taos, New Mexico, you know what an earthship is. It's an off-grid earth-bermed passive solar home with exterior walls made of old tires packed with dirt.
Although many people assume that the term "earthship" is generic, like "straw-bale home" or "underground house," it isn't. It's a trademark owned by a for-profit company, Earthship Biotecture. The company was founded by a Taos architect named Michael Reynolds, who began developing his earthship construction principles in the 1980s. Over the years, he gradually refined these principles and shared them with the public in several books and articles.
Michael Reynolds is an architect, custom home builder, and real-estate developer. His business activities include new home construction, consulting, the sale of earthship plans, and the promotion of earthship communities.
Reynolds does not live in an earthship, however. In his book Off the Grid, journalist Nick Rosen describes several encounters with Mike Reynolds. "When I asked to visit him in his own home Mike was surprisingly reluctant," Rosen wrote. "I found out where the Reynolds house is located and was brought there by a local guide. … And it's on the grid — all of the grids: power, water, sewage, even cable." [Author's postscript: According to Alex Leeor, Michael Reynolds now lives in an earthship; see Comment #17 below.]
The defining characteristics of an earthship
According to Reynolds, earthships have the following six characteristics:
Weekly Newsletter
Get building science and energy efficiency advice, plus special offers, in your inbox.
This article is only available to GBA Prime Members
Sign up for a free trial and get instant access to this article as well as GBA's complete library of premium articles and construction details.
Start Free Trial
Already a member? Log in