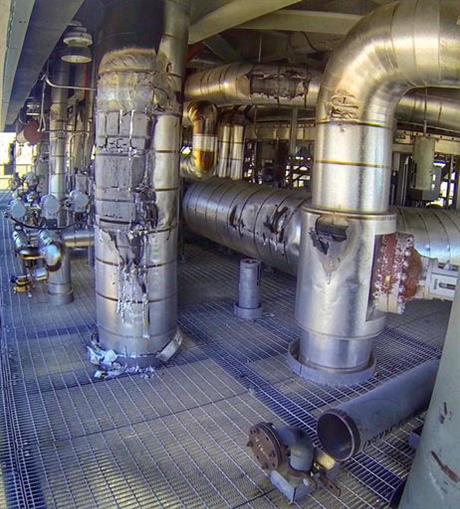 A fire last week damaged one of three towers at the huge Ivanpah solar thermal facility in the Mohave desert, but the real threat to the facility's long-term relevance appears to be economics.
The incident left metal pipes in steam-generating equipment near the top of the 459-foot tower scorched and melted, according to a report at Wired. The fire is one more PR headache for the world's largest solar facility.
The towers at Ivanpah are surrounded by 173,000 pairs of computer-controlled mirrors, each the size of a garage door, that focus sunlight on a boiler to produce steam and drive a generator. A misalignment of mirrors may have been the cause of the fire, the San Bernardino County Fire Department said, but NRG Energy, which operates the $2.2 billion plant, said it was too soon to tell.
The Los Angeles Times said the fire was minor. A plant worker was able to put it out with a fire extinguisher.
There was no immediate word on when the tower would be back online. A second tower is undergoing routine maintenance, so the fire on May 19 effectively brought the production of electricity to one-third of capacity.
Electricity from photovoltaics is cheaper
A bigger threat to the plant is a financial one, according to the Wired story. When the plant was still on the drawing boards in 2007, Wired said, the cost of electricity from the facility would have been about the same as making it with photovoltaic (PV) panels. Since then, the cost of PV modules has plummeted. PV-generated electricity has come down to about 6 cents per kilowatt hour while the cost of power from concentrated solar plants like Ivanpah is 15 to 20 cents per kWh.
Concentrated solar can only get so much cheaper and won't enjoy the same decline in operating costs as PV, suggested Adam Schultz, program manager at the UC Davis Energy Institute. "You're not going to see the same thing with concentrated solar power plants because it's mostly just a big steel and glass project."
Among other drawbacks, concentrated solar plants need a lot of land. Ivanpah is spread over 3,500 acres, while PV panels can be mounted on rooftops or on small tracts of land in whatever numbers make the most sense for the project.
Ivanpah also is complex. Getting hundreds of thousands of mirrors to align correctly is a challenge that makes the plant difficult to run. A glitch can send sunlight slightly off course, as might have been the case with last week's fire.
"The sheer size of these plants make it easy to overlook one little flaw," Tyler Ogden, an analyst at Lux Research, told Wired.
More PR woes
Ivanpah has suffered a variety of public setbacks since it went online in 2014, including reports that birds flying into concentrated beams of sunlight were being killed. One report last year estimated 3,504 bird deaths per year could be attributed to the plant.
The plant has not been able to produce as much electricity as its contracts required. Two of the units, under contract to Pacific Gas and Electric, are supposed to produce 640,000 megawatt-hours of electricity per year, according to The Wall Street Journal, but actually made about 45% of that in 2014 and 68% in 2015. The California Public Utilities Commission in March voted to give plant operators a year to correct the problem.
BrightSource, one of three owners, said that performance has steadily improved since the project was completed, and that a "multi-year performance learning curve has always been assumed since the earliest stages of planning."
In an online statement titled "The top five things some media can't seem to remember about Ivanpah," BrightSource said that it "remains confident that Ivanpah will operate successfully" over its 30-year life. "It is designed specifically to minimize impacts on native ecosystems, and our comprehensive set of best practices positively address site selection, low-impact design, water usage, air quality and species protection," the statement says. It adds that bird deaths have been exaggerated, and that unpredictable weather is partly to blame for lower-than-expected output.
Weekly Newsletter
Get building science and energy efficiency advice, plus special offers, in your inbox.