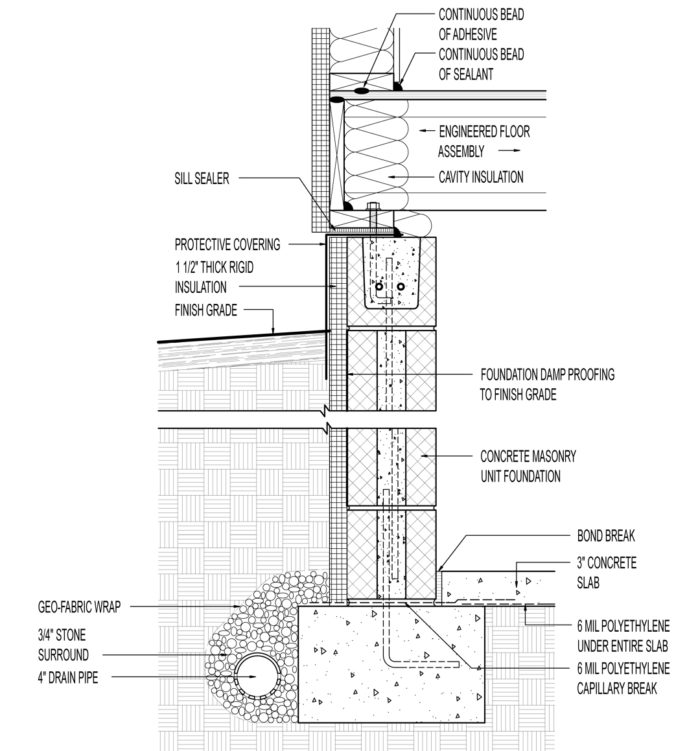 UPDATED on January 26, 2018
A wide variety of residential foundation types, including monolithic slabs, crawl space foundations, and basement foundations, can lose heat due to poorly detailed insulation at the concrete footings. That's because many construction details, including some details on the GBA Web site, fail to address thermal bridging through foundation footings.
There are several possible ways to address these thermal bridges, including:
ignoring the problem (based on the theory that the heat leaks are trivial);
on some types of foundations — those with stemwalls insulated on the exterior — switching to interior wall insulation to allow for an uninterrupted thermal barrier;
altering the construction details to include insulation under the footing.
In general, deep footings will lose less heat during the winter than shallow footings. Whether the amount of heat leaking through a concrete footing is enough to worry about depends on your climate and your performance goals; if you hope to achieve the Passivhaus standard, such a thermal bridge is clearly a no-no.
Is there any reason NOT to put foam under a footing?
Traditional wisdom taught builders to place footings on undisturbed soil below the frost line. If footings are properly designed for the soil at your building site — an exercise based on either soil testing and engineering calculations or rules of thumb and local knowledge — then such undisturbed soil should be able to support the weight of the building, with a healthy margin of safety.
Engineers explain that good soils should be able to support 3,000 lbs. per square foot (20.9 psi). As it turns out, common extruded polystyrene (XPS) insulation like Dow Styrofoam or Owens Corning Foamular has a compressive strength of 25 psi. That's more than many soils that are routinely used to support a footing and a house. Moreover, it's possible to order XPS…
Weekly Newsletter
Get building science and energy efficiency advice, plus special offers, in your inbox.
This article is only available to GBA Prime Members
Sign up for a free trial and get instant access to this article as well as GBA's complete library of premium articles and construction details.
Start Free Trial
Already a member? Log in