In the prior installment in this blog series, I proposed a rationale for the adoption of integrated project delivery (IPD) and promised to follow with suggestions regarding its implementation, along with some resources.
Meanwhile, that last blog generated a great dialogue (and a few diatribes – always a plus!) about that classic IPD bugaboo, the design-bid-build model. Many of the commenters echoed my own very strong sentiments in favor of involving contractors during early design stages, and gave some great suggestions for how to do that. I won't reiterate those here, but do encourage anyone who hasn't read them to do so.
The Siamese twins of IPD
Before moving on to the discussion of IPD implementation, I'll share a couple of fundamental principles I've derived from my own experience – realizations resulting from shortcomings in process (failures have a way of providing teachable moments, don't they?!) that have strongly shaped my views about implementation.
Principle #1: Sound Process. If your process is sound, good outcomes will follow. In other words, it's kind of tough to produce a lousy project if you're observing a well-crafted (integrated) process.
Principle #2: Right Players. A sound process, carried out by the right people, all but guarantees a good project (or product). The "right people" are qualified, committed, and creative. By qualified, I mean having prior relevant experience – ideally on other high-performance projects, and projects that are comparable in nature (building type) and scope (size, complexity). Committed players are also crucial, and in fact, a team member who lacks an ideal background but who is hugely enthusiastic about the undertaking can be a great asset. And finally, a spirit of creativity and innovation are essential. Ultimately, attitude trumps experience, if you can't have both.
These two principles are Siamese twins; one can't exist without the other.
IPD means following some rules
My principles, above, were the result of observations about things that were working well, and some things that weren't. Further observation and reflection on those principles over many years has led me to a set of basic rules for implementing IPD:
Rule #1: Committed Leadership. Committed leadership is absolutely crucial. If either the purse-strings are controlled by a party who is not committed to IPD or the project team leader is not committed to IPD, it simply can't happen. A sound process won't be observed, and you may be unable to engage the right players.
Rule #2: Designate a Champion. It's critical to have an IPD champion within the project team. IPD is not the normal way building projects are developed; hence, someone needs to be responsible for its care and feeding. This may be anyone on the team, but ideally a seasoned professional with prior IPD experience or someone who is enthusiastic about the prospect of fulfilling this role and who is very organized.
Rule #3: Be Inclusive. As much as you can, include every team member in your IPD process from the earliest possible date (or, by definition, it's not so integrated). There's a very practical reason for this: the person left out is the one who will cause problems – not out of malice, stupidity, or laziness, but typically because of a lack of understanding of the project's goals or of the reasoning that underlies particular decisions. (Hearken back to part 4 in this blog series.)
Rule #4: Establish Communication Protocols Early. As a team, identify the range of systems, materials, and issues that will need to be addressed as the project progresses, and the team members who should be involved in communications about each of these areas. Often it's a pretty comprehensive matrix; the sample shown below arguably is missing some dots.
Rule #5: Use an Online Workspace. There are a number of online workspace options, ranging in sophistication from the fairly rudimentary (e.g., Buzzsaw, Google Docs) to the more fully-featured such as Central Desktop and Basecamp, which I use because it offers a reasonably good balance between functionality and price. The two principal values of these utilities are:
• Version control – everyone should have access at all times to the most current version of all project documents;
• Email conversation archive – dialogue among team members about particular issues should be easily accessible from one central point without having to mine individuals' sent or received email boxes.
Several other types of resources can support IPD
Contracts. In many discussions of IPD, the issues of responsibility and liability come up. Understandably, this is of paramount concern when project teams deviate from the standard approach to project delivery. A number of relatively new contract forms have evolved to address this need, including the following:
AIA A195/B195/A295 Standard Form of Agreement Between Owner and Contractor/ Owner and Architect for Integrated Project Delivery
AIA C195 Standard Form Single Purpose Entity Agreement for Integrated Project Delivery
Consensus DOCS 300 Standard Form of Tri-Party Agreement for Collaborative Project Delivery
Meeting Resources. As prosaic as it sounds, meeting logistics can be one of the biggest challenges an IPD team faces. There are a number of free online scheduling utilities; I find Doodle to be particularly user-friendly. When an in-person meeting isn't possible, a conference call (e.g., FreeConference) or web-based meeting is often a good compromise. Skype provides not just free and low-cost calling, but also has a remote desktop sharing feature which is very easy to use. There are numerous web-based meeting services; among the more popular are Webex, GoToMeeting, and Adobe Connect.
Information Resources. While not explicitly targeted to IPD teams, these resources can help teams more quickly arrive at sound decisions on high-performance projects:
Collaboration Utilities. There is a diverse and rapidly increasing variety of online utilities that can help support good teamwork. One type is mind-mapping software such as Mindjet, which allows users to create online bubble diagrams and attach myriad types of information to them, including documents of all types, images, emails, urls, etc. This is a very dynamic tool for visually organizing information and ideas, and all team members can contribute. Houzz and Pinterest are representatives of another emerging class of utilities that are designed to allow users to create and share collections of visual information.
Closing thought: integrated ≠linear
In Part 4 I described the conventional or predominantly linear handoff process by which buildings are designed and constructed. Integrated project delivery, by contrast, is iterative rather than linear. And while a certain amount of iteration is inevitable even in a normal process, it's a defining feature of IPD. For those new to IPD, this may seem inefficient, evoking sensations of déjà vu – didn't we already discuss this? Didn't we already decide? However, the nature of IPD is such that deeper discussion and more intensive collaboration reveals more nuance and therefore a more thoughtful and carefully considered approach to design and construction. Hence revisiting some ideas and decisions is inescapable.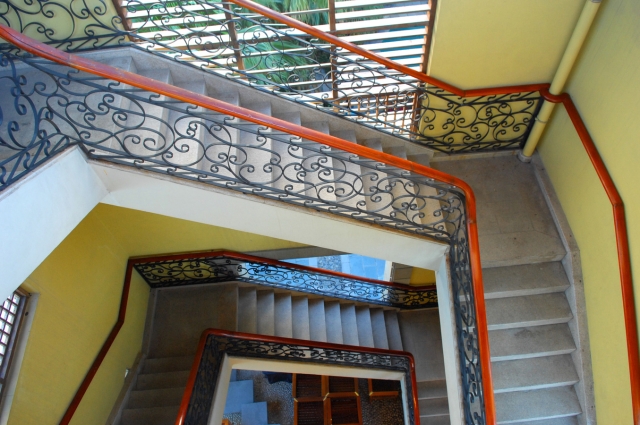 I like the metaphor of the spiral staircase to represent this phenomenon – although the landscape may be strikingly familiar as you move from one stage of a project to the next, in fact you are progressing towards your goal. And paradoxical as it may seem, this spiraling process is the quickest route from the start of design to your destination – a highly efficient and resourceful building. Many of my colleagues who have been involved in designing high-performance projects attest to this, perhaps none so succinctly as Scott Shell of EHDD Architects in San Francisco:
"Integrated design can reduce construction cost while providing significant sustainable design benefits. On the CSU [California State University] Monterey Bay Library, by comparing a number of integrated structural, mechanical, and architectural schemes, we found that tradeoffs from one discipline more than offset added costs in another, while achieving energy savings of almost 40 percent."
Weekly Newsletter
Get building science and energy efficiency advice, plus special offers, in your inbox.