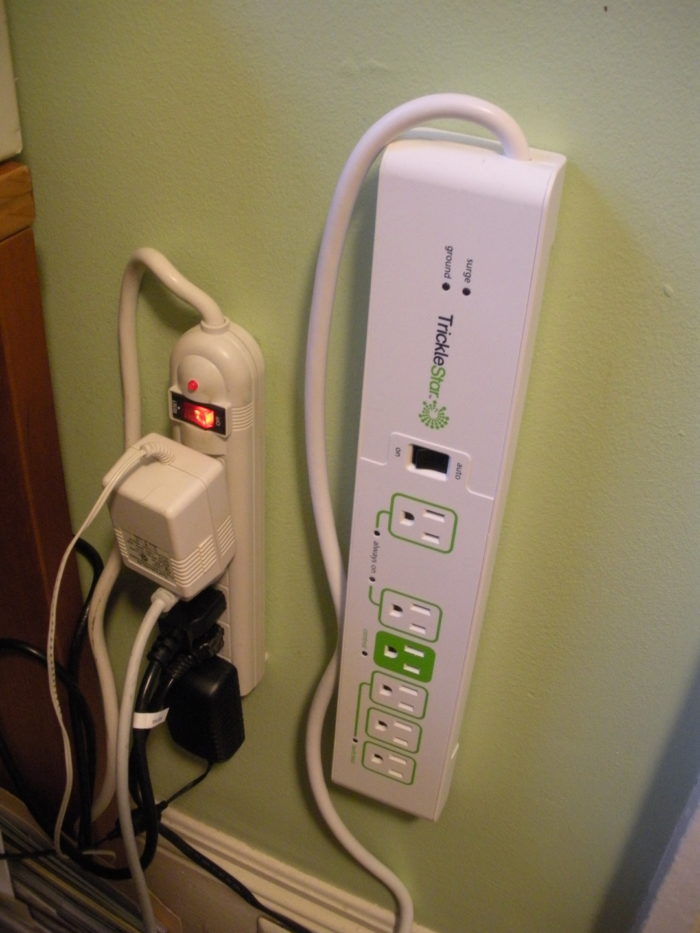 I've been hearing about "smart" power strips for a while, and while I am pretty good about turning off the various electronics in my house on regular old manual power strips, I decided it was time to evaluate one of these advanced devices for myself. I purchased a TrickleStar unit for about $30 and set out to hook it up in my office to see how it worked.
The unit has two permanently on outlets, one "control" outlet, and three switched outlets that turn off automatically when the power draw on the control outlet is low enough to suggest that the main equipment is off or in standby mode. As I understand the way these things work, if you plug a computer or TV into the control outlet, when you turn it off, the strip recognizes that the power use has dropped; and while not turning off the power to the control outlet, it does turn off the switched ones, cutting power to peripherals such as printers, audio equipment, DVD players, and the like.
My lack of success
My office is small and crowded, but relatively simple. I have a laptop, a second monitor, a backup drive, and a set of speakers on one power strip, and my printers and a scanner on a separate strip. I turn the strips on and off manually when I use them, often several times a day, depending on when I am at my desk and what I am doing. Anxious to see how much effort my new smart strip would save, I connected my laptop to the control outlet, and my monitor, disk drive, and speakers to the switched outlets and went to work checking it out. I turned off my computer, and voila! Nothing happened. The switched outlets remained powered up. I took a look at the little transformer on the cord of my laptop and realized that it was probably drawing enough power to confuse the strip into thinking that it was still on. I unplugged the laptop cord, and the switched outlets turned off in a few seconds.
Interestingly, the switch on my smart strip doesn't actually turn anything off; it just turns the switched outlets on if they are off. So, in order to take advantage of the product's features, I have to unplug my computer. Seems more complicated than my current arrangement. I suppose if I had a desktop computer that drew no power when off, it would work fine, but these days most people use laptops, so the effect of smart strips is reduced.
Try it somewhere else, maybe?
OK, so it doesn't really help with my office, but what about my TV setup? I currently have two old TVs, each on a power strip, with a cable converter at one and a DVR at the other. I turn off the TVs whenever I'm not watching them, but I have to keep the cable equipment powered on all the time to maintain programming (and to make sure I don't miss recording my favorite shows on the DVR!). So if I hook up the smart strip to one of my TVs, it will automatically turn off nothing.
I realize that I am pretty behind on all the new AV equipment available, and if I had a DVD or Blu-ray player, a bunch of high-powered audio equipment, and who knows what else, I could turn it off automatically with the smart strip—but I don't, so it doesn't do me any good, at least as far as I can tell. And even if I were to use it with all that equipment, the TV would still be on in standby mode, wasting electricity 24/7. Studies have shown that the average TV uses about one half of its lifetime energy use while off, due to the power required to operate the remote sensor.
Let's blame the manufacturers
I suppose that using a smart strip is better than leaving all the equipment on, but you could use a hardwired kill switch or manual power strip to turn off everything—it really doesn't take that much effort. We should also look at the equipment we keep on and consider how often we really use it. I imagine that there are probably millions of DVD players, stereos, and even a few old VCRs out there, still plugged in and drawing power, that are very rarely turned on.
And let's not forget to put some blame on the manufacturers who make all this stuff with remotes and clocks that are always on. How many digital clocks do I really need, particularly if most of them are set differently, and some flashing 12:00 permanently? People think that remote controls are made for their convenience, and while I agree that it's nice to sit in a chair and change channels, we need to realize that they are primarily designed to save costs in the factory, as they can build much simpler equipment that is pretty much inoperable without a remote.
Do we really need remotes for ceiling fans and HVAC systems? Come on, people, grow up and get some exercise once in a while. I don't need a clock on my microwave, either, but the mechanical dial controls cost more to make than digital displays and keypads, so we are stuck with them and the energy they use. Can you even buy a cooking appliance without a digital display anymore?
So, what's smart about a smart strip?
Getting back to the smart strip, it might have some purpose for people who have a lot of equipment and don't want to have to remember to turn something off. I suppose it's better than leaving all the accessories on all the time, but I think it's just encouraging bad habits. I heard someone say once that we need to replace a scarce resource—energy—with an even scarcer one: intelligence. Seems to apply in this case.
Weekly Newsletter
Get building science and energy efficiency advice, plus special offers, in your inbox.