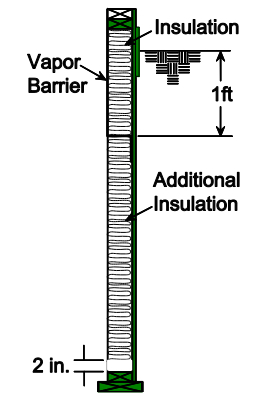 Jeepasaurus, a GBA reader from Eau Claire, Wisconsin, recently bought a log house sitting atop a permanent wood foundation (PWF). Although initially reluctant to buy the house because of this detail, Jeep did enough research to convince him there's nothing inherently wrong with a wood foundation. The problem is how to insulate it.
In a Q&A post, Jeep explains that he has gutted the basement to the 2×6 studs, removing the wood paneling and the underlying gypsum drywall that had covered the walls. The previous owner had installed a vapor barrier behind the drywall and insulated the stud cavities with fiberglass batts. The insulation was damp in a few spots near the bottom of the wall, but there was no sign of mold.
The basement is generally dry. The only time Jeep has seen evidence of water there was after an early spring rainstorm when the ground was still frozen. In that instance, some water seeped through the wood sheathing covering the outside of the foundation wall. The plan is to turn the basement into two bedrooms for his children, and for that reason Jeep wants the space to be well insulated and comfortable.
Spray foam insulation is too expensive. Jeep has gone through Joe Lstiburek's book on building in a cold climate and noted the recommendation that the foundation wall be insulated on the exterior with rigid insulation.
"I like the idea of the rigid insulation on the exterior," Jeep writes, "but I'm curious if I would have to install it all the way down to the footing, or if it could be installed from the top plate to 16-18 inches below grade? Then on top of that … how could I make the transition from the logs to the rigid insulation as the rigid insulation…
Weekly Newsletter
Get building science and energy efficiency advice, plus special offers, in your inbox.
This article is only available to GBA Prime Members
Sign up for a free trial and get instant access to this article as well as GBA's complete library of premium articles and construction details.
Start Free Trial
Already a member? Log in