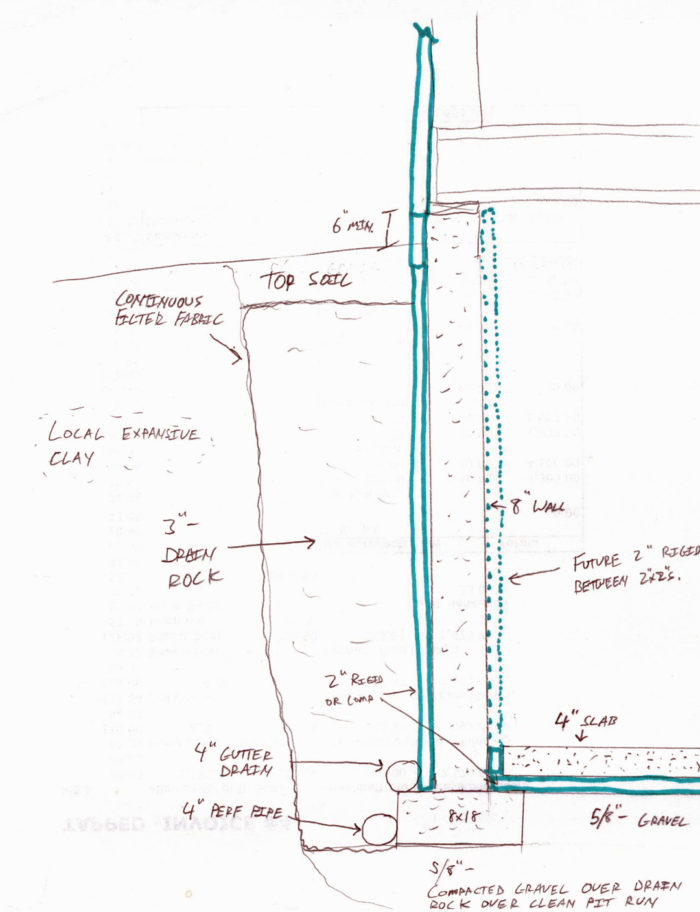 Nethaniel Ealy, a builder in Idaho who's about to pour a concrete basement foundation, is trying to come up with insulation and waterproofing details that will be effective and within the budget.
The current plan is to place 2 inches of extruded polystyrene (XPS) on the outside of the foundation walls. At some point in the future, the homeowners would place another 2 inches of foam on the inside of the foundation walls between 2×2 studs, and then apply drywall over the studs.
When it comes to waterproofing, Ealy has a couple of choices. One is a water-based sealer applied directly to the concrete. The other is an elastomeric membrane called Colphene ICF that's typically used over insulating concrete forms. The peel-and-stick membrane would be applied over the foam, not on the concrete.
The Colphene will add another $1,000 to construction costs, Ealy adds in this Q&A post at Green Building Advisor. Is it worth it?
He also wonders about the overall approach to insulation.
"Since the exterior XPS just terminates on top of the footing in this design and does not encapsulate the footing, how much of a benefit does it actually pass on in terms of insulation?" he asks. "Would it be better to just install 4 inches of XPS (or comparable) on the interior and forgo the external XPS layer? If so, I would also plan to skip the Colphene and just seal my foundation with a water based coating. Any flag going that route?"
Those are the issues for this Q&A Spotlight.
The plan for interior insulation is not the best
An obvious problem with the plan to add 2×2 studs and 2 inch foam on the interior of the foundation is that the foam is thicker than the studs by 1/2 inch, Dana Dorsett…
Weekly Newsletter
Get building science and energy efficiency advice, plus special offers, in your inbox.
This article is only available to GBA Prime Members
Sign up for a free trial and get instant access to this article as well as GBA's complete library of premium articles and construction details.
Start Free Trial
Already a member? Log in